As we all know, there is only 44 days until Christmas. I have been really good this year and i have done the majority of my Christmas shopping. I thought it would be helpful to do a Christmas guide. So every Sunday i will be doing a different age, gender, price, of Christmas gift guide. There is only 6 Sundays until Christmas, so i might add the odd Wednesday or something to make sure i cover everyone. I hope this is something you might enjoy.
First up are the men. Coming from a family of all women, until my brother-in-law (then nephews and boyfriend) came along I had never really bought for men. For me, they are the hardest ones to buy for. I think I am getting better at it, as I live with my boyfriend and have a gist of what he likes. Here are my suggestions.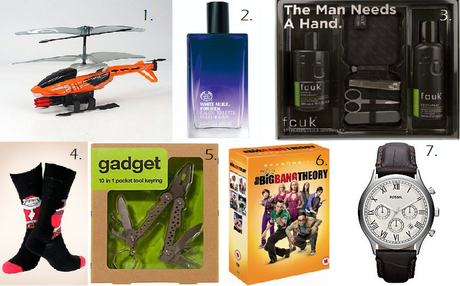 1 2 3 4 5 6 7.
Please click on the image to make it bigger.
Heli Sniper, from Debenhams. £30 (on offer for £24 online at the minute). - Fly Gadgets seem to be a big thing with men at the minute. These are definitely a great gift idea to keep the men busy.

White Musk for Men, from The Body Shop. £16. - what is a gift guide without a fragrance, this one is a great scent and super affordable.

FCUK – The Man Needs A Hand, from Boots. £14 (on 3 for 2). - This is a great little set with the necessities for a man. Also, it's from a great brand.

Cotton Rich Santa Socks, from Marks and Spencers. £3.50. - I know men always joke about socks, but every year I buy the men in my life funky socks. They are cute and easy to pick up, also you can find them for a little as a pound for character socks.

Gadget 10 in 1 Pocket Tool Keyring, from Boots. £6 (on 3 for 2). - I know a man loves his gadgets and tools, so this gadget with many tools is a way for him to get his little manliness in. It's really cheap, and just a little something.

Big Bang Theory 1-5, from Play.com. £39.95.

- I'm not sure if it's all men, but all the men in my life love Big Bang Theory, I am actually getting my boyfriend series 5 this year as I got him the other 4 last year. It's hours of entertainment, and for under £40 it's a great main present.

Fossil Men's Chronograph Brown Leather Strap Watch, from H. Samuel. £105. - Watches for men are an easy option. You can get a range of prices for decent watches, I chose this one as a "midrange" price and it looks great.
So here is my first installment of my Christmas gift guide. I will be focusing on the ladies in our lives next week.
I hope you can get a few ideas!
Thank you for reading!