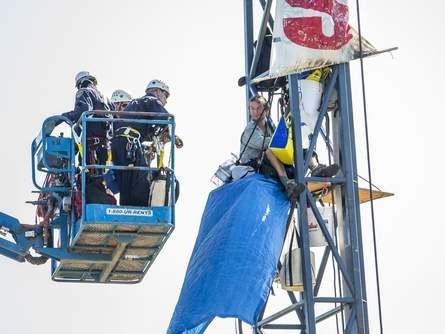 CHP officers prepare to remove Will Parrish, 31, of Ukiah from a wick-drain tower on Monday.
Steve Eberhard, Willits News via Redwood Nation Earth First
By Lori A. Carter / The Press Democrat
An environmental protester who had been perched 50 feet up a piece of construction equipment outside Willits for more than a week has been removed and arrested by the CHP.
Will Parrish, 31, of Ukiah was arrested Monday after being cut loose from a locking device he had connected to one of two 100-foot wick-drain installers being used on the Highway 101 bypass project outside Willits.
The $210 million bypass is being built to skirt the city of Willits, where traffic regularly slows to a crawl as Highway 101 narrows to two lanes through downtown. Proponents say it's necessary to reduce traffic congestion and restore the city's small-town feel. Opponents say it is a costly and ugly mistake that will hurt streams and fisheries and increase flooding.
Parrish's protest had prevented the wick-drain installers from operating since June 20. Work resumed on Tuesday, Caltrans said.
More than 30 arrests have been made among protesters since April.
On Monday, CHP officers, acting on a request from Caltrans, which owns the property, used cherry-picker-type lifts to reach Parrish.
"We had a team go up and first made sure he was OK and didn't need medical attention," said CHP Capt. Jim Epperson. "After we were sure he was OK, we hydrated him — gave him some Gatorade."
Officers then cut his locking device and brought Parrish down.
He and another protester, Amanda "Warbler" Senseman, were arrested on trespassing charges, Epperson said. Senseman sat in a tree for two months earlier this year as a protest against the bypass.
Caltrans spokesman Phil Frisbie said Parrish was "putting himself and others at risk and delaying construction by trespassing."
"And with the ongoing hot weather forecasted, we are also concerned about his health and safety," he said.
Protest leader Freddie Long said one tree-sitter remains in an ash grove north of where Parrish was perched. So far, that person hasn't been confronted, Long said.
The 5.9-mile bypass is expected to be completed in the fall of 2016.