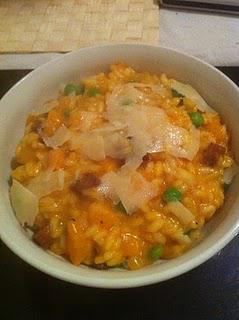 Chorizo and Squash Risotto
OK now it's my turn.  This is just a very simple idea that I thought you might like to try and I don't know about you but I find making risotto very therapeutic.  Now although I can eat anything, apart from toast in the morning I am basically gluten-free as I eat the same food as Fran (most of the time).  The Chorizo I used was gluten-free as was the chicken stock (Knoor). 
What you will need (for about 4 people):
Olive Oil
40g Butter
250g Arborio Rice
100g Chorizo (chopped)
1 Butternut Squash (diced)
1 Onion
2 Cloves Garlic
1 glass white wine
1 ltr Chicken Stock
Handful of Frozen Peas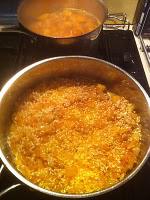 First get a your chicken stock to a simmer and add the butternut squash. 
In a frying pan, heat the oil and butter and cook the chopped Chorizo for a few minutes till the oils are released. 
Remove the Chorizo with a slotted spoon and put aside.  The fry the onion and garlic in the residue oil for 5 minutes till soft.  Add the rice and coat with the oil.
Add the wine and bubble till the alcohol has evaporated then add a ladle of stock (leaving the squash cooking for a little while).
As with all risottos, keep adding stock as the rice begins to dry out.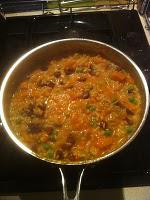 After about 10 minutes drain the stock into another pan and put the squash to one side, bring the stock to a simmer again and continue adding to the rice.
When the rice has been cooking for about 20 minutes add the squash.  At the 25 minute mark add the Chorizo, then the peas for the final couple of minutes.  The rice should take about 30 minutes and use all the stock.
Simply serve with some Parmesan shavings and enjoy.