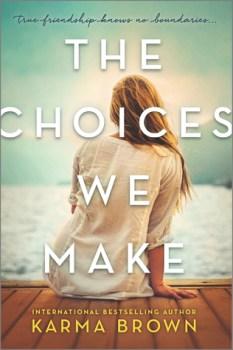 The Choices We Make Published by Mira on July 12th 2016
Pages: 336
Format: Paperback
Goodreads


Hannah and Kate became friends in the fifth grade, when Hannah hit a boy for looking up Kate's skirt with a mirror. While they've been close as sisters ever since, Hannah can't help but feel envious of the little family Kate and her husband, David, have created—complete with two perfect little girls. 

She and Ben have been trying for years to have a baby, so when they receive the news that she will likely never get pregnant, Hannah's heartbreak is overwhelming. But just as they begin to tentatively explore the other options, it's Kate's turn to do the rescuing. Not only does she offer to be Hannah's surrogate, but Kate is willing to use her own eggs to do so. 

Full of renewed hope, excitement and gratitude, these two families embark on an incredible journey toward parenthood…until a devastating tragedy puts everything these women have worked toward at risk of falling apart. Poignant and refreshingly honest, The Choices We Make is a powerful tale of an incredible friendship and the risks we take to make our dreams come true.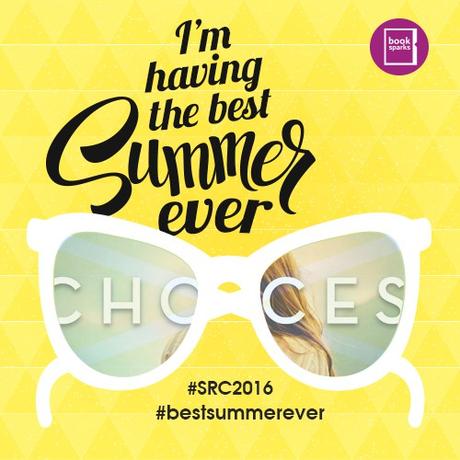 The Choices We Make by Karma Brown is another great read that's part of the BookSparks 2016 Summer Reading Challenge! It's not your typical romance/love story either – it will catch and keep your attention from page 1 through the very last page – and don't forget your tissues either. 
Kate and Hannah have been friends for over 20 years. They have been BFF's since fifth grade and continued through life, love, marriage and children – well, for one of them. Kate and David have two beautiful daughters. Unfortunately, despite six years of trying, Hannah and her husband Ben, have been unsuccessful. They have exhausted every possibility available to them including treatments, expensive fertility shots and then the finality of the doctor telling them there is no more hope for them. Their relationship has become strained from all of their efforts too.
Even though Kate loves her girls and her husband, her heart breaks for her friend's inability to have children. Even though her husband is against the idea, Kate has her doctor check her out so she can give her beloved Hannah the gift of carrying a baby for her. Her idea is that she would use her own eggs with Ben, and then once she gives birth, she would turn the baby over to Hannah and Ben. While David is against the idea, he always wants his wife to be happy so he goes along with the crazy idea.
Everyone is onboard with the idea and they move forward. Everything seems like it's going well and – you guessed it – a tragedy occurs. Kate suffers a devastating aneurysm causing her to end up in a coma. Everyone starts taking sides including the media, protesters and attorneys.  The storyline is very realistic and I felt like I could have read it out of today's news or seen it on a 20/20.  
I don't want to get too specific because I don't write spoilers, but don't mistake that fact for a boring story. This storyline was packed full and very realistic. It teetered on controversial, but we learn about these two families and their lives, and in particular, these two woman with the struggle put on their friendship.
The ending was perfect too. Just when I thought it was over, there was just a little more to read. The story was beautifully written and shares with readers the choices we must make to preserve friendship and family. It was a heart-wrenching story full of emotion with very well written characters. I definitely would recommend this book to everyone and I can't read to read Ms. Brown's next book.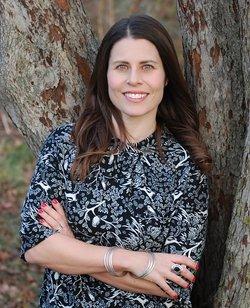 Karma has always loved the written word. As a kid she could usually be found with her face buried in a book, or writing stories about ice-skating elephants. Now that she's (mostly) grown up, she's a National Magazine Award winning journalist published in a variety of places, including Canadian Family, Best Health, Canadian Living and Chatelaine. She also writes commercial fiction, and is represented by Carolyn Forde at Westwood Creative Artists. Her debut novel, Come Away with Me, hit shelves August 25th — and is a Globe & Mail bestseller! — and her second novel, The Choices We Make, arrives July 2016.
A former Torontonian (who sought escape from the concrete jungle), Karma now lives nearby in the 'burbs with her husband, daughter, and labradoodle. When not crafting copy or mulling plot lines, she is typically running, hanging out with her family, making a mess in the kitchen, and checking items off her bucket list. And if she could sum up her thoughts on a life well lived, they would read like this: "Twenty years from now you will be more disappointed by the things that you didn't do than by the ones you did do. So throw off the bowlines. Sail away from the safe harbor. Catch the trade winds in your sails. Explore. Dream. Discover."  ~Mark Twain
Keep checking out BookSparks' Summer Reading Challenge 2016! There are so many more books you'll want to put into your beach bag! This is going to be the "best summer ever." #SRC2016 #BestSummerEver #BestSRCEver!

~ ~ ~ ~ ~ ~ ~ ~ ~ ~ ~ ~ ~ ~ ~ ~ ~ ~

It would be great if you would stay connected with me!! You can follow me on Twitter @DebiL1611, like me on Facebook at 2014 and Beyond, circle me on Google+, follow me on Tumblr, Instagram and Bloglovin', subscribe on YouTube, or connect with me on LinkedIn and Pinterest.

Please make sure to visit my homepage and subscribe to my blog for more great posts on running, fitness and lifestyle topics as well as food, product, music and book reviews, and more!