One thing you won't want for when browsing fibers.com is options. We have thousands of designs to choose from, loads of clip art and design elements for making your own shirt and dozens of products for your custom print job. But sometimes choices can be overwhelming, that's why we want to help you make the most informed choice possible.
When looking for the best shirt to choose be sure to consult the sizing chart. One source of confusion for some of our customers is the womens t-shirt and the junior fit womens t-shirt. So we made a side by side comparison to help you pick the shirt that will fit best.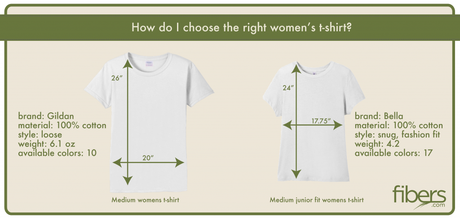 As you can see, when comparing the two shirts in a size medium the junior fit is about 2-3 inches smaller than the women's t-shirt. Both styles are preshrunk, so the fit stays pretty intact. You can extrapolate the fit ratio up or down depending on your size.
Once you've decided on your shirt you can head over and start creating your t-shirt. In the design tool you'll get to make choices about your font, whether you want to upload your own art or use some of the hundreds of pieces we have in the tool and decide what effects you want on your design.
Fibers.com is all about providing you with the tools to make good design choices so you can successfully express yourself through your shirt.