I have never been one to abide the mise en place (everything in place) rule when it comes to baking. For me, it's just a matter of jotting down the list of ingredients on odd pieces of scrap paper, then making a mad dash for the kitchen to get started.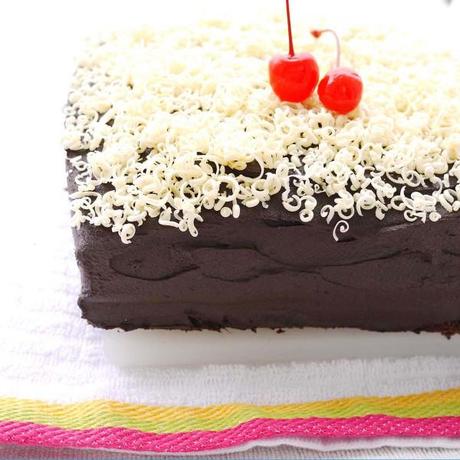 So it is no surprise that I only discovered that this chocolate sheet cake recipe was eggless when my arms were elbow deep in chocolate cake batter.
I was somewhat disappointed.
I love eggs.
They are almost always a part of whatever i am baking. In fact, i was doubtful that any baking could be done without eggs.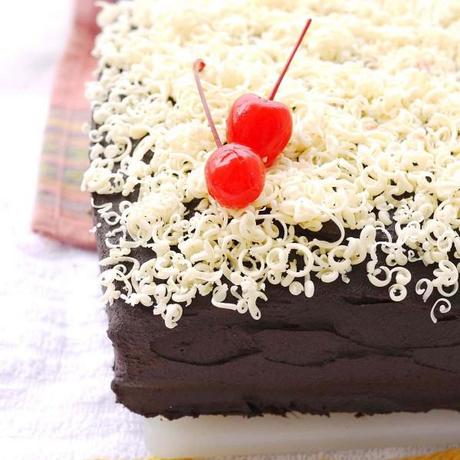 But hey, I might be old, but i am no old dog. And with all the vegan movements around, I am definitely open to new tricks.
So here I am, with my first eggless chocolate cake.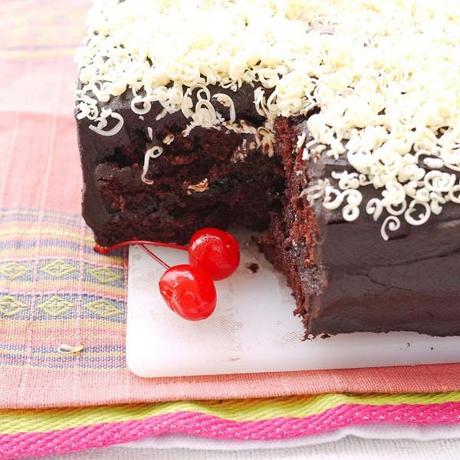 And my skepticism towards anything eggless evaporated.
Because this turned out to be moist, soft, flavorful and oh-so chocolatey!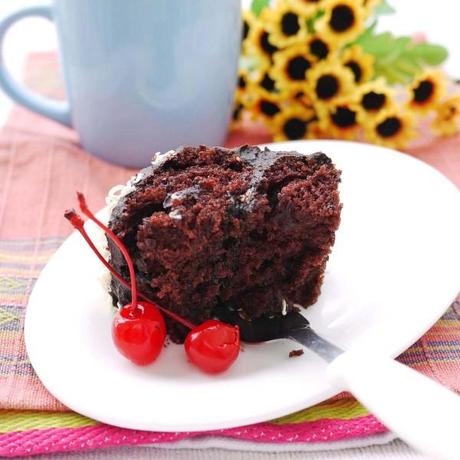 And i suppose i could have made this vegan and all.
But i just have this natural flair to mess things up.
I used sour cream for the chocolate frosting.
I'm sorry.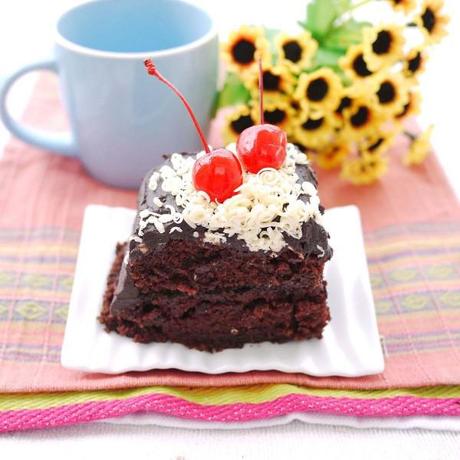 But i am not regretting.
Because never would i have expected that something so good could come out of just chopped up chocolate and sour cream (U read it right, just these two ingredients!)
These two ingredients that infuse and firm up so well that frosting was a piece of cake!
Not to mention absolutely delicious!
I am glad for the new tricks I learnt today. I guess somehow being a slop, and not following the rules have its own plus points!
Old-Fashioned Chocolate Cake Sour Cream Chocolate Frosting
Taken from Hungrymouse (with adjustments)
3 cups flour
2 cups sugar
1/2 cup unsweetened cocoa powder
2 tsp. baking soda
1 tsp. salt
3/4 cup olive oil or canola oil
2 Tbls. white vinegar
2 tsp. vanilla extract
2 cups water
spray oil to grease the pan
*I used 2 pans sized 8×8
Directions
Lightly spray both baking pans with oil and line the bottom with parchment paper. Preheat your oven to 350 degrees.
Whisk the dry ingredients (flour, sugar, cocoa powder, baking soda, and salt in a large mixing bowl).
In another bowl, mix the wet ingredients together (oil, vinegar, vanilla, water).
Slowly , pour the wet ingredients to the dry ingredients, (bit by bit to avoid clumps) whisking till just combined. Do not overmix as you might toughen the cake.
Divide batters into prepared pans, and bake for 35 to 40 minutes or till the cake springs back when lightly pressed.
Set aside to cool.
Once cooled, take one piece of the cake, spread the chocolate frosting.
Top with the other cake, and frost all around.
For Dercorations:
Grate some white chocolate, and place a couple of maraschino cherries. VOILA!

Sour Cream Chocolate Frosting Directions
10 0z. chopped chocolate
1 C sour cream
Directions:
Double boil the chocolate to melt.
Tip the sour cream into melted chocolate and watch magic appears ! (Frosting immediately becomes thick and frost-able!)
And now cakes aside, its postcards time again.
More of my favorite vintages!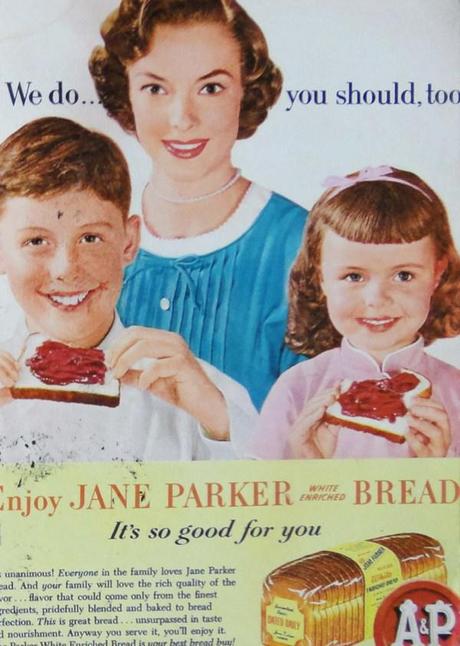 A White Bread vintage ad from Angel again! THANK YOU SO VERY MUCH! *love love love vintage ad esp when it's related to baking*!!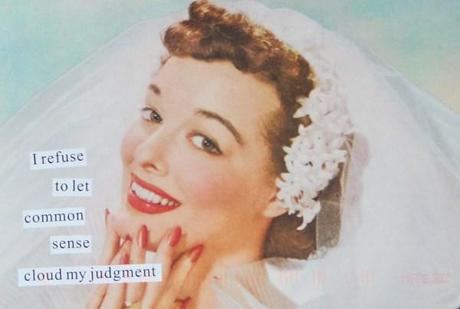 Another vintage from Magnolia in Canada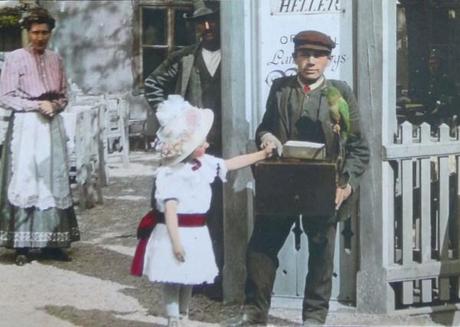 And a last postcard depicting life in Austria between the years of 1905- 1910 of a little girl with a horoscope newspaper salesman from Pelra. How lovely!