chocolate pistachio fudge recipe - chocolate recipes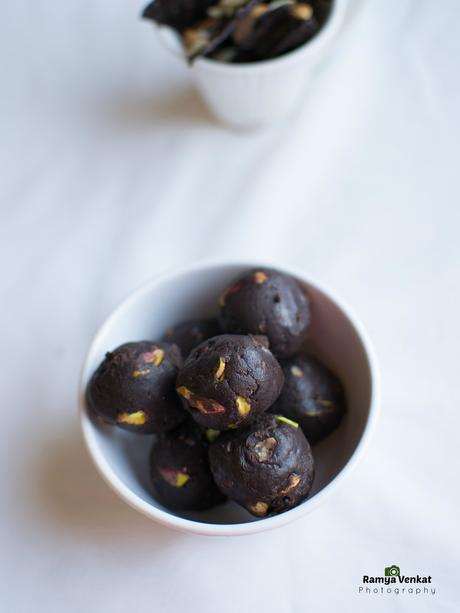 chocolate pistachio fudge recipe,got inspired from Nigella Lawson's video and i attempted a double boiler method for making this recipe and it came out very well.Before blogging,i used to watch so many recipes in you tube and this one inspired me and tired so many times by following the recipe.But this time i followed double boiler method instead of going with direct heat.
Still remember,those days were really good and we, Amma,me and my sister along with my cousin used to watch recipes in You tube.That day was rained heavily and our exams get postponed to some other date and we are not allowed to get out of the house.So switched on computer and Amma told to try something new for this chill weather and we saw mushroom curry and paneer butter masala.we had enough milk in home and i immediately made some paneer and quickly made the curry as i got everything in home except kasuri methi.Just a small bowl and all tasted it and said it was so yummy and the next day Appa bought mushroom and told me to make mushroom masala.I dont have any idea and i saw the video once more and made it and it came out very well and there started my blogging journey.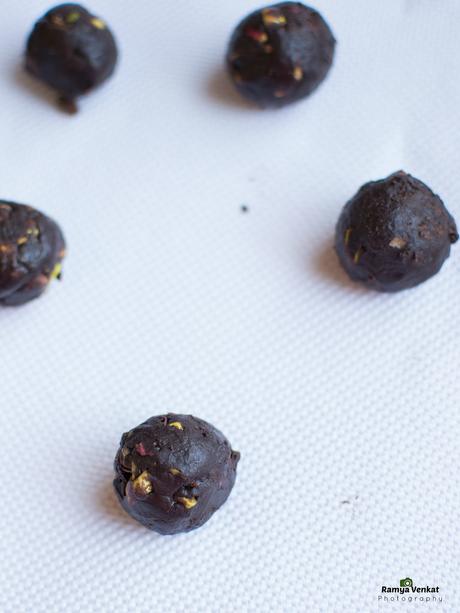 The rainy season reminds me of those things and am making those kinda recipes suddenly just for idli or dosa.Coming to the recipe,i literally bookmarked the recipe and i tried and tasted more than 2 times,so planned to make it in double boiler method.It came out very well and you will get a truffle like texture along with crunchy pistachios.If you want to roast the pistachios,than roast it and cool it completely before adding it to the chocolate mixture.You can use either milk or white or dark chocolate for this recipe.I tested with both milk and dark chocolate,it balances the taste and dont know about milk chocolate.If you are using milk chocolate,add condensed milk according to the sweetness,other it will become over sweet fudge,same applicable to milk chocolate too.lets move on making the recipe.,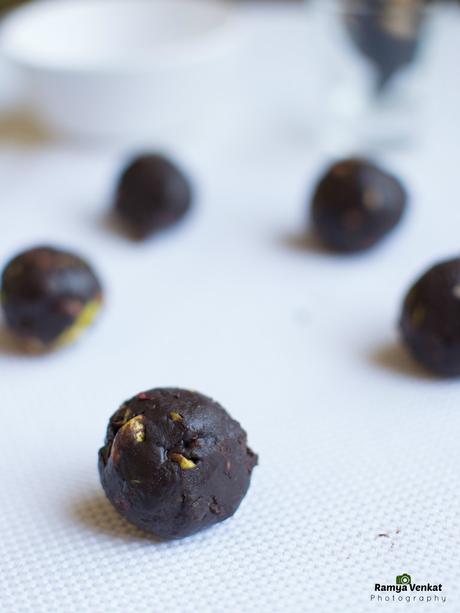 chocolate pistachio fudge balls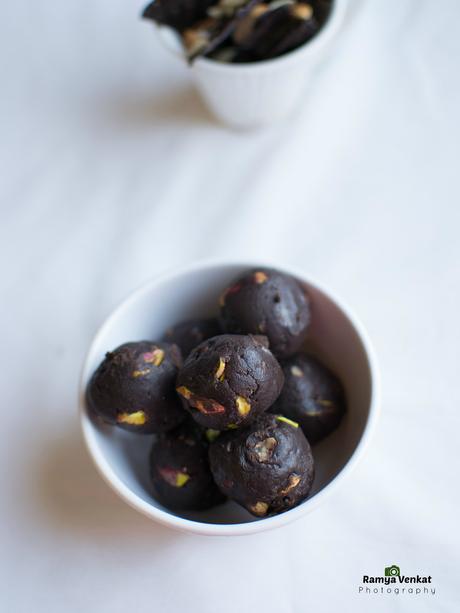 fudge made with dark chocolate and pistachios


Ingredients

dark chocolate - 250 gm
condensed milk - 100 gm
butter - 50 gm
pistachios - 100 gm
Instructions
Chop the dark chocolate roughly and take that in a double boiler.Once it starts to melt,add condensed milk and butter and keep on mixing.
Make sure your chocolate bowl does not touches the boiling water in the bottom pan.Make this in low flame and keep on stirring.
Once it combined together,then remove the bowl from the stove and switch off the flame.
Keep on mixing until it becomes cool and once it start to thicken,add chopped pistachios to it and keep on mixing.
After 5 to 6 minutes,it came like thick mixture,make either balls or make pieces by setting in tray.Make equal sized balls from it and set it in refrigerator.Once it got set,serve it.