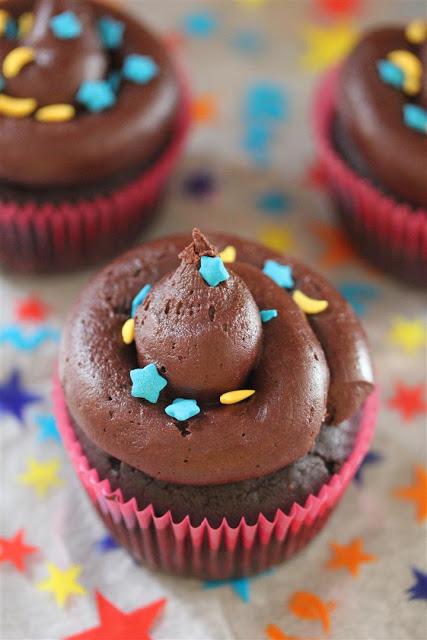 I think very few things beat chocolate cupcakes with chocolate frosting. So rich and decadent, they're truly the perfect indulgence. 
These cupcakes look like they're ready to party! 
Maybe they're in celebration mode since I've just finished my winter semester and Caitlin's almost there.
Whether you're looking for a dessert worthy of a celebration or just want to celebrate delicious food these cupcakes are a great way to do so!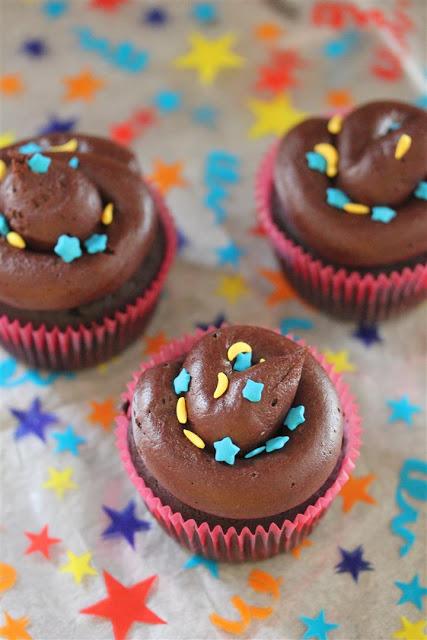 For the cake we used this recipe and just add 1 cup of coarsely chopped Oreos or Newman O's to the batter.
Chocolate Buttercream Frosting  from Vegan Cupcakes Take Over the World
Ingredients 1/4 cup margarine, softened 1/4 shortening 1/2 cup unsweetened cocoa powder, sifted 21/2 cups powdered sugar, sifted 3 Tbs soymilk 1 1/2 tsp pure vanilla extract
Directions Cream margarine and shortening together. Mix in cocoa powder. Add powdered sugar 1/2 cup at a time with a tablespoon of soymilk after each 1/2 is added. When everything is combined, add vanilla and beat until fluffy.