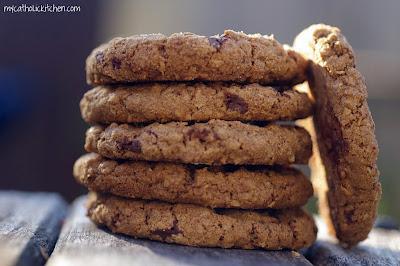 Amanda Hesser is # 22 in the list of 
Gourmet Magazines 50 Women Game Changers
It is the brain child of Mary at
One Perfect Bite
We are chronologically going down this list and featuring all these women.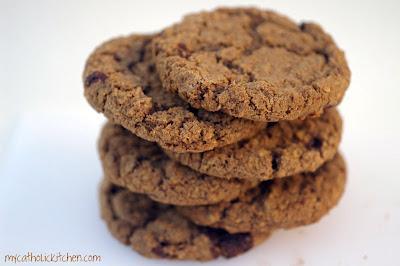 Amanda is a food writer and editor at the New York Times. She has several cookbooks under her belt including "The Essential New York Times Cookbook" and "Cooking for Mr. Latte." She lives in Brooklyn with her twins and husband Tad. She is also the co-editor of the wildly popular blog
Food52
I made her
Chocolate Oatmeal Cookies
. They were fantastic. I hope you enjoy them as much as I did.
Chocolate Oatmeal Cookies 
1 1/2 cups all purpose flour 1/4 cup cocoa powder 1 teaspoon baking powder 1 teaspoon salt 1 cup vegetable shortening 1 cup white sugar 1 cup brown sugar 2 large eggs 1 teaspoon vanilla 1 cup oats 1 cup coarsely chopped dark chocolate (I used Ghiradelli chocolate) 1 cup chopped walnuts (I omitted) Heat oven to 350 degrees. Mix together flour, cocoa, baking soda, and salt. In my kitchen aid I creamed the shortening and the two sugars. I then added the eggs and vanilla. Next I put the oats in to mix and then added the dark chocolate.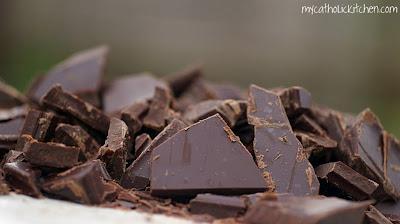 I omitted the walnuts. I have way to many family members and friends who have nut allergies. I use a ice cream scoop to drop dough on a baking sheet. I spaced them 1  1/2 inches apart. I baked for about 12 minutes.  Try not to burn your fingers trying to eat these puppies while they are still hot.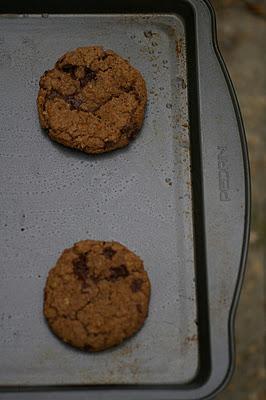 Here are more bloggers that feature the recipes of Amanda Hesser today.
I hope you get a chance to visit them.
Val –
More Than Burnt Toast
, Joanne –
Eats Well With Others
Taryn –
Have Kitchen Will Feed
, Susan -
The Spice Garden
Claudia -
A Seasonal Cook in Turkey
, Heather -
girlichef
Miranda –
Mangoes and Chutney
, Jeanette –
Healthy Living
April –
Abby Sweets,
Katie -
Making Michael Pollan Proud
Mary –
One Perfect Bite
, Kathleen -
Bake Away with Me
Viola -
The Life is Good Kitchen
, Sue –
The View from Great Island
Barbara –
Movable Feasts
, Kathleen –
Gonna Want Seconds
Amy –
Beloved Green
,Jeanette –
Healthy Living
Linda -
Ciao Chow Linda
, Linda A -
There and Back Again
Martha –
Lines from Linderhof
, Nancy –
Picadillo
Stay tuned next Friday when we feature Nancy Silverton.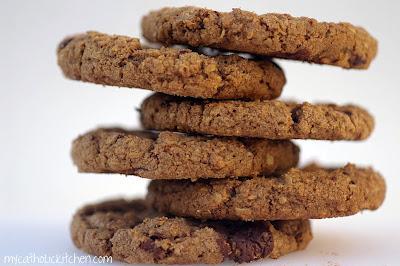 Peace be with you, Veronica