Posted by Emma @ Sweet Mabel on September 12, 2012 · Leave a Comment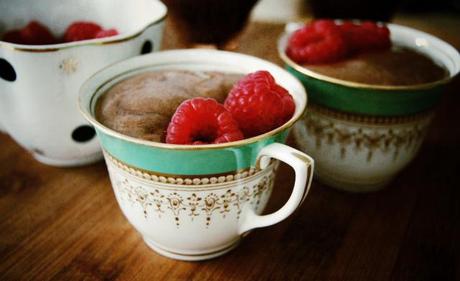 I made an absolutely delicious dessert last weekend and felt it was worthy of sharing with you all.  It was taken from Lorraine Pascal's latest recipe book Fast,Fresh and Easy Food.  I'm not usually a big pudding fan to be honest but as I was having a few people over for dinner I thought I'd better to go to a bit of extra effort and I'm so glad that I did.  The chocolate mousse with raspberries were a real treat and very satisfying to make, I was even more pleased that I was able to use my lovely vintage glasses too.
Makes 4 large portions but I used fairly small glasses which made 7 nice portions.
You will need;
200ml double cream
150g dark chocolate
 (at least 70% cocoa solids)
50g milk chocolate
3 very fresh medium eggs
3 tbsp caster sugar
50g fresh raspberries
2 tsp icing sugar, to decorate
Put the double cream in a small pan over a medium heat and leave it to warm up.  Meanwhile, snap the chocolate into small pieces.  Once the cream is just starting to steam, remove it from the heat and add the chocolate.  Do not stir, leave it to sit and melt for about 5 minutes or so.
While you wait, separate the eggs and put the yolks into a mug and the whites in to a large clean bowl.  Whisk the whites until they reach a medium peak, then add 1 tablespoon of the sugar and whisk it up again until the whites begin to look shiny.  Keep whisking and add another tablespoon of sugar.  Make sure that the whites are whisked up well and the sugar has dissolved before whisking in the final tablespoon of sugar.
Now give your chocolate and cream a good stir to combine everything and stir the egg yolks into the mixture.   Once the meringue mixture is white and glossy stir in a spoonful of the chocolate mixture to loosen it up.  Gradually pour in the rest of the chocolate and gently fold them together. Don't over mix as you need to keep in as much air as possible.
Divide the mixture between the glasses and lightly press a couple of raspberries in to the tops.  Cover each glass loosely with cling film and place in the fridge for at least 30 minutes.  Just before serving, decorate the top of the mousse with a sprinkling of icing sugar.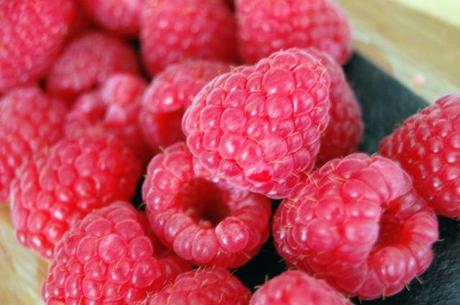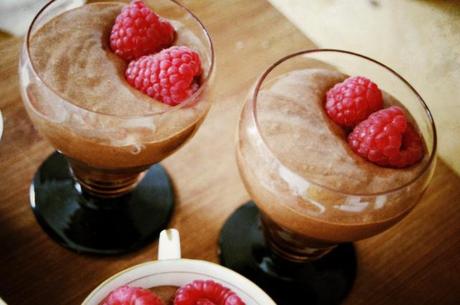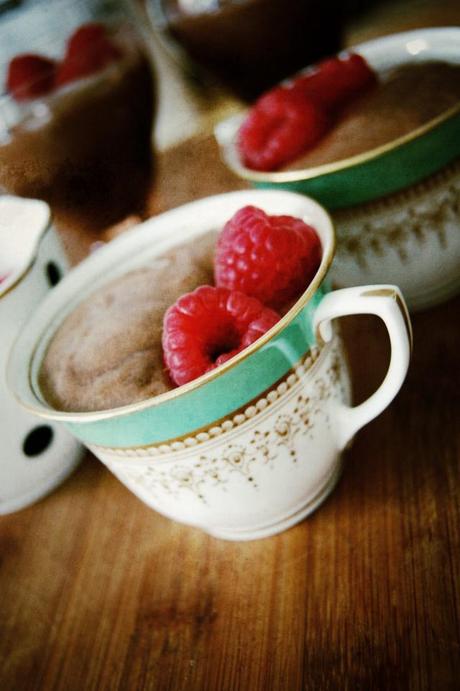 I'm on a bit of dessert making roll as I'm going to attempt to make my first cheesecake this weekend.
Wish me luck! xx