I read this recipe in the back pack of demerera sugar I purchased recently.Until now I have never seen or tasted a brownie from a bakery and I don't know how a brownie is supposed to be :)Now with this point emphasized here I am presenting my version of egg less brownie adapted from the recipe I read.Accoriding to wiki  "A chocolate brownie is a flat, baked square or bar developed in the United States at the end of the 19th century and popularized in both the U.S. and Canada during the first half of the 20th century. The brownie is a cross between a cake and a cookie in texture. Brownies come in a variety of forms. They are either fudgy or cakey, depending on their density, and they may include nuts, frosting, whipped cream, chocolate chips, or other ingredients". The main difference between cake and brownie turns out to be that brownies should have a very flat and crackled top unlike cakes.these are also dense and very gooey inside and texture is more heavy than a cake.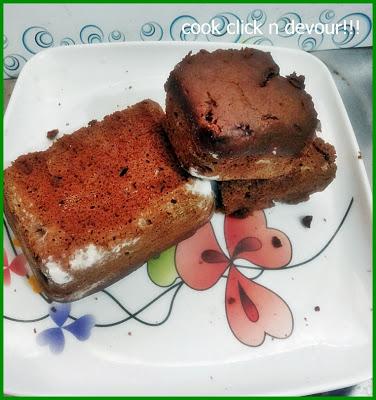 However my brownie did not have a very flat top,but it just tasted out of world.It was so so chocolatey and gooey and the hopped walnuts made a very huge difference to otherwise plain stuff.I think I whisked the mixture more than required and that was the reason for the domed top.Do try this very very simple to make egg less chocolate brownies and it is a chocoholic's heaven :)They tasted very great and these pics do not do any justice to the taste of these brownies :(
Egg less chocolate brownies
Star ingredients:Cocoa powder and walnuts
Time:10+20 minutes
Yield:8 small rectangles
Ingredients:
1 cup all purpose flour
1/4 cup cocoa powder(adjust)
2 tablespoons chopped walnuts
2 tablespoons caramel syrup (I used hershey's)
2 tablespoons chocolate chips
1/4 cup softened butter
1/2 cup sugar
1/2 cup milk
1/2 teaspoon baking powder
A pinch of salt
Vanilla
Method:
1.Take sugar and butter in a mixing bowl.Mix well till they are incorporated and turn light and creamy.Add milk,curd,caramel syrup and vanilla and mix well.Whisk the mixture just for 2-3 minutes.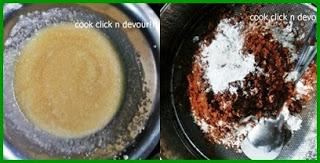 2.Sift All purpose flour,salt,baking powder to the wet mixture and mix well.Now whisk the batter again for just 2-3 minutes.Fold in the chopped walnuts.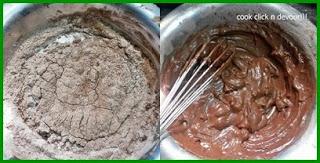 3.Preheat oven at 200C.Prepare a loaf tin by greasing and dusting.Pour the batter to the tin and tap all the sides.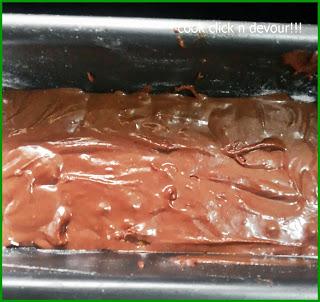 4.Bake for 20-25 minutes.
5.Slice and serve.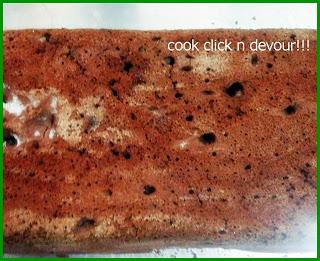 Notes:
1.Caramel syrup was not mentioned in the recipe I referred.I just added as I had it with me and it tasted very good and we were able to feel the taste.
2.I think I over whisked the mixture and also baked it for few extra minutes.I think that may be the reason for raised top of my brownies.
3.Adding chocolate chips was also just my idea,I added for extra chocolatey flavor.
4.I tried dusting with icing sugar but could not do it in a uniform way