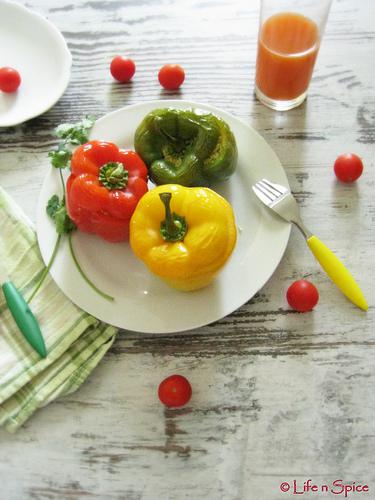 Bulgur
is a quick cooking form of wheat and a middle-eastern staple. It is slowly becoming a staple at my home now. I love the fact that it is easy to cook and nutritious too. Easy, simple and non time-consuming are the key words here! It not only requires less cooking time but also is low on calories. Now, who in the right mind would say no to that? I usually cook it with some vegetables to make a complete one-pot meal. Today I have used it to stuff some colorful bell peppers.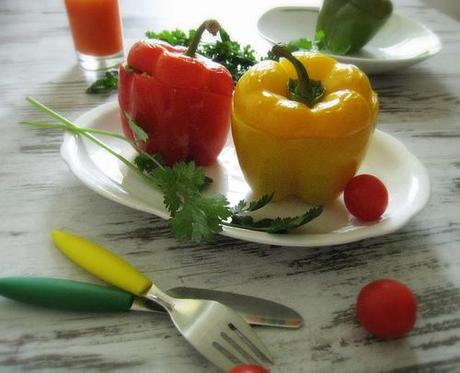 There are different varieties of Bulgur available. I buy mine at the local Turkish stores and they have so many varieties. My personal favorite is the köftelik Bulgur , Turkish name for fine form of bulgur and goes very well in place of rice.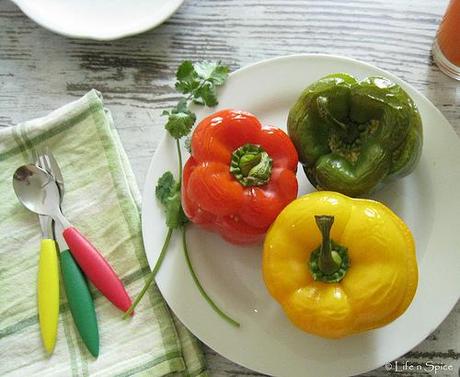 I have been meaning to post this recipe for oven baked stuffed bell peppers for a very long time. I have made it several times for my guests and they have all loved it. Served as an appetizer or a side dish, they sure are a treat to your eyes! Don't they look appetizing? Although I normally use a rice stuffing, I tried to recreate a dish I ate at a Greek restaurant recently.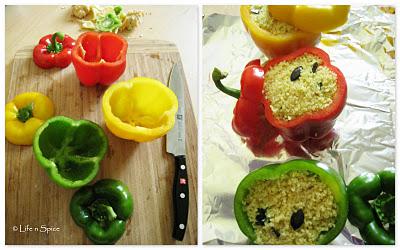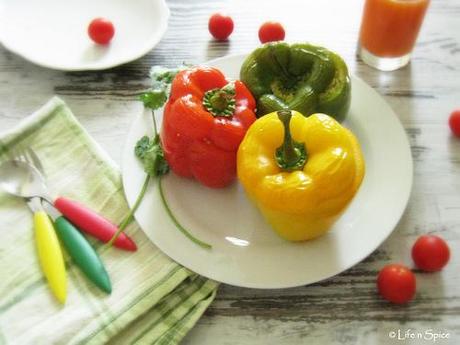 Ingredients:
3 large bell peppers
1 cup Bulgur
2 tbsp vegetable oil
1 large onion chopped finely
1/2 tsp freshly ground pepper
Salt to taste
Handful of finely chopped cilantro and basil
2 tbsp olive oil
Recipe:
Chop the top off the bell peppers. Scoop out and discard the seeds and pith.
In a large pot of boiling water, parboil the bell peppers till slightly tender (about 2-3 mins). Remove and dry on a kitchen towel.
Meanwhile, in a skillet, heat 2 tbsp oil. Add the chopped onions and stir till translucent. Now add 1 cup of water, cover and bring to a boil.
When water starts boiling, add the bulgur and salt. Give it a good stir, remove the skillet from heat, add the pumpkin seeds, season generously with pepper. Mix well.
Stir in the chopped fresh cilantro and basil.
Preheat oven to 180 degrees C.
Using a spoon, stuff the bell peppers with this mixture. Brush the outside of the bell peppers with olive oil and place them in a baking dish.
Cover the tops with the the chopped off caps. Bake in the oven for about 1 hour or till the peppers have softened.
Serve it as an appetizer as a side dish with some fresh bread.
Preparation time: 20 mins
Cooking time: 1 hour
Yields: 3 large stuffed peppers
Don't miss a post. Subscribe to Life n Spice by email!