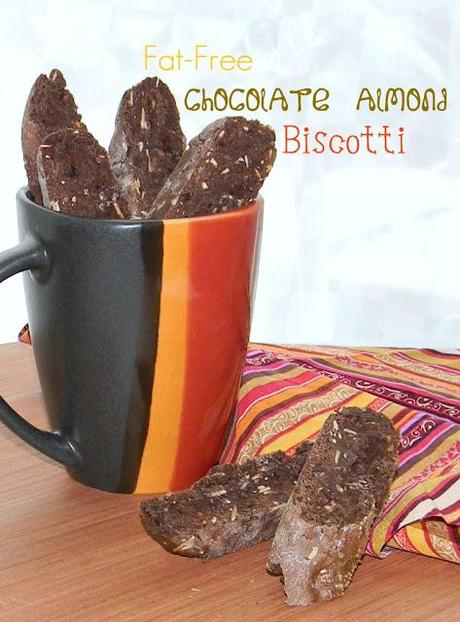 I am not a baker, no, let me rephrase that. I am not a pastry chef. I don't decorate. I totally respect those that can top a cupcake with the perfectly piped pyramid of icing or frost a cake with not a wrinkle.
It's just not me. As a matter of fact, I have never baked a cupcake and probably can count the times I made muffins on my right hand.
My cakes are of the non-required anything other than a loaf pan type and my tarts are only as good as the fruits I can hide cover a rustic crust with.
I have been known to underbake cookies and overbake bundt cakes. A successful dessert to me is one that someone will eat more than one serving of and like it.
I don't stink at everything sweet, there are a few successes. I can make a souffle with my eyes closed and a cheesecake in my sleep.
Knowing all this, I was surprised I have never made biscotti before now. You really can't screw up a cookie that is baked until it is as hard as a brick as long as you find a recipe with the right formula of flavors.
With Valentine's Day right around the corner I loaded up on everything chocolate, sticking to what I do well, a cheesecake and a mousse. Having a good day and with a small amount of incentive (a no fail recipe from David Lebovitz) I marched right into that road not taken. I made biscotti.
It was no mistake that the day we were expecting a blizzard, The Nudge came home one day early from his business trip in Boston. I think he caught the last flight out of Logan Int'l and pulled into our driveway at 9:30 this morning. Without stopping for coffee he was looking forward to a hot cup and I was looking forward to his review of what I thought was perfect chocolate biscotti. While his cup was heating he took a bite and said "Wow, these are really hard".
Remaining calm, I told him to dunk that baby in his coffee and than tell me what he thought. Slightly softened by the hot coffee, there was no tell-tale evidence of disintegration of cookie at the bottom of his cup as he took the last sip. See, the perfect biscotti.
Thank you David Lebovitz. You made me feel like the Queen of the Kitchen, if only for a day.
Chocolate Biscotti
Adapted from David Lebovitz
* 2 cups (280g) flour
* 3/4 cups (75g) top-quality cocoa powder
* 1 teaspoon baking soda
* 1/4 teaspoon salt
* 3 large eggs, at room temperature
* 1 cup (200g) sugar
* 1 teaspoon vanilla extract
* 1/2 teaspoon almond extract
* 1 cup (125g) almonds, toasted and very coarsely-chopped
* 3/4 cups (120g) chocolate chips
1. Preheat the oven to 350F (180C) degrees.
2. In a small bowl, sift together the flour, cocoa powder, baking soda, and salt.
3. In a large bowl, beat together the 3 eggs, sugar, and vanilla & almond extracts. Gradually stir in the dry ingredients, then mix in the nuts and the chocolate chips until the dough holds together.
4. Line a baking sheet with parchment paper or a silicone mat. Divide the dough in half. On a lightly floured surface, roll the dough into two logs the length of the baking sheet. Transfer the logs onto the baking sheet, evenly spaced apart.
5. Gently flatten the tops of the logs. Beat the remaining egg and brush the tops of the logs liberally with the egg. (You won't use it all). Sprinkle the tops with the coarse or crystal sugar and bake for 25 minutes, until the dough feels firm to the touch.
6. Remove the cookie dough from the oven and cool 15 minutes. On a cutting board, use a serrated bread knife to diagonally cut the cookies into 1/2-inches slices. Lay the cookies cut side down on baking sheets and return to the oven for 20 to 30 minutes, turning the baking sheet midway during baking, until the cookies feel mostly firm.
Once baked, cool the cookies completely then store in an airtight container for up to two weeks. If you wish, the cookies can be half-dipped in melted chocolate, then cooled until the chocolate hardens.
Review: These are an extreme chocolate biscotti and great with a cup of anything hot, coffee, tea or even, yes, hot chocolate.