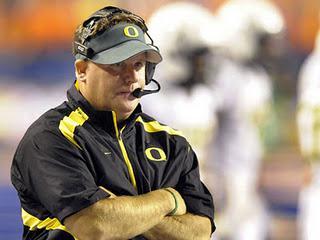 Photo: AP Images 
- Troy Ballard
Oregon Ducks head coach Chip Kelly has been on the brink of being hired into the NFL for the past few years, and when he finally received a job offer from the Tampa Bay Buccaneers, he turned them down.
I have been singing the Kelly-To-The-NFL song for more seasons then I would like to admit. Every single head coaching gig that opened, I would immediately say it would be Kelly's team. I disregarded the doubters that claimed his Oregon offense would never work in the NFL. I had serious faith that he would take the league by storm.
Then, out of nowhere, Kelly turns down a job from the Buccaneers to stay at Oregon. His first job offer in the NFL, and he turns them down. I couldn't wrap my mind around why any coach would have the desire to stay at a school that is losing its two best offensive players in quarterback Darron Thomas, and running back LaMichael James.
And then it hit.
Kelly released a statement claiming that he had, "
unfinished business to complete at the University of Oregon."
Kelly, who has been essentially lights-out since taking the head coaching job at Oregon with a 34-6 career record, is referring to not winning a BCS National Championship.
Last season, Oregon won the Rose Bowl against the Wisconsin Badgers, which was inevitably a sweet victory for the Ducks and Kelly. However, it didn't take away the sting from losing the BCS Title Game in 2011 to the Cam Newton led Auburn Tigers.
Kelly coached his team that close to a national title, and he isn't giving up anything.
The Ducks, under Kelly's watch, went from an after-thought to one of the best teams in the country in almost no time at all. The biggest reason? Kelly has brought in top-tier recruiting classes every season, giving Oregon incredible depth at every skill position.
Guaranteed, if Kelly would have taken the job in Tampa Bay, Oregon would have lost a huge chunk of their recruiting class. With Kelly staying, the Ducks will likely retain the vast majority of their recruits and no harm will be done.
It's an incredibly noble move for Kelly to turn down an NFL job offer to help his school win a national championship. Something that most coaches in the college game, regardless of the quality of their program, would ever do.
This season will be career-defining season for Kelly, as he is losing two key players to his offense, and he is also in the same conference as a BCS favorite in USC. The stakes will never be higher at Oregon, and all eyes will be watching to see if Kelly made the right choice in staying with the Ducks.
However, no matter how this season ends, Kelly showed immense class, pride, and dedication by staying with the Oregon Ducks.
Be sure to follow Beard and Stache on Twitter @BeardAndStache, and also Troy @TroyBallards, Like our Facebook page HERE!