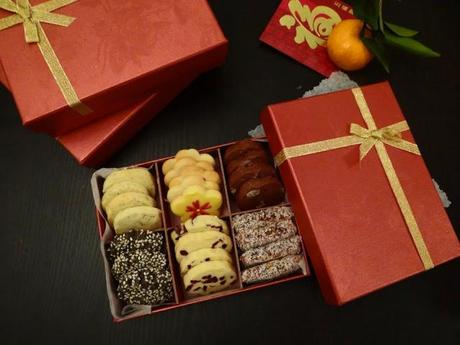 Happy Chinese New Year!  
Which is... tomorrow. Ah. I meant to publish this a lot earlier so that people could have a chance to try some recipes if they wanted. As usual, my sense of timing is warped. But better late than never, eh?
CNY is a week of family meals and visits, gift-giving and money-receiving. Cookies are abundant. The ones that I'm writing about today aren't very typical CNY cookies at all, because I wanted to try something different. So let me do a quick run through of these cookies.

Icebox Cookies in 3 Flavors: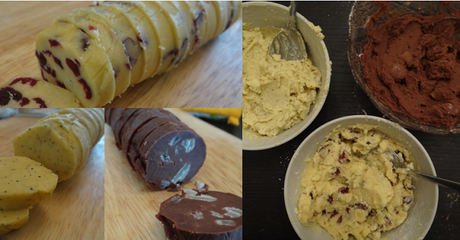 These were my Let's-Plan-Ahead-For-Once selection for my cookie gift boxes. Icebox cookies can be stored in the freezer for about a month and adapt to thousands of flavor combinations, which makes them ideal for anyone aiming to make six different types of cookies in one day.  Three of the choices of my cookie boxes had the same icebox cookie base.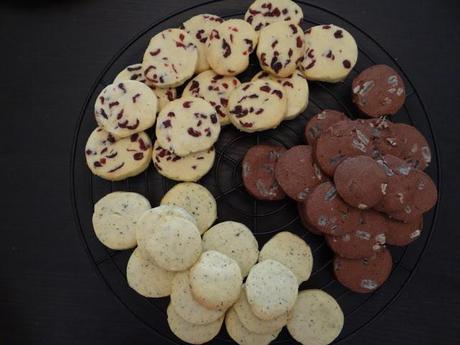 The flavors - talk about bad decision making skills. I changed my mind about twenty times. In the end, I went with earl grey, chocolate + candied ginger, and lemon + dried cranberry. The earl grey could definitely have used another bag of tea leaves, I could barely taste it, but luckily the cookie base tastes just as good plain. Surprisingly, I think the flavor that I like the best is the chocolate and ginger combination - generally chocolate cookies are either very good or very bad for me, and these were definitely on the good side. The combination worked incredibly well.
Black Sesame Cookies: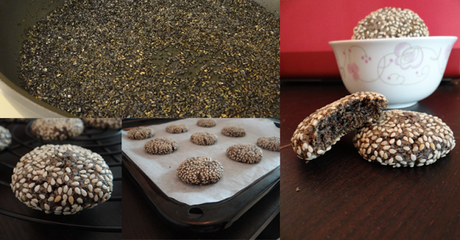 These are definitely Asian inspired and so easy to make. They are crispy and crunchy and drier than the rest of the cookies in the box, which provides a good texture contrast. If you've ever tried Black Sesame Soup, which is a classic Chinese dessert, you have a pretty good idea of what this tastes like: it's very much like the cookie form of that.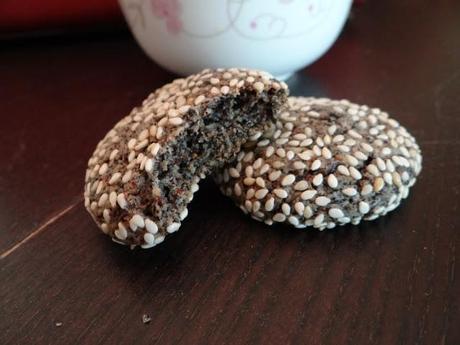 It would probably be miles easier to buy your own black sesame powder for these cookies than to grind it, which can be a pain. The sesame has to be toasted until it pops open and then run through a food processor, and even after whizzing it around for over five minutes I couldn't get all of the seeds to break down. In this case I think it adds to the crunchiness, which I happen to like, but pre-ground sesame powder would yield a smoother cookie.
Apricot Coconut Candies: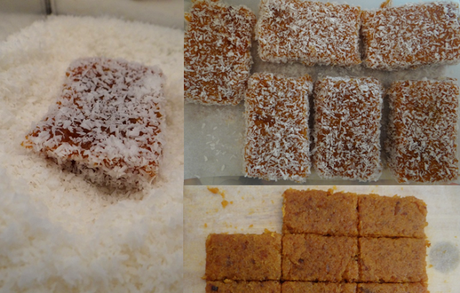 Okay, these were last minute and not part of the original plan at all. I had originally thought of going with some pandan coconut candies, but realized that they should be kept in the fridge after being made which raises all sorts of problematic issues since I wanted to bring these gift boxes overseas. Yet I wanted something chewy to provide the opposite texture contrast to the sesame cookies, and so I ended up going with these, which are also incidentally the healthy option of the boxes.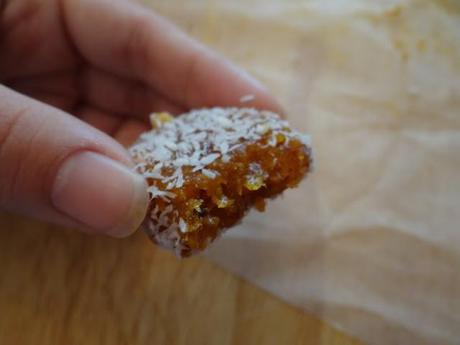 These are like the apricot version of these No-Bake Date Pecan Cranberry Bars. Dried fruit (in this case, dried apricots) are pureed in a food processor with just a little bit of orange juice to help it break down until it forms a paste, which is then flattened and cut into rectangles and rolled in dessicated coconut. It's incredibly easy and takes 15 minutes to make but it's amazing what a little bit of machine work can do to make dried apricots turn into something sweet and candy-like.
Cream Cheese Cut-Out CNY Message Cookies: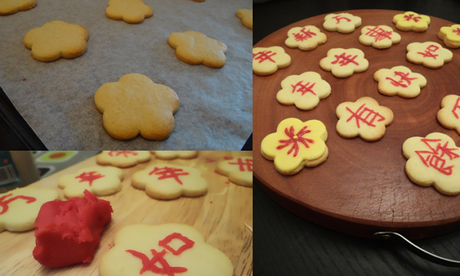 I saved the best for last: these are the star of the cookie boxes. Incidentally, these were also not part of the original plan - I had intended on making snake-shaped cookies instead to celebrate the new year (Year of the Snake on the Chinese Zodiac calendar), but couldn't find a right-looking cookie cutter anywhere and I thought that decorating it would have been a bit too fiddly, so I opted for flowers with Chinese New Year messages on them instead. From left to right, reading vertically, the phrases are all typical well wishes for the new year meaning: 'luck and prosperity for every year', 'happy chinese new year' and 'may your wish be fulfilled in everything you do'. For the Chinese characters, I used colored marzipan, and yes it did take forever.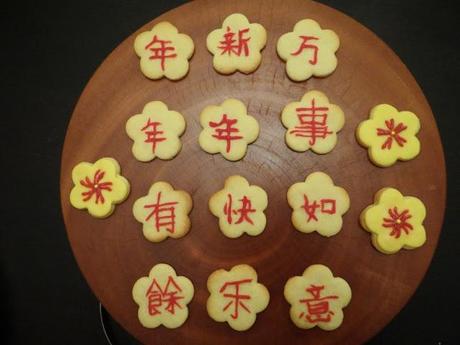 These cut-outs were called the best cut-out cookies ever, which is quite a bold statement to make. I can't attest as to whether or not they are the best since I haven't made cut-out cookies all that much, but the dough for these were easy to mix and the shapes easy to cut out. Most importantly they didn't lose their shape and spread in the oven. You can definitely taste the cream cheese on these, which I like, and I think it also helps  to stabilize the cookie a little more.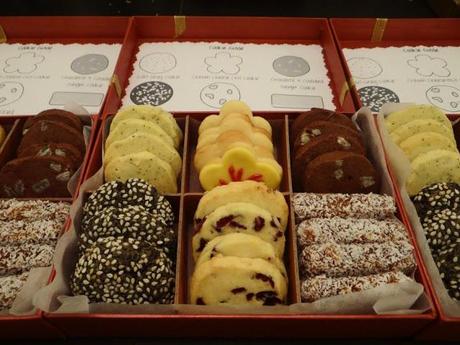 So, I'm a nerd, and apparently I couldn't quite stop at just making cookies. I made a little 'Cookie Guide' of computer-illustrated versions of each cookie with a description of what they were and stuck it to the lid of the box. What can I say, I'm on holiday.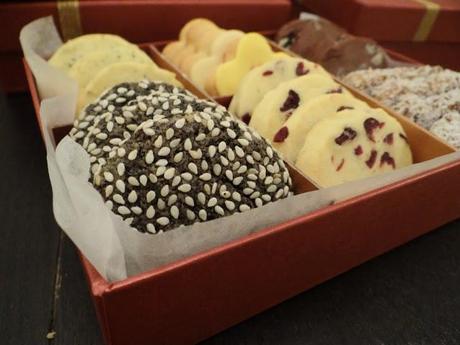 It's a bit too late for CNY this year, but I hope you keep these in mind for next year if you feel like being festive. Otherwise, these gift boxes would also work great as a heartfelt Valentine's Day gift, if you're still searching for ideas. Maybe pink and red boxes and some heart shaped chocolate cookies?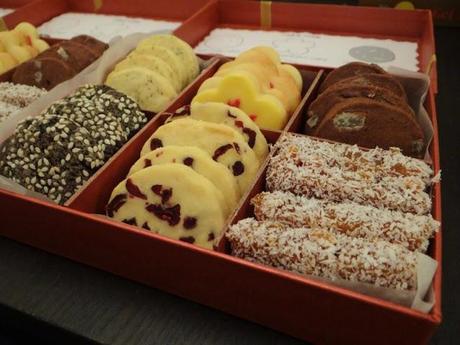 Icebox Cookies Adapted from Smitten Kitchen Makes about 45 cookies

Note: I divided this recipe so I could make three different flavors. Below are the instructions if you'd like to do the same; if you want to just make one type of cookie, ignore any dividing dough instructions and just add your chosen ingredients into the main dough. If you'd like to make two types of flavors, you can just divide the dough in half when it says divide in three.

1 cup (225g) unsalted butter, softened
2/3 cup icing sugar, sifted
2 large egg yolks
Pinch of salt
1 tsp vanilla extract
2 cups (280g) all-purpose flour
Place the butter in a bowl and beat until pale and smooth. Sift the icing sugar into the bowl and beat until the mixture looks silky. Beat in egg yolks, then salt and vanilla.
Divide the dough at its current stage into three portions (I weighed the full dough, then divided it by weight).   You will definitely need a scale here to be exact. Divide the flour; each portion of dough should get 93 grams, but don't add it in yet. Separately add in any dried fruits, zests, nuts or seeds and mix, then lastly add in the flour. The combinations I used* were lemon-cranberry (zest of half a lemon + 1/4 cup chopped dried cranberries); earl grey (1 packet of earl grey tea leaves cut loose - but I suggest using up to 2 for a stronger flavor); and chocolate-ginger (replace 12g of the flour for cocoa powder + add 1/4 cup chopped candied ginger).
Once your cookie flavor(s) have been added, wrap each cookie dough in cling film and refrigerate for half an hour. Take out and roll it into a log about 1 1/4 inches thick (tip: use the empty cardboard roll of a kitchen paper roll for an evenly circular shape). Chill for two hours, or if you'd like to freeze it place in the freezer for up to 1 month. If frozen, put the cookies in the fridge overnight the day before you bake.
When ready to bake, preheat the oven to 180C/350F.
Take out your cookie logs. If you'd like to coat the edges, then roll them in a coating of your choice at this point. Then using a sharp knife, slice off coins of cookies about 1/3 inch thick. The thicker the cookie, the longer you'll need to bake them. Put the cookies on a lined baking sheet, leaving about 1 inch between them.
Bake for 12-14 minutes or until the bottom of the cookie is brown (the top should still be pale). Let cool on a wire rack.
*For more flavor ideas, visit SK.
Black Sesame Cookies Adapted from Hot From My Oven Makes about 1 dozen cookies
1/2 cup all-purpose or plain flour 1/2 tsp baking powder 1/4 cup black sesame powder 1/4 cup + 1 tbsp icing sugar 3 tbsp oil 1-2 tbsp milk About 3-4 tbsp white sesame seeds, for rolling the cookies
Preheat oven to 180C/350F.
Sift together flour, baking powder, sesame powder and icing sugar in a big bowl. If you've ground your own sesame powder and some of the black sesame are too big and won't go through the sieve, no worries, just throw them into the mix anyway for a crunchier cookie. Add the oil and mix with a wooden spoon until the mixture is crumbly. Add the milk one tablespoon at a time until the mixture forms a dough.
Put the white sesame seeds in a small platter. Scoop out teaspoon or tablespoon sized of the dough (depending on how large you like your cookies; I used tablespoon), roll into a ball with your hands and then coat with white sesame seeds. Place on a lined baking tray and flatten slightly with the palm of your hand. Repeat with the rest of the dough.
Bake for 15-20 minutes, or until the bottom and edges of the cookie are slightly brown. Take out and let cool on a wire rack.
Apricot Coconut Candies Adapted from Russian Mom Cooks Makes about 14 pieces
350g dried apricots 1/2 a fresh orange (make sure it's a sweet orange) 1/2 cup unsweetened dessicated coconut
Place the dried apricots into the bowl of a food processor and squeeze in a little fresh orange juice. Pulse a few times, then process until the apricots start to clump together. Add more juice if needed. Once it forms a cohesive paste, place it onto a board between two sheets of parchment paper and flatten or roll out to desired thickness - mine was about 1/4-inch thick. Slice into desired shape and coat in dessicated coconut. Store in an air-tight container.
Cream Cheese Cut-Out Cookies Adapted from The Kitchn Makes about 50 cookies, depending on shape and size

1 cup (225g) unsalted butter, softened
3/4 cup caster sugar
1 egg
2 oz (56g) cream cheese, softened
1/2 tsp vanilla extract
1 tsp lemon zest
3 cups (375g) all-purpose or plain flour
1 1/2 tsp baking powder
1/2 tsp salt
In a large bowl, cream butter and sugar until pale and fluffy. Add egg and beat until well mixed. Add the cream cheese and beat until well incorporated. Beat in vanilla and lemon zest.
Whisk together flour, salt and baking powder in another bowl. Add the dry mixture bit by bit to the butter and sugar until fully incorporated.
Place the dough in the fridge for at least an hour. At this point, you can either bake or freeze. For freezing, divide the dough into two portions and roll out to about 1/4-inch thick. Wrap in plastic wrap and place in freezer, it'll last about a month.
When ready to bake, preheat oven to 180C/350F.
Cut out your cookies with whatever cutter you like. Place an inch apart on the baking sheet and bake for 8-12 minutes, depending on how thick you've made your cookies, or until the bottom of the cookies are golden brown. Take out and let cool on a wire rack before icing or decorating.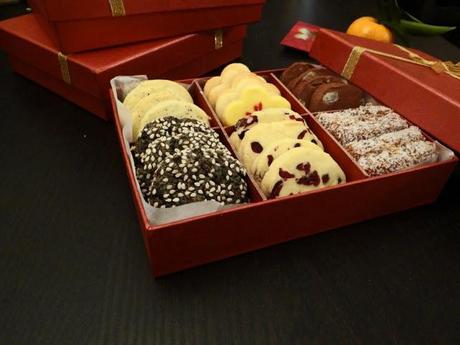 Now if you'll excuse me, I think I'll be going on an indefinite cookie hiatus.