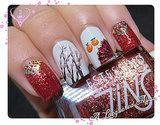 "Chinese New Year is an important traditional Chinese holiday celebrated at the turn of the Chinese calendar. In China, it is also known as the Spring Festival, the literal translation of the modern Chinese name. Chinese New Year celebrations traditionally run from Chinese New Year's Eve, the last day of the last month of the Chinese calendar, to the Lantern Festival on the 15th day of the first month, making the festival the longest in the Chinese calendar. Because the Chinese calendar is lunisolar, the Chinese New Year is often referred to as the "Lunar New Year" - Wikipedia
A big hey to all and Gong Xi Fa Cai to all friends celebrating the Lunar New Year!
I've finally got some break and inspiration to get back into polishing and blogging, starting with this current holiday-inspired manicure.
I don't celebrate the festival but it presents an opportunity to pig out on goodies, enjoy one of the longest public holidays here in Singapore, and a source of inspiration to force out a red nail polish (which is a rare sight in my stash).
Using metal nail decals and freehand, this is my set of Chinese New Year nails:
♥ Index finger and pinky: 2 coats Estessimo TiNS 090 The Lips at 0am (uh, what??), topped with Glisten & Glow HK Girl topcoat with gold metal nail decal (from a haul thanks to @subtletyisoverrated)
♥ Middle finger: 2 coats OPI My Boyfriend Scales Walls as base, with freehanded pussy willows - cultural spignificance during the Lunar New Year (to represent the arrival of Spring, good fortune). Branches - ManGlaze Santorium, catkins - Skin Food Nail Vita Alpha (textured) ASG04 Sugar Strawberry (pink)
♥ Ring finger: 2 coats OPI My Boyfriend Scales Walls as base, dotted with Zoya Beatrix as a pair of oranges, green leaves with China Glaze Emerald Sparkle, red fan with butter LONDON Rebel Fox, lined with Etude House LUCIDarling Sparkling #01.
Estessimo TiNS 090 The Lips at 0am is the latest purchase from Mei Mei's Signatures, apparently a new shade from the brand. I thought this would be perfect for the Chinese New Year themed manicure.
Parting shot:
I've got a ton of catching up to do. Stay tuned, folks!
♥ ♥ ♥ ♥ ♥
To Leave a Comment
I've noted that OnSugar's Comment feature has caused a few readers frustration by not accepting their input. While OnSugar works on rectifying it, I did a trial and error and found that comments don't get red-taped if you enter your information in the "Name" field without any space, ie. "ALacqueredAffair" instead of "A Lacquered Affair". I hope this works. As much as I want to, OnSugar doesn't allow the disabling of Captcha.
Disclaimer: I am not sponsored/ endorsed by any of the above-mentioned companies. All opinions expressed are my own, and will always be. All products were purchased on my own.