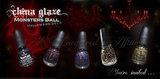 | mon-ster |
"any animal or human grotesquely deviating from the normal shape, behaviour, or character" - Dictionary.com
| ball |
"a party for social dancing"
"Halloween is the one night out of the year when it's socially acceptable to be a monster and dance 'til the wolves howl" - Artworkstrenton
 Warning! Picture-heavy post ahead
'Howl You Doin', lovelies?
Finally, with some breather from work, here's a bumper post - a review of China Glaze's 2013 Halloween collection. This has been lying dormant in my stash for more than a month. Halloween collections always excite me and it's probably the only time of the year I do a 'bumper' post, like last year's.
First Impressions
Because of all the exciting nail polishes created by indie makers and smaller companies, this year's Halloween collection by China Glaze may seem nothing out of the ordinary. However, I'm liking this one more than last year's! Except for the 'Texture', they all contain glitter, some with interesting mixes we've usually see in indie nail polishes. I've got to give China Glaze a thumb's up for trying to keep up with the trend.
This Halloween collection features 5 new shades. Tagging along is a re-release number, Ghoulish Glow, a glow-in-the-dark polish that was released in 2011 (which I did not get). Without further ado, here are the 'monsters':
Boo-gie Down
Boo-gie Down is a clear-based glitter topper with large bronze and black hex glitter, mid-sized bronze, gold, white and black hex glitter, tiny black and gold glitter and peppered with black bar glitter. My first expression was, "EEK!".
Here's 1 coat of Boo-gie Down over a base coat:
(Pardon the yellowish stains on the nails, a result of horibble staining by a previous nail polish).
A decent amount of glitter clung onto the brush and transferred onto the nails in 1 thick coat. Like with most chunky glitter polish mix, I applied the dab-and-spread method.
Here's a close-up:
This mix of shades screams Halloween with its classic orange-ish and black combo and enough sparkles for the midnight out.
Here's Boo-gie Down in varying number of coats:
From left: 1 to 4 coats
Even at 4 coats, this glitter topper does not provide complete coverage. This one's clearly meant to be layered over a base color.
For the adventurous and patient, here's 4 coats of Boo-gie Down, topped with HK Girl Top Coat:
And here's a close-up:
I really do not suggest trying to go full-on glitter with this topper unless you're ready for some major pain in the you-know-where during removal. Because of the amount of glitter, it gets bumpy.
And here's an experiment with various base colours, all topped with HK Girl Top Coat:
From left, over 2 coats of:
♥ OPI German-icure by OPI
♥ Illamasqua Unnatural
♥ Skin Food Jungle Fruits #7
♥ OPI Just Spotted The Lizard
While I really like the glitter combination of bronze, gold and black, I don't think the (long) black bar glitter will grow on me.
Moving on...
Howl You Doin'
At first glance, my immediate thought was, "Orly Fowl Play/ OPI Merry Midnight dupe!" But, alas, it's not. The macro shot picked up small blue and purple hex glitter, along with some irregular purple glitter shards in a jelly deep aurbergine base.
In 1 coat over a basecoat, sans topcoat:
In 1 coat, it is pretty sheer, even when I attempted a thick coat on the index finger (far right). The formula is on the streaky side, but a second coat, should balance it out. The glitter distribution is even and no 'dabbing' was necessary.
After a second coat, with 1 coat of HK Girl Top Coat:
I love that it looks like how it is in the bottle. The densely packed glitter jellied between 2 coats distributes evenly with each swipe of the brush. The finish is dull without a topcoat, so a glossy one works well to bring out the glitter.
I have to admit, I'm biased towards such deep purple shades, especially when it is complemented with glitter. Here's a close-up:
Going back to that statement about Howl You Doin' and Orly Fowl Play/ OPI Merry Midnight, here's a bottle comparison:
And on the nails (all topped with 1 layer of topcoat)...
Except for OPI Merry Midnight, all swatches shown are in 2 coats. Merry Midnight required 3 for opacity.
Aside from the obvious flakies in the other 2 versus glitter in Howl You Doin', Merry Midnight and Fowl Play have loads of shimmer and less small blue hex glitter. The jelly base shade in these two are also a slight lighter shade of purple. Also, the formula of these 2 are easier to work with.
Next up...
Fang-tastic
Let me get this out of the way; I love the name because it reminds me of True Blood's Fangtasia. However, the color combination in this glitter mix just doesn't connect with its name, I feel.
Fang-tastic is another clear-based glitter topper of medium to small blue, green and fuschia glitter.
Here's Fang-tastic in 1 coat:
Getting a decent amount of glitter onto the nail was pretty easy, though it still needed to be dabbed and spread to get a reasonably even distribution.
Here's a close-up:
And in varying number of coats:
From right: 1 to 4 coats
Like Boogie-Down, it's not possible to achieve full coverage in 4 coats, though it does look stunning on its own. It dries very bumpy just because of the content of small and large hex glitter.
Here's a full mani with 4 coats, topped with HK Girl Topcoat:
Because of the concentration of chunky glitter, 2 coats of topcoat were used. It looks so party-ready!
A close up:
To see some layering options within this collection, keep scrolling down...
Bat My Eyes
Bat My Eyes is a dense mix of mid-sized gold hex glitter and smaller gold and bronze hex glitter, peppered with some bronze bar glitter in a black jelly base. The bar glitter is so sparsed, one could hardly notice. This one, I approve :)
In 1 coat over a clear base coat:
I love the shade and glitter mix in the polish, but the formula leaves little to be desired. Streakiness on the first coat, for a glitter polish with coloured base, I can deal with, if the second coat conceals any bald spots. But clumpiness, that's a challenge to work with. It could be due to the high desity of glitter and suspension base. It takes some patience and a lot of bottle rolling between a painting few nails to get a workable formula.
With a second coat:
I managed to get an opaque and even coverage. And with a thick and glossy topcoat, it's ready to go from Monsters Ball to a New Year's Eve ball. (Spot the bar glitter.)
Here's a closer look:
With Howl You Doin', OPI Merry Midnight and Orly Fowl Play as the base shades, here's Bat My Eyes and Fang-tastic in a glitter gradient over them, topped with 1 coat of HK Girl Topcoat:
Are you still with me (just checking)?
Last but not least...
Bump In The Night
Continuing with the 'textured' trend from their Summer 2013 collection, China Glaze adds a jet black member to the Texture family with Bump In The Night. Personally, I'm not a fan of their textured line because they resemble coloured sandblasted walls. I prefer those with glitter or color mixes in them.
I admit I did not expect much from Bump In The Night, except to provide a base shade for some of the other polishes in this collection. And I wasn't even sure if they'll turn out well over a textured base polish.
Here's 1 coat of Bump In The Night sans topcoat:
One-coater! (a pleasant consolation) The formula is very pigmented and reasonably well-behaved for a textured polish. The grit factor is definitely high with this one. 'Bump' is aptly used, alright.
There's an uneven blend of matte grit and wax-shine creme finish. Here's a closer look:
Playing around, here are some layering options with the other polishes in this collection over Bump In The Night, without topcoat:
♥ Index: Bat My Eyes
♥ Middle: Boo-gie Down
♥ Ring: Fang-tastic
♥ Pinky: Bat My Eyes
And with topcoat:
Final Thoughts
Overall my favorite is Howl You Doin'. It would have been Bat My Eyes if not for formula issues. I would have liked to see a shimmer or an interesting creme shade complete the collection, and as a base shade option for the 2 glitter toppers.
What are your thoughts of China Glaze's Halloween line-up for 2013? Have you gotten, or planning to get any?
Parting shots:
♥ Index: Bat My Eyes glitter gradient over 1 coat Bump In The Night, without topcoat
♥ Middle: Bat My Eyes glitter gradient over 2 coats Howl You Doin', with topcoat
♥ Ring: 1 coat Bat My Eyes over 2 coats Howl You Doin', with topcoat
♥ Pinky: Bat My Eyes glitter gradient over 1 coat Bump In The Night, with topcoat
A close-up of my favorite combo, just because it has this magical, necromatic, spellbinding, sorcerous, gypsy feel:
1 coat Bat My Eyes over 2 coats Howl You Doin', with 1 coat HK Girl Topcoat.
Cheers, lovelies!
♥ ♥ ♥ ♥ ♥
To Leave a Comment
I've noted that OnSugar's Comment feature has caused a few readers frustration by not accepting their input. While OnSugar works on rectifying it, I did a trial and error and found that comments don't get red-taped if you enter your information in the "Name" field without any space, ie. "ALacqueredAffair" instead of "A Lacquered Affair". I hope this works. As much as I want to, OnSugar doesn't allow the disabling of Captcha.
Disclaimer: I am not sponsored/ endorsed by any of the above-mentioned companies. All opinions expressed are my own, and will always be. All products were purchased on my own.