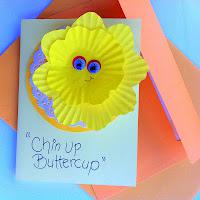 It's no secret that we all get down from time to time, have a bad day, or fall ill occasionally... and when we do, there's nothing nicer than knowing that someone is thinking of us.  One way to show you care, perhaps the 'old fashioned way' is to write a card.  There's someone I know, only a little bit, who is going through a rough patch at the moment, and my heart really goes out to her.  I haven't given her a card - but I want to.
I even made her one - you can see it; it says 'chin up buttercup' and it's made of a round circle of paper, a doily, two cupcake liners and some googly eyes... I felt better making it for her... but I chickened out when it came time to give it to her.
Sometimes it's hard to know whether you'll make things worse.
If you have the flu and someone gave you a 'get well' card, it would be pretty hard to be offended.  If you had a  haircut and you mentioned to that same someone that you weren't sure if you liked it and then they gave you a 'cheer up' card, it might be easy to read into it that they think the haircut's dodgy too.  Okay, that might not be the right example... but do you know what I mean?  By giving someone a card it might exaggerate that you think they have a problem...
As I'm typing I've decided not to give her the card.  I'll give her a brief hug instead.  It's a universal sign of care, easier for me to walk away from if it's taken the wrong way, easier for her to ignore too if it's not welcome.
Sometimes sympathy is easier said than done... chin up buttercups, and welcome to the first day of a new season - whichever season that happens to be! x