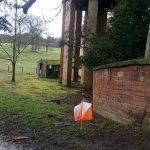 Walton Chasers last event at Chillington a few years ago got it a reputation. A reputation – based of fact, that it was a bramble fest – armoured trousers needed. I took on planning an event on this area for a couple of reasons, we had a very small window at the close of the shooting season to update the map (which I can do) and the sheer challenge of producing some hopefully enjoyable courses on such a difficult area!
I concentrated on providing huge routechoice legs, keeping people out of the brambles and hopefully provide runners with some beautiful vistas and views of the estate grounds.
I had to arm chair plan the courses over the winter and gained access at the beginning of Feb – just a month before the race. A recce showed lots of felling and the brambles even worse, but we did get access to the grounds around the hall itself and most of the parkland so I concentrated when re-planning on making the most of those.
A week before the race and along comes Doris (the storm) – big trees down and a very waterlogged area with lots of mud!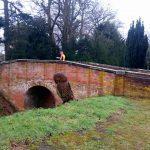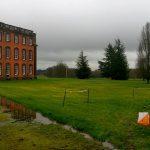 I put out all the controls on the day before the race, just leaving me to check them and wake them up on the morning of the event (electronics). Saturday was beautiful, almost perfect spring day – Sunday though dawned cold with a front racing through which caught me good and proper out on the area with torrential rain which then turned to sleet and snow.
By the time the runners rocked up it had improved and then event went well with over 150 competitors enjoying the parkland, with the start and finish based in the 'model farm'.
Quick analysis of the GPS routes people post afterwards shows the big route choice routes seemed to have worked – so happy bunny me!