Mutton is my weakness and I have tried various mutton recipes, experimented with many till date. Each time I got amazed with the zing that mutton can bring to a dish whatever the recipe might be. This time I tried an Indo Chinese version of mutton. Chilli Chicken is loved by everybody all over the world, thought of substituting chicken with mutton to see if it enhances the flavor and this time also I was astonished with the result. Chilli Mutton is an exotic dish, superlative in taste and texture, and it was a real wonder for me. This is a must try mutton dish and just relish it with whatever you wish, its bound to get polished off in seconds.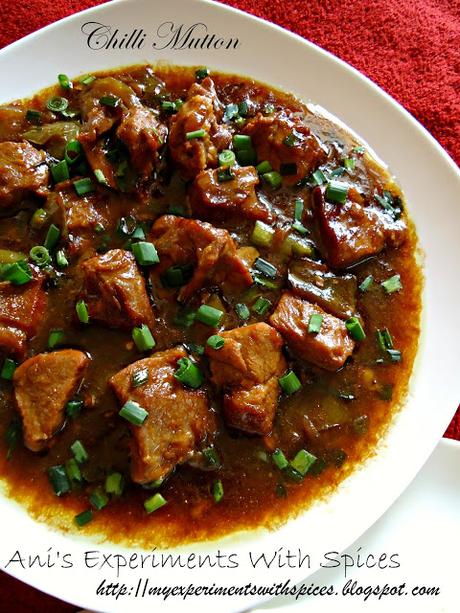 For this you would need boneless mutton pieces, but there's no need to fry them with egg and cornflour batter. Just a prior pressure cooking is needed before adding it to the soy sauce gravy. Its very easy and simple….try out today
The way I made it:
Ingredients:
750 gms boneless mutton
3 large capsicum/green bell pepper cut in cubes
1 tablespoon onion grated
1 tsp ginger paste
1 tsp garlic paste
4 onions cut in cubes
5-6 cloves of garlic finely chopped
1 tsp white vinegar
3 tsp dark soy sauce
A pinch of ajinomotot/monosodium glutamate (optional)
4 green chillies chopped
2 tsp of cornflour powder mixed with a little water
Salt and sugar to taste
Refined oil as per requirement
A fistful of finely chopped spring onion for garnish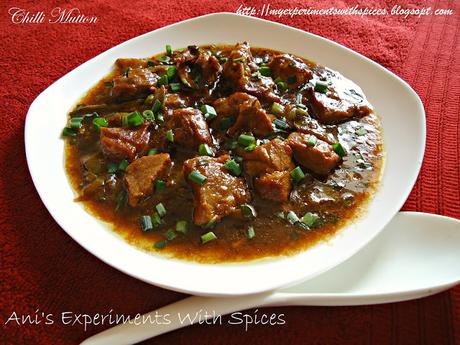 Procedure:
Step 1:
Heat some oil in a pressure cooker and add the onion and ginger garlic paste. Saute till oil separates. Now add the mutton pieces and fry on high flame. Add salt. When the mutton changes color add a cup of water, close the lid and cook for 10-12 minutes till the mutton is done. Let the pressure escape on its own.
Step 2:
Now heat oil in a wok and add the cubed onion and chopped garlic. Sauté, and add chopped green chillies and bell peppers. Stir fry on high flame for a few minutes. Add vinegar, soy sauce, ajinomoto and a pinch of sugar to balance the sour taste.
Step 3:
Now add the mutton along with the stock. Let the mutton get cooked in the gravy for sometime till the gravy reduces further. Now add the water mixed with cornflour powder. The gravy will thicken in a few seconds.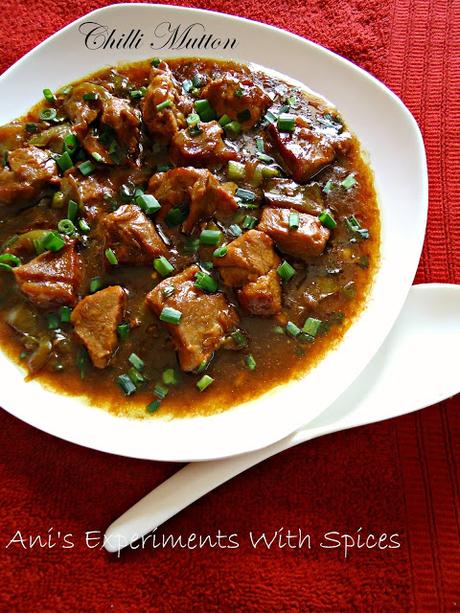 Step 4:
Garnish with chopped spring onions and serve this palatable dish with fried rice/noodles/ roti/ parantha.