I am a great fan of cheese,but in moderate quantity such that the cheese doesn't overpower the flavor and taste of the other ingredients in a recipe.Even when making/ordering pizza I keep cheese in moderate quantity and increase the other toppings :). I am a big fan of this chilli cheese toast and I often order this in bakeries.I found a simple recipe for this cheese toast in a old Femina issue.The recipe seemed fairly simple and less time consuming.I tried it for breakfast and we had a tasty,hearty breakfast.This recipe is completely a mix and match kind,increase/decrease any ingredient as per your taste/preference and you would have made a family favorite breakfast.Kids will be pleased for sure :)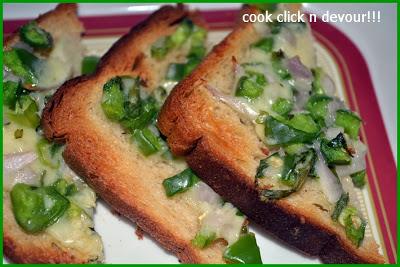 Chilli cheese toast recipe
Star ingredient:grated cheese,green chilli and whole wheat bread
Time:20 minutes
Yield 8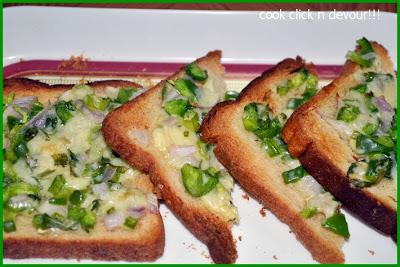 Ingredients:
8 whole wheat/white bread slices
2-3 tablespoons grated cheese
3 green chillies sliced into rounds
1 tablespoon finely chopped  green bell pepper
1 onion sliced thin
1 tablespoon finely chopped cilantro/coriander leaves
Salt
Method:
1.Take grated cheese in a bowl and all the ingredients expect bread to it.Mix well till uniform.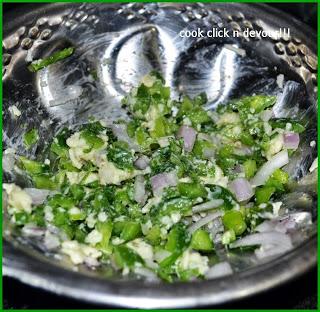 2.Take a bread slice,apply the cheese mixture to one side.Repeat the same with all the slices.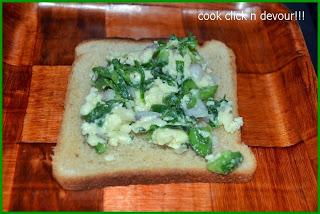 3.Preheat oven at 180C, arrange the slices in a baking tray and bake for 10-15 minutes until cheese melts.(As crisp as you prefer)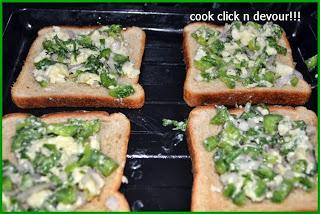 4.Serve hot.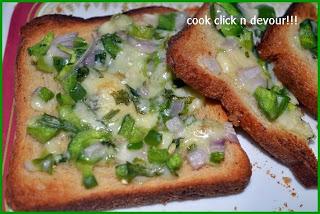 Notes:
1.You can skip cilantro and add dried basil/oregano
2.Adjust baking time according to your preference.
3.You can toast it on tava too until cheese melts.