The big debate: children and weddings. Some think a wedding wouldn't have the atmosphere without them, and others couldn't think of anything worse than having a swarm of children 'aeroplaning' all over the dance floor. I think I'm somewhere in between..
As I've mentioned, David and I have a young daughter, Vivienne, and the wedding is around a week before her second birthday. My initial concern was that she would simply refuse to wear the gorgeous headband I have bought for her, the second was that she wouldn't hold Evelyn's (David's niece) hand and be wary of walking down the aisle in front of the congregation, and the third was that she would have to wear a cream dress all day, bearing in mind that she enjoys rubbing banana in her hair and turning our dining room into a scene reminiscent of a chimp's tea party. And then it dawned on me, the most important problem with children at weddings, especially young children, is trying to keep them entertained.
Vivienne and her cousins will be the only young children at the wedding; Evelyn will be 4, Vivienne and Frankie will be nearly 2, and Ronnie will be around 14 months. Danielle, one of our photographers has mentioned that she'd like to bring a 'dressing up box' for the children to play about with (and hopefully get some fabulous pictures!), and we'll probably be borrowing David's parent's bouncy castle. That's all well for the daytime, or even when the music starts up on the evening, but what about the speeches and the meal?
I thought the only thing for it would be to make 'goodie boxes' for each child, they're all at different ages, and I thought I could fill it with appropriate treats to keep them busy when it would be better if they were a bit calmer!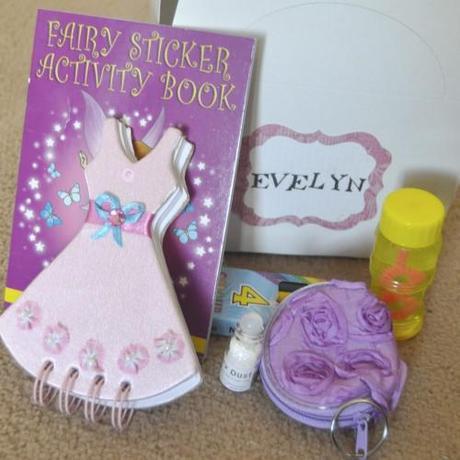 Evelyn's Goodie Box
Above is Evelyn's goodie box. Vivienne, Ronnie and Frankie's boxes have slightly younger toys, like scribble books and crayons. I decorated and personalised them, so hopefully they'll be excited to see the contents and it'll keep them occupied long enough to rush through the speeches uninterrupted!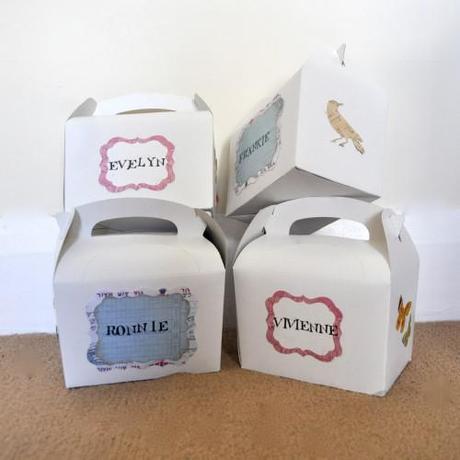 Finished!!
I really am putting my faith in these little boxes, and I'm praying that they work, or even that they last a good half hour! Fingers crossed and here's hoping!
Sally x