During the summer, I really enjoy dressing my pasta with a lighter sauce. This recipe is one to try when you are bored of the same old tomato doused pasta. The tanginess of the mustard dressing complements the peppery rocket flavour, while the crunchy toasted pine nuts add another texture dimension to the dish.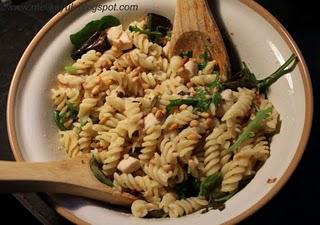 Chicken, Rocket and Pine Nut Pasta
Time:
Preparation: 10 mins
Cooking Time: 20 minutes
Portion Control:
Serves 4
Ingredients:
2 large chicken breasts
250g of fusilli pasta
1 onion, peeled and thinly sliced
75ml or 5 tbsp of Greek yoghurt
15ml or 1 tbsp of course grain mustard
125g of rocket
15ml (1tbsp) white wine vinegar
15g (1tbsp) of light brown (muscavado sugar)
Pine Nuts, toasted
2 garlic cloves, peeled and crushed
30 ml (2tbsp) of olive oil
100ml of water
Salt and pepper for seasoning
Directions:
Slice each chicken breast in half horizontally, season with salt and pepper and place between two layers of cling film. Beat with a rolling pin to flatten. For each piece of flattened chicken breast, cut into 4/5 chunks.
Cook the pasta in a large pan of boiling salted water until "al dente" or according to packet instructions.
Meanwhile, heat the oil in a frying pan. Add the chicken pieces and fry for about 4 minutes on each side until cooked through. Drain and keep warm. Add the onion to the pan and cook gently for 3 minutes until softened. Stir in the garlic and pine nuts and cook for a further 1 minute.
Drain the pasta and return to the saucepan. Add the contents of the frying pan, the chicken and the rocket and toss lightly together. Transfer to warmed serving plates.
Stir the brown sugar, mustard, vinegar and yoghurt into the pan with 100ml of water. Heat through, stirring, for 1 minute without boiling, then spoon over the pasta and serve immediately.
You can use watercress as a replacement for rocket and penne pasta instead of fusilli.
Bon App

é

tit!