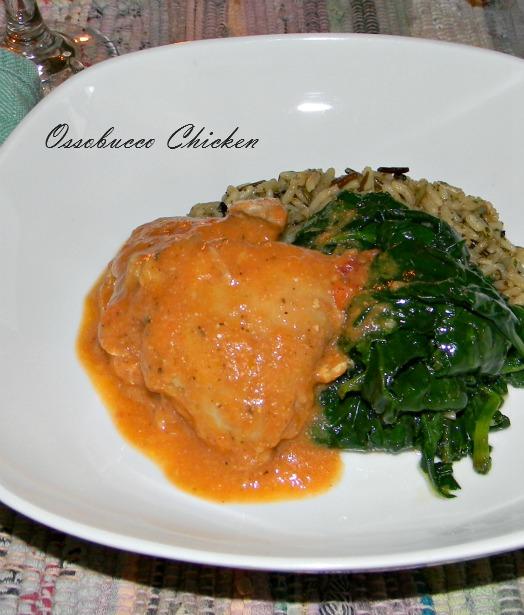 Going on vacation for two weeks poses a separate list of potential problems then just popping off for seven days. You need enough clothing and undies for 14 days. You have to make sure you hire a house/animal sitter because asking your neighbor for a 14 day favor just ain't gonna cut it, and you have to make sure you cook all the 'spoil-in-14-day' food from the fridge.
Last week I made a list for two weeks of meals, taking inventory of all the goodies in my freezer. Will get interesting as the food disappears and the choices get leaner. I am saving the ground meats till the end.
Meatballs, mini-meatloaves or burgers are always a good "no leftovers allowed" dinner.
Tonight I pulled out a package of skinless boneless chicken thighs I had originally slated for a chicken hominy stew and because I am trying to think spring and not make stew (how ridiculous is that really, we eat hot food in the summer) so I changed that to a one pot Osso Bucco preparation.
Yup, Osso Bucco it would be and chicken thighs are perfect for a long slow braise. If I had given it more thought, I would have bought the bone-in skin-on thighs, but I was tired of thinking, period.
I will be sauteing a bag of fresh spinach, garlic and EVOO with a side of Long Grain and Wild Rice (The Nudge is coco for that rice combo).
If you want a different way to serve chicken thighs, think about making this dish. It's healthy, low cab, low-fat, low-cal, very tasty and a one pot wonder. I imagine this would also cook well in a slow cooker on LOW for 6 hours.
Chicken Osso Bucco
makes 4 servings
* 1 cup onion, chopped fine
* 2/3 cup carrot, chopped fine
* 2/3 cup celery, chopped fine
* 4 tablespoons olive oil
* 1 tablespoon butter + vegetable oil
* 1 teaspoon minced garlic
* 2 strips lemon peel
* 6-8 skinless, boneless chicken thighs (can use regular ones also)
* 1 cup dry white wine
* 1 cup low sodium chicken stock
* 1 1/2 cups canned imported Italian plum tomatoes, coarsely chopped, with their juice
* 1/2 teaspoon fresh thyme or 1/4 teaspoon dried
* 2 bay leaves
* 2-3 sprigs parsley
* Salt & black pepper  
* 1 serving gremolata (optional)
Gremolata: Lemon zest, minced garlic and parsley. Chopped together and added to the pot before serving so it cooks for minimum 2 minutes. I have seen it added as a garnish but that is not the traditional way.
1. Heat the butter and oil in a heavy bottom dutch oven and salt & pepper the thighs.
2. Saute the chicken for 4 minutes on both sides. Remove to a platter.
3. If using skin-on, wipe any chicken fat in the pan and add the olive oil
4. Saute the onions, carrots and celery until they soften. Add the garlic and the lemon peel. Saute for 1 minute. Add the wine and stir. Add the chicken broth, the tomatoes and their juices along with the thyme, bay leaves and parsley.
Bring to a simmer and add the chicken. Cover and simmer on low for 1 hour.
5. Add the gremolata (optional), simmer for 2 minutes and serve immediately.
Although Ossobucco is often served with risotto, if you are following a low carb diet,you could eat half a baked sweet potato which is slow to digest and a good potato for diabetics.