My daughter requested that I make some chicken livers last night, and she wanted a recipe I haven't made before. So I found this one which apparently originates in South Africa. I cut down pretty much on the  heat, to make sure she can eat, too. Now, if you decide to make this recipe, please be sure you have plenty of fresh bread on hand to mop the fantastic sauce with! So, here are ingredients:
1 lb chicken livers, trimmed and cut into bite-size pieces
3 tbsp olive oil
2 tbsp red wine vinegar
1 tbsp fresh lemon juice
2 cloves garlic, crushed
1 tsp ground cumin
1 tsp ground coriander
2 tsp crushed red pepper flakes (I only used 3/4 tsp)
2 bay leaves
1 pinch salt and freshly ground black pepper to taste
1 tbsp olive oil
1 tbsp butter
1 medium onion, chopped
1 tbsp tomato paste
1 tbsp Worcestershire sauce
1/2 cup chicken stock
1 tbsp brandy
Place chicken livers in a large bowl, and pour in 3 tbsp  olive oil, vinegar, and lemon juice; season with garlic, cumin, coriander, chili flakes, bay leaves, salt, and pepper. Stir together, and refrigerate for 1 to 2 hours.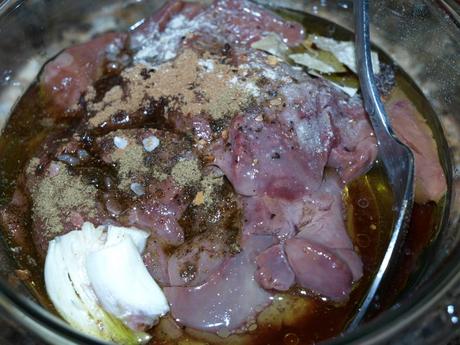 Remove livers to a bowl, and reserve marinade.
Heat 1 tbsp olive oil and butter in a large skillet over medium heat. Stir in onion, and cook until tender, about 7 minutes. Increase heat to medium-high, and stir in chicken livers; cook for 2 minutes, being careful not to overcook the livers.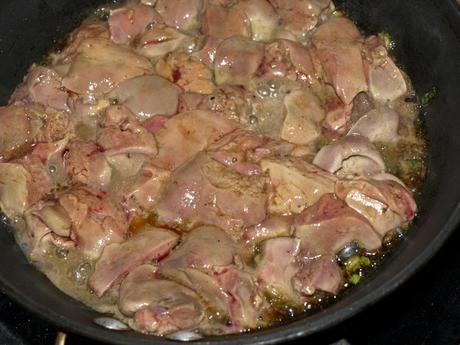 Stir in the tomato paste, Worcestershire sauce, chicken stock, and the reserved marinade. Simmer gently for 5 minutes. Pour in brandy, and heat through.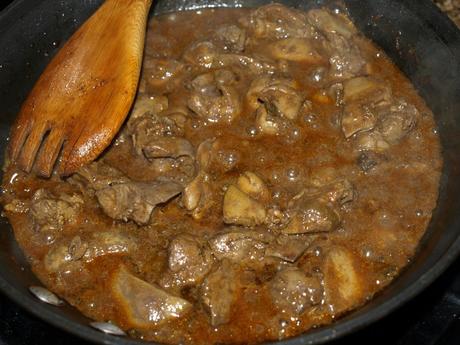 I served on simple quinoa. Enjoy!