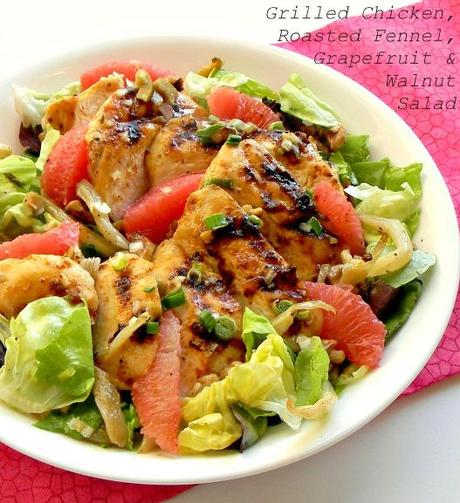 If you don't already know, grapefruits are excellent for diabetics.
Although grapefruit is a great source of vitamin C, many diabetics should avoid this fruit because of its well known interactions with many types of medications. If there is no label on your pill bottle, check with your doctor or pharmacist to see whether you can safely include grapefruit in your diet. Keep in mind that, as with any fruit, too much can raise your blood sugar levels beyond your target range.I could be borderline with eating too much. I love ruby red grapefruit, buy a HUGE container and every morning I eat a 1/2 cup. This was one recipe I was going to enjoy.Simple, easy, a good budget meal and includes a powerhouse of health benefits.Pink grapefruits are slightly more nutritious than the white varieties due to the phytochemicals that cause their pink color and may have additional health benefits as well.
"Each half-grapefruit serving contains about 52 calories, 13 grams of carbohydrates, 1 gram of protein and 0.2 gram of fat. Since grapefruit is 88 percent water, it is relatively low in calories and helps fill you up. Eating grapefruit before meals can help you limit the amount of calories you consume, potentially leading to weight loss. Grapefruit is a good source of vitamins and minerals. Each serving provides 38.4 milligrams of vitamin C, or 64 percent of the daily value; 1,414 international units of vitamin A, or 28 percent of the DV; and 310 milligrams of potassium, or 9 percent of the DV. Vitamin C is an antioxidant that's essential for healing wounds, forming cells and proper immune function. Your body uses vitamin A for reproduction, vision, cellular communication and immune function, and potassium is necessary for balancing sodium levels in the blood as well as digestion and muscle function. Although your body can't digest dietary fiber, but it plays an important role in keeping you healthy. Soluble fiber dissolves in water to form a gel, which helps slow the emptying of your stomach. It helps lower blood sugar and blood cholesterol levels. Insoluble fiber adds bulk to your stool and keeps it moving through your intestines, limiting your risks for diverticulosis, hemorrhoids and constipation. A serving of grapefruit contains 2 grams of fiber, of which 69 percent is soluble and 31 percent is insoluble. This is 8 percent of the daily value for fiber. Unlike white grapefruit, pink grapefruit contains 1.745 milligrams of lycopene, a phytochemical that causes a red color that may lower your risk for heart disease. Consuming at least 25 milligrams of lycopene a day could lower your low-density lipoprotein, or bad cholesterol, levels by up to 10 percent."

Why all this info on grapefruit? I will explain.
My first savory dish using grapefruit was inspired by a recipe I saw over at Food and Wine.It paired chicken with a grapefruit glaze. With roasted fennel in the fridge, a salad of fennel with grapefruit segments and walnuts would be perfect alongside a grilled chicken breast. Something slightly more substantial than a simple glazed breast.
I pulled out my George Forman Grill and got to work. I was hungry and this sounded delicious.
Not something The Nudge would be happy with, it worked out well, him being away. I can eat all those things he doesn't like.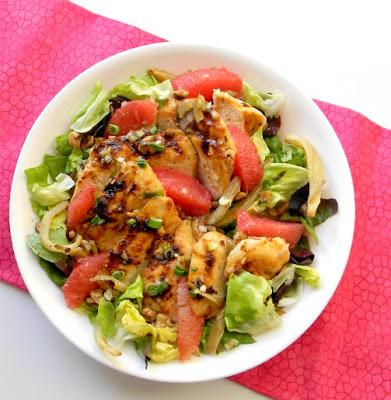 Grilled Chicken, Fennel, Grapefruit and Walnut Salad
makes 4 servingsFrom the kitchen of Wish Upon A Dish, inspired by foodandwine.com
* 4 boneless skinless chicken breasts
* 4 cups mixed salad greens
* 1 cup grapefruit segments
* 1/2 cup thinly sliced roasted fennel
* 1/4 cup walnut pieces
* 1/4 cup olive oil
* 1 teaspoon white wine vinegar
* 2 teaspoons grapefruit juice
* 1 small shallot, minced
* 1 garlic clove, minced
* 1 tablespoon honey
* salt & pepper to taste.
Season 4 chicken breasts with salt & pepper. Spray a grill pan and heat. Grill each breast for 6 minutes (3 minutes a side or 3 minutes total in a Forman Grill).

In a bowl filled with mixed greens, add grapefruit segments, and roasted fennel. Meanwhile toast walnut pieces in a saucepan. Remove to cool.
In same pan walnuts were in, bring to a medium heat and mix in the white wine vinegar, shallot, garlic, grapefruit juice, honey and salt & pepper. Bring to a simmer, whisking occasionally for 2-3 minutes. Remove from heat and cool to room temp. Whisk in the olive oil. Slice the chicken breast diagonally and place over the salad mixture. Spoon the dressing over the chicken and greens and garnish with the toasted walnut pieces.
One recipe called for slivered green olives as a garnish and they made their way into my recipe and were an excellent tart component to the salad but capers would work well also. I also used a good quality rice vinegar. I love tart and sour and lucky for me, it's healthy for us.
The first time a saw a Strawberry & Chicken Salad, I wasn't thrilled with it but from now on I will probably make myself one as soon as the strawberries here are in season. I can't wait.
So, the next time you have a grapefruit left and you don't know what to do with it, make a chicken salad with it. Your body will thank you.