Good Friends and Good Food... Sunshine and the smell of coconuts... And Chicken drenched in curry leaves... And a soft Appam to mop up the juicy gravy clinging to the spoon... Chrysanthemums and my brass urli...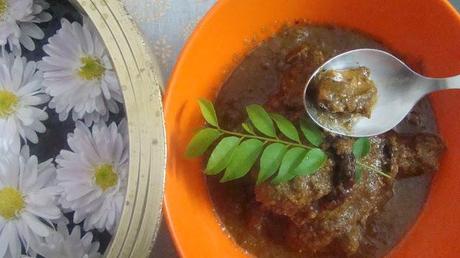 How much more south Indian can our repast have gotten??
We had vegetable (ish)stew,dosas,idiappams,idlis and vadas...along with a ginger and tomato based coconut chutney and sambhar and gun powder...
Just a tiny bite of cold in the air...
Last week of November...
Called for lunch...
Fixed by the friendly neighbourhood cook...Rao!
I learnt a few things and of course will share them with you...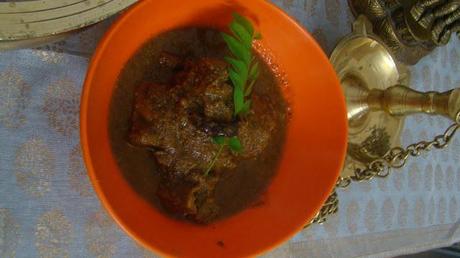 Spicy...
South Indian...
Tamil Nadu- to be precise...
Chcken Chettinad...
A little north Indian..
My kitchen..
And totally Yum!
This was probably the last lunch we hosted for friends while packing up...so you see concentrated pics...Only concentrated on the food...no straying at all.
And service pics of a small amount of the curry...
But totally different in taste to what we generally eat...
The chicken was spicy and sweet and had a hint of spices we maybe never use together...But the combination was bang on!
for the
Chicken Chettinad- North Indian Style...
you need
2 tbsp coriander seeds
2 tsp aniseed/saunf
1 star anise
2 tsp peppercorns
2 tsp cumin seeds/jeera
1 tsp cloves
8-16 dry red chillies
5-6 cardamom
1 inch piece cinnamon(I added powder while the mix was pureeing)
3 medium onions sliced
1 fresh coconut grated
1 large chicken-Dressed about 800-900 gms
salt, red chili powder to taste
1 tsp turmeric powder
5 tbsp refined vegetable oil/coconut oil
15-20 cloves garlic
curry leaves
2 inch piece ginger
Start with the whole spices.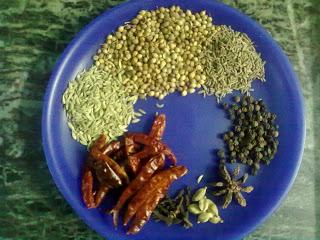 Pretty on a plate no???
These are the wet stuff...I almost used so many curry leaves...
Counted maybe 30 leaves...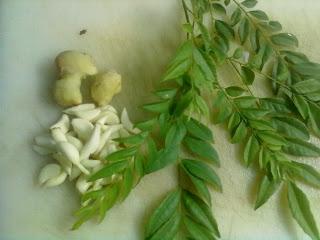 In a non stick pan, heat 1 tbsp oil and ad the curry leaves. Once they splutter ,pop in the whole spices and stir till they change color.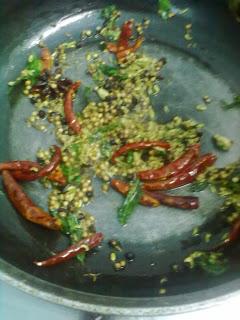 Add in half the sliced onions and fry till the onions caramelise.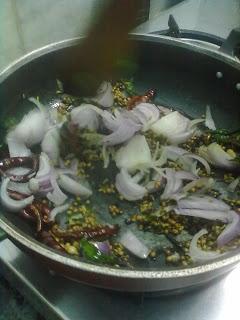 Now add all the grated coconut, keep stirring till you get that toasted coconut smell...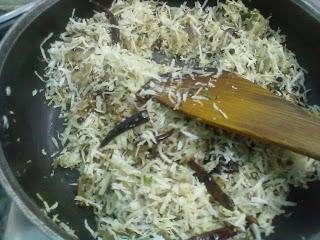 And a beautiful golden brown color.Cool.
Pop the chopped ginger and garlic and the cooked spice mix into a wet grinder and add some water and make a paste.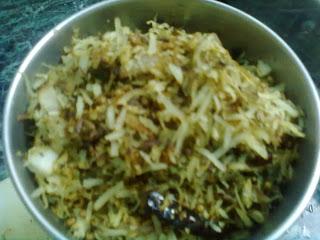 To look like this.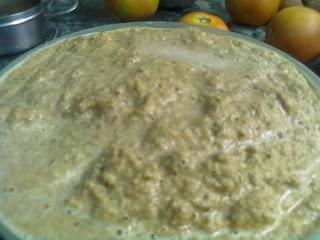 Heat the rest of the oil in a heavy bottomed pan and fry the onions till they caramelise.You can add less or more...oil is your territory!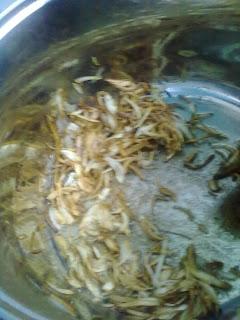 Add in the chicken and sear till the pieces are browned all over. At this stage, add 1-1 1/2 tsp of salt the turmeric and about a spoon full of the red chili powder.Stir to coat the pieces and cook the spices.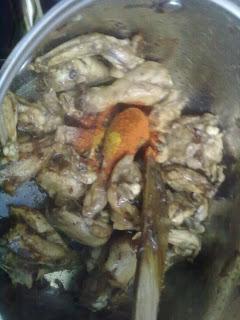 Now add the paste and keep stirring.After the paste comes to a boil , reduce the flame and cook, stirring occasionally till the paste dries out. Add a cup of water and cook till the oil separates and the chicken and its gravy have acquired a beautiful color .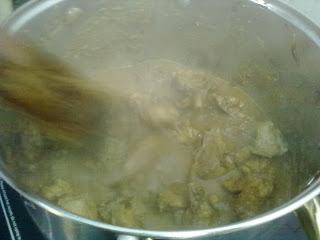 I added about 1 tsp salt more and 2-3 tsp chili powder more...tasted as I went along...
The chicken smelt heavenly...
Not like what we usually make..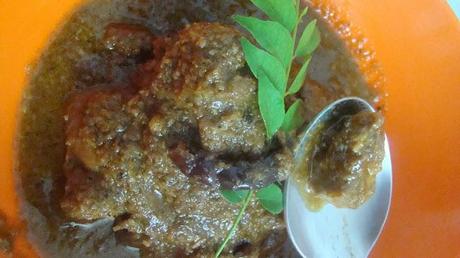 The pepper and the star anise were a wonderful combination and the aniseed went so well with the chicken...same spices almost in a rogan josh...but they work so differently here... The appams were sweet and contrasted well with the gravy. If you don't want to go the appam way...simple steamed rice will work well enough.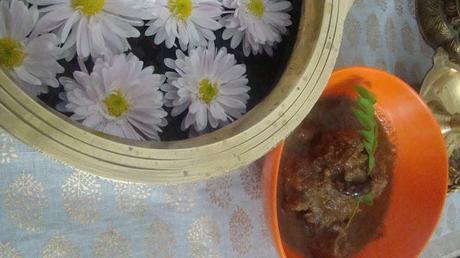 The lunch and good company worked well...
its the goodbyes that are the most pain full...
I am still living in the past.
This is still stuff from Ranchi...
But Whatever...
As long as the chicken was great ...
There will always be good memories...
Coming up...
Something more to do with coconuts...


So what are you baking today???