The ingredients are as follows:
Olive oil, as needed
3 chicken breasts, sliced in half
Kosher salt
1 large onion, sliced
Pinch crushed red pepper flakes
4 garlic cloves, smashed and finely chopped
1 red pepper, cut into 1/2-inch dice
1 pound cremini mushrooms, cleaned and sliced
1 cups dry white wine
1 (28-ounce) can Italian plum tomatoes, pureed
1 bundle thyme
1 bay leaves
Coat a large, wide pot with olive oil and bring to a high heat. Season the chicken with salt and brown in the hot oil, working in batches, if needed. Once all the chicken is brown, remove to a plate and discard most of the excess fat.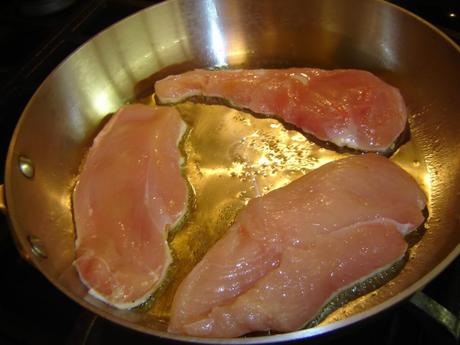 If needed to coat the bottom of the pan, add a tablespoon of olive oil. Add the onions and crushed red pepper, season with salt, and sweat over low heat for 8 to 10 minutes.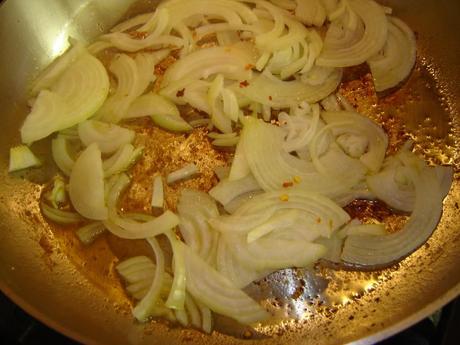 Add the garlic and sweat for 1 to 2 minutes. Add the peppers and cook until they are soft, about 2 to 3 minutes.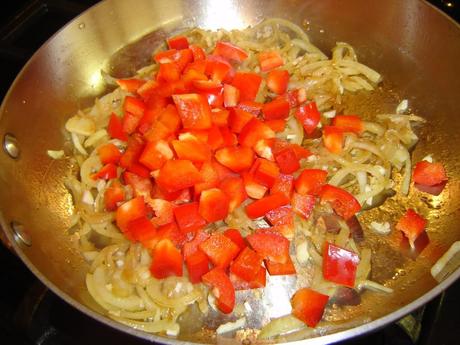 Add the mushrooms, season with salt and cook until they are soft.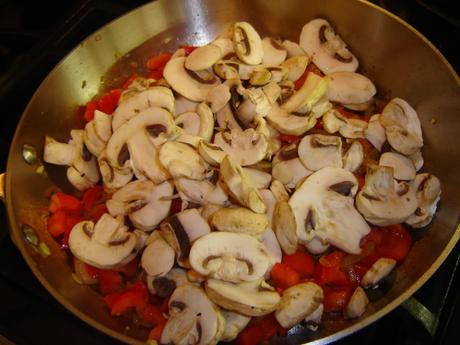 Add the white wine and reduce by half (yes, I had to move everything in a larger pot :)))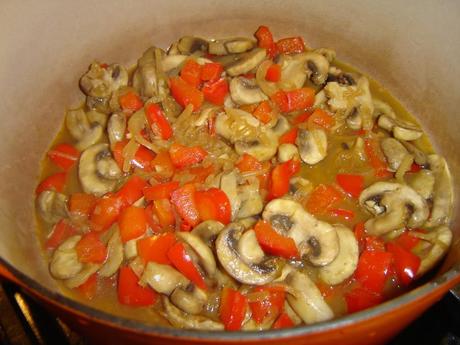 Return the chicken to the pan and add the tomatoes; taste for seasoning. Add the thyme bundle and bay leaves.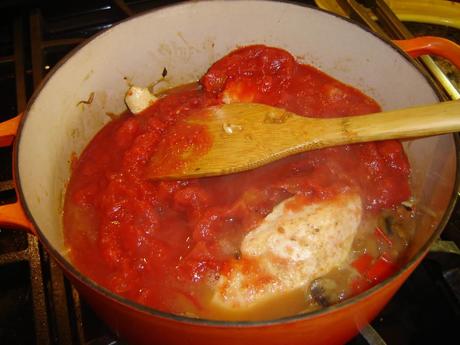 Bring the liquid to a boil and reduce to a simmer. Partially cover the pot and simmer for 20 to 30 minutes. Check the level of the sauce periodically during the cooking process and replenish it with water as needed; the level of liquid should be about even with the chicken.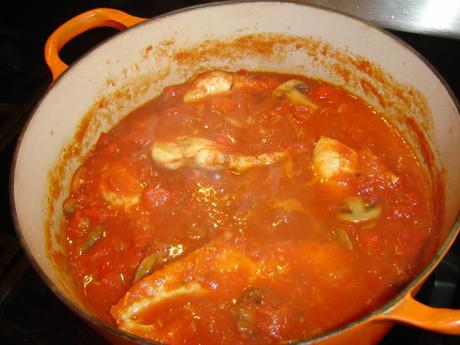 Remove the chicken from the pot and place it on a serving platter. Taste the sauce for seasoning, adjust if needed. Skim the surface of the sauce if excessively greasy. Spoon the sauce over the chicken. I served it with pasta, one of my daughter's favourite.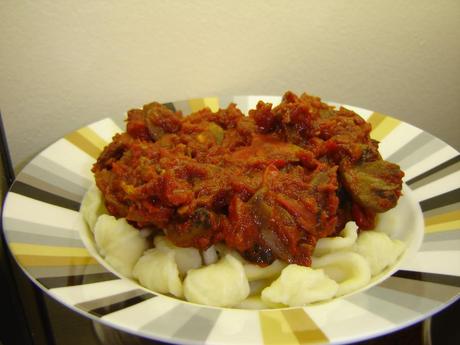 Enjoy!