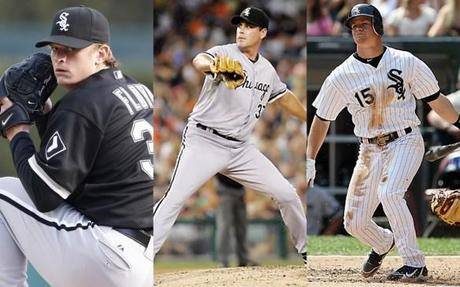 With spring training just weeks away and trade rumors persisting, the Chicago White Sox may not be finished reshaping the team and shaving payroll. White Sox GM Kenny Williams has already traded and let go some notable White Sox during this offseason, yet he may still have some unfinished business going into the 2012 season.
With the departures of Mark Buehrle, Carlos Quentin, and Sergio Santos, the White Sox and Williams have made it clear to the league that the team is open to almost any trade offer as the team continues to look for young talent while trimming their bloated $127 million payroll.
The White Sox are still stuck with some large contracts for under-performing or injured players, most notably Adam Dunn, Alex Rios, and Jake Peavy. The team is hoping young upstarts such as Dayan Viciedo, Alejandro De Aza, and Nestor Molina can have an impact in 2012, while the aforementioned veterans who struggled in 2011, have bounce-back seasons.
The White Sox did make a surprising move this offseason when they re-signed John Danks to a five-year, $65 million contract. While Danks comes at a hefty price, the soon-to-be 27-year old lefty has a proven track record, and should give the White Sox solid production during his prime-years.
While Williams was busy this holiday season, pulling off trades between Christmas and New Year's Day, there are still some current White Sox players who remain on the roster, yet have been linked to several trade rumors.
Here's a look at some of the players who may not be on the White Sox roster come spring training:
Gavin Floyd, P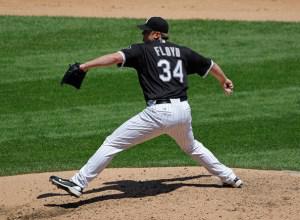 While John Danks received a huge payday for his performance during his White Sox career, pitcher Gavin Floyd remains arbitration-eligible, and a hot topic around baseball trade rumor circles. Since being acquired from the Philadelphia Phillies in 2007, Floyd has put up similar numbers to Danks, and is just one year older.
Floyd, however, has been linked to trade rumors involving the Toronto Blue Jays, New York Yankees, Boston Red Sox and others.
Williams may re-sign Floyd for slightly less money than Danks before season's end, but that appears to be unlikely. With many MLB teams pitching-starved, Floyd could command some top prospects.
Year Tm W L ERA IP BB SO WHIP SO/9 SO/BB

2007 CHW 1 5 5.27 70.0 19 49 1.486 6.3 2.58

2008 CHW 17 8 3.84 206.1 70 145 1.260 6.3 2.07

2009 CHW 11 11 4.06 193.0 59 163 1.228 7.6 2.76

2010 CHW 10 13 4.08 187.1 58 151 1.372 7.3 2.60

2011 CHW 12 13 4.37 193.2 45 151 1.162 7.0 3.36
CHW (5 yrs) 51 50 4.18 850.1 251 659 1.274 7.0 2.63
Provided by Baseball-Reference.com: View Original Table
Generated 1/15/2012.
Matt Thornton, P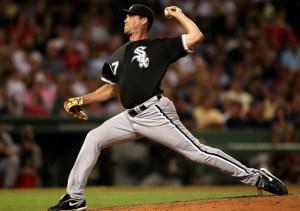 Despite a failed attempt at the closer role in 2011, Chicago White Sox reliever Matt Thornton has been a solid left-handed presence in the Sox bullpen since 2006. Thornton has an earned run average of 3.21 and a WHIP of 1.18 during his White Sox career, along with a hefty 10.0 SO/9.
At 35, Thornton is at the tail end of his career, but he still has great velocity on his fastball. Thornton is set to make $12 million over the next two seasons with the Sox, making him expendable in the White Sox's new frugal vision of the future.
By being a hard-throwing left-handed reliever, Thornton would be a perfect addition for probably more than half-a-dozen teams. Expect to see Thornton coming out of the bullpen for somebody other than the White Sox on opening day.
Year Tm W L ERA G SV IP BB SO WHIP SO/9 SO/BB

2006 CHW 5 3 3.33 63 2 54.0 21 49 1.241 8.2 2.33

2007 CHW 4 4 4.79 68 2 56.1 26 55 1.509 8.8 2.12

2008 CHW 5 3 2.67 74 1 67.1 19 77 0.995 10.3 4.05

2009 CHW 6 3 2.74 70 4 72.1 20 87 1.078 10.8 4.35

2010 CHW 5 4 2.67 61 8 60.2 20 81 1.005 12.0 4.05

2011 CHW 2 5 3.32 62 3 59.2 21 63 1.358 9.5 3.00
CHW (6 yrs) 27 22 3.21 398 20 370.1 127 412 1.185 10.0 3.24
Provided by Baseball-Reference.com: View Original Table
Generated 1/15/2012.
Gordon Beckham, 2B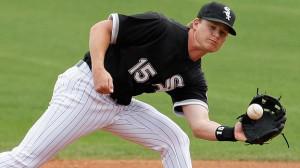 White Sox second baseman Gordon Beckham was ready to take Major League Baseball by storm after his brilliant debut in 2009. Beckham displayed some power and a keen batting eye during his rookie season, along with a steady glove, despite not playing at his natural position of shortstop.
After posting a respectable OPS of .808 in '09, Beckham has declined both seasons since, culminating in an ineffective 2011 when his OPS for the season dipped to .633, with an OBP of only .296.
While Beckham still comes cheap and won't be a free agent until 2016, the White Sox may consider dealing him if a team is willing to offer up some prospects and take a flier on Beckham. Beckham still has upside for the White Sox, but the reality may be that he's not going to fulfill the promise he showed during his stellar rookie season.
Year Tm G PA H 2B 3B HR RBI SB BB SO OBP SLG OPS

2009 CHW 103 430 102 28 1 14 63 7 41 65 .347 .460 .808

2010 CHW 131 498 112 25 2 9 49 4 37 92 .317 .378 .695

2011 CHW 150 557 115 23 0 10 44 5 35 111 .296 .337 .633
3 Seasons 384 1485 329 76 3 33 156 16 113 268 .318 .386 .704
Provided by Baseball-Reference.com: View Original Table
Generated 1/15/2012. -
James Kries