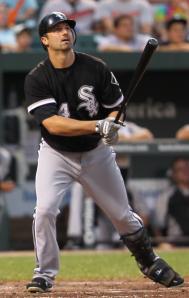 Despite hitting 70 home runs over the last two seasons, White Sox first baseman Paul Konerko has been considering retirement after his current deal with the Sox expires after the 2013 season. Konerko will turn 36 right before the start of the 2012 season, and has already logged 15 big-league seasons. While it is logical to think Konerko will hang up the spikes soon, especially during a potential period of rebuilding on the South side, Konerko may give the White Sox or other teams some value well into his late-thirties. Since turning 30, Konerko has averaged 31 home runs per season, along with 95 RBI. His post-age-30 slash line is .285/.369/.514. That will be a gaping hole for the White Sox to fill in a couple of years.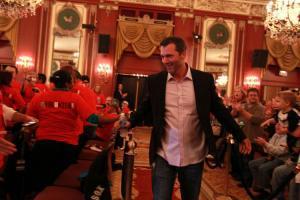 Konerko has been pegged by new manager Robin Ventura to be the clear-cut clubhouse leader, following the offseason departures of pitcher Mark Buehrle and manager Ozzie Guillen. Konerko, who is already the White Sox captain, will be counted on to take an even bigger leadership role with the rookie manager getting his feet wet in the American League.  "It's huge to have a guy like that," Ventura told the Chicago Tribune, Most of the stuff is dealt with by guys in the clubhouse anyway." While this isn't groundbreaking news with Konerko already somewhat of a spokesperson for the team, Ventura's comments underscore Konerko's continued importance to the team.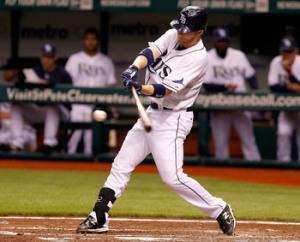 With the White Sox failing to make the postseason last season, despite lofty expectations from just about everybody associated with baseball, they signed a player last week that did enjoy some postseason baseball, along with late-season heroics. The White Sox signed former Tampa Bay Rays first baseman Dan Johnson to a minor-league deal. Johnson hit a clutch, game-tying home run during the final game of the season for the Rays. They eventually beat the Yankees in Game 162, securing a playoff berth. Johnson also smacked a three-run home run off of Matt Thornton last April, giving the Rays their first win of the season, following six losses. What impact the left-handed hitting Johnson will have on the White Sox is unknown. He hasn't played a full season since 2007 when he hit 18 home runs with the Oakland A's.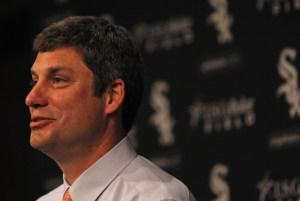 The Chicago Sun-Times ran a piece last week about former Chicago Cubs manager Mike Quade. The article's focus was about Quade giving advice to new Sox manager, Robin Ventura. While Quade's advice centered on being a rookie MLB manager, and the need for Ventura to have thick skin when faced against the Chicago media on a daily basis, Quade thankfully has not given Ventura any in-game or strategic advice. Quade struggled during his one and only season as Cubs manager, often being out-managed by opposing skippers. Despite his apparent old-school style on display as interim manager in 2010, Quade quickly lost his clubhouse in 2011, and appeared to stand up only to rookies and minor-leaguers. Based on his playing style and work ethic, Ventura will likely take a different approach as manager, and should demand that his players work hard.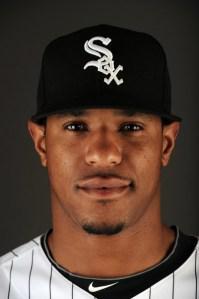 Former White Sox starting pitcher, Edwin Jackson,
landed with the Washington Nationals last week
, giving the Nats a sudden plethora of arms in their rotation. In two seasons with the White Sox, Jackson had a 3.66 ERA, 1.34 WHIP, and SO/9 of 8.0. Jackson was traded to the St. Louis Cardinals last season and helped the Cards into the postseason. Jackson did struggle in the postseason, posting an ERA of 8.53 and 5.06 in the NLCS and World Series, respectively. The White Sox are counting on bounce-back seasons this year from pitchers Jake Peavy and John Danks, and may still deal Gavin Floyd if the price is right.
-James Kries