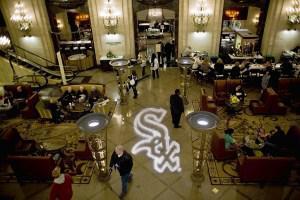 Sox fans were treated to the annual White Sox convention, SoxFest, over the weekend at the Palmer House Hilton. Fans were able to briefly interact with GM Kenny Williams, as well as commissioner Bud Selig, who was in town to award White Sox chairman Jerry Reinsdorf for the team's charitable efforts. Whether he was specifically questioned about the financial health of the game, or if he was rambling on about how great things are, Selig told reporters at SoxFest, "The grand ol' game is doing great." Sox fans were treated to a reunion with a panel of some of the 2005 World Series championship team, including players such as Joe Crede, Cliff Politte, and Neal Cotts. The consensus on the first evening, which included a Q & A with Williams, was that the GM did not get the expected barrage of tough questions from restless fans.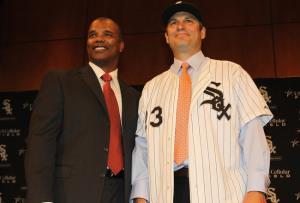 Also at SoxFest,
new White Sox manager Robin Ventura fielded a question
from a fan about his take on his mound-charge and subsequent "fight" with Texas pitching legend, Nolan Ryan in 1993. After getting hit by a Ryan pitch during a game in Texas, Ventura charged the mound, and immediately got put in a headlock by Ryan, the current team president of the Texas Rangers. Ryan proceeded to pummel Ventura, and the video of the brawl is shown at the Ballpark in Arlington before Rangers games. With Ventura making his managerial debut in Texas for this season's opening weekend, he should expect a healthy dose of Texas cheers and jeers if and when he steps onto the field.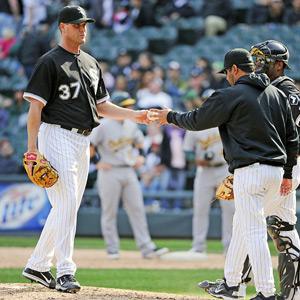 With the departure of relief pitcher Sergio Santos this offseason, the White Sox once again find themselves in search of a closer. The team struggled mightily at the back-end of their bullpen in the opening month of 2011, until former manager Ozzie Guillen gave the closer role to Santos. Santos settled into the role and finished the season with 30 saves. Robin Ventura announced over the weekend that left-handed setup man, Matt Thornton,
is the favorite for starting this season as the team's closer
. Thornton was given first crack at closer last season, but blew four saves in April. Thornton, who had previously struggled in the closer role prior to 2011, will take his third crack at nailing down games for the White Sox. While Thornton remains an effective pitcher, maybe the third time is a charm for the lefty. Rookie Addison Reed is waiting in the wings, however, and if he makes the opening day roster, he may become the White Sox's closer at some point this season. Reed had a 14.7 SO/9 in six late-season appearances for the Sox last year.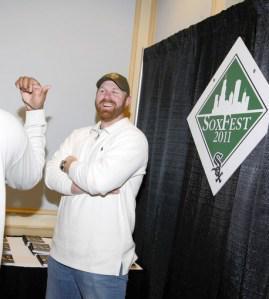 White Sox designated hitter Adam Dunn appeared at SoxFest looking leaner by all accounts, and is optimistic for White Sox success in 2012, along with a bounce-back season from himself. Dunn, who failed to make contact in 43 percent of his official at-bats last year, had one of the worst seasons for an everyday player in the history of baseball. Dunn had an on-base percentage of .292 with the Sox last season, following a career .380 OBP during ten seasons in the National League. The most mind-boggling stat that Dunn threw up in 2011 was his slugging percentage of .277, ten points behind former White Sox player Chris Getz. Had Dunn qualified with enough at-bats last year, he would have set numerous records for individual futility. While Dunn seems like a generally good guy who just couldn't adjust to a new league, here's hoping he does bounce back in 2012. Sox fans will absolutely embrace him if he suddenly becomes the player who hit 354 home runs before signing with the White Sox last offseason.
-James Kries