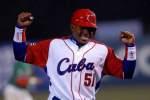 Among the teams that Cuban slugging sensation, Yoenis Cespedes, has been linked to, the Chicago White Sox came into the picture this past week, thanks to rookie outfielder Dayan Viciedo. Viciedo, also from Cuba, reportedly called Cespedes and another Cuban defector and free agent prospect, 19-year-old Jorge Soler. Viciedo came up to the major league level at the end of 2011 for his second big-league stint in two years, but struggled last season in 29 games, posting a slugging percentage of .314 for the Sox. Viciedo is pegged to be the White Sox's starting right fielder, however, after the Sox traded Carlos Quentin to the San Diego Padres this offseason. As for Cespedes, several teams have shown interest in the 26-year old outfielder, who has dominated MLB hot-stove rumors in recent weeks, thanks to his promotional videos popping up on YouTube, and his pronouncement that several teams are very interested in signing him. Cespedes' work status remains unclear as he currently is playing winter ball in the Dominican Republic.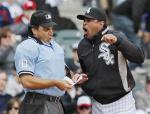 Jake Peavy caused a bit of a ripple last week after he revealed just how broken former manager Ozzie Guillen's relationship may have been with Sox players and front office personnel. Guillen, who had questioned why Peavy ended his season early at the end of 2011, parted ways with the team before the season ended. During a January 14th radio interview with 670 The Score's Chris Rongey, Peavy indicated that Guillen was not present during discussions about Peavy's early shutdown to his season. Peavy also fired back at comments that Guillen reportedly had made by indicating that it was, in fact, Guillen who had quit on the team, not Peavy. Guillen, the new manager of the Miami Marlins, then
fired back on Twitter last week,
with some barely comprehensible ravings. Guillen tweeted (severely sic'd),
"I will kill peoples fellings no mercy i turn the page but they no let me a long then get ready going to be bad."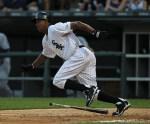 For those Juan Pierre fans out there, the Detroit Tigers are apparently interested in the former White Sox outfielder. The Tigers, who have lost Victor Martinez for likely the entire season, are looking for another left-handed bat.
According to ESPN's Jim Bowden
, the Tigers are also pursuing free agent and former Tiger, Johnny Damon. Damon was a bit miffed by the Tampa Bay Rays signing DH Luke Scott, signaling Damon's end in Tampa Bay. Between the two free agents, the Tigers are picking from two former prototypical leadoff men who are long past their prime. Pierre, who wasn't particularly terrible during his two seasons with the White Sox, had a .335 on-base percentage while playing in Chicago, but was caught stealing 35 times in 130 attempts. Pierre's defensive skills have also sharply declined. The 34-year-old outfielder cost the White Sox a couple of games with some crucial errors in 2011.

The Chicago White Sox's annual SoxFest is this upcoming weekend, running from Friday, January 27th, through the 29th at the Palmer House Hilton in Chicago. On tap for the weekend are appearances by current Sox players, as well as some members of the 2005 World Series championship team, including Frank Thomas and Joe Crede. On Friday, GM Kenny Williams and first-year manager Robin Ventura will field questions from White Sox fans. Sox broadcaster Hawk Harrelson will host a "state of the game" seminar with the commissioner of baseball, Bud Selig, who had his contract recently
extended for another two years
.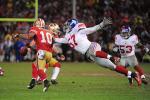 You have to feel bad for White Sox GM Kenny Williams and his family. Williams' son, Kyle Williams, who plays football for the San Francisco 49ers, fumbled two punt returns during Sunday's NFC Championship Game, including a fumble in overtime, leading to a New York Giants field goal, which sends the Giants to the NFL Super Bowl. Williams had also fumbled a punt during the first half of Sunday's game, leading to a Giants touchdown. Kyle has played in just two seasons for San Francisco, and is normally a wide receiver for the team. The 49ers were locked in an overtime struggle with the Giants, following the 49ers' 13-3 season and exciting win over the New Orleans Saints during last week's divisional playoff round. Here's hoping Kyle puts this behind him as he will, unfortunately, most likely be remembered solely for his two costly playoff blunders in this year's NFC Championship Game.

White Sox pitcher, Gavin Floyd, who has been linked to several trade rumors this offseason, is reportedly still on the Boston Red Sox's radar. NESN is reporting that Boston is still interested in acquiring the White Sox's 28-year-old right-hander, potentially sending some more prospects to the White Sox, an organization that has been
rated near the bottom regarding their farm system strength
. The Red Sox are trying to bounce back from a devastating late-season slide in 2011 when they missed the playoffs. Although he was highly ineffective last season for the Red Sox, pitcher Jon Lackey underwent Tommy John surgery this offseason, and will miss all of the 2012 season. Floyd remains a hot commodity for a number of pitching-starved teams, and the Red Sox could benefit from trading for him. While pitching in five seasons for the White Sox, Floyd has a 4.18 ERA, 1.27 WHIP, and 7.0 SO/9.
-James Kries