"It's the start of rebuilding now."
With those words uttered last week, Kenny Williams seemingly ushered in a new era in Chicago White Sox baseball.
The man that put together a World Series winner just six years ago, now finds his team with a bloated payroll filled with highly paid underachievers, as well as a younger crop of talent looking to get paid big money.
After dealing their longtime project, closer Sergio Santos, to the Toronto Blue Jays for pitching prospect Nester Molina, Williams made it clear last week that almost any White Sox player was fair game for a trade as the team needs to restock their farm system, and cut some payroll.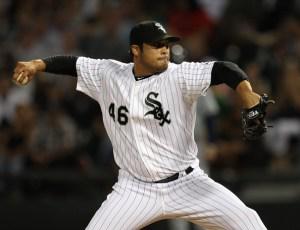 Santos, who emerged as the Sox closer in 2011 with 30 saves and a 1.11 WHIP, will have an immediate impact on the closer-starved Blue Jays.
With the possibility of Williams possibly dealing John Danks, Gavin Floyd, Carlos Quentin, and others this offseason, the Sox will be hard pressed to compete in the AL Central in 2012, and will have to look to the future with the hopes that their prospects pan out.
The Sox, who had the fifth highest payroll in baseball last season, were one of the more disappointing teams in 2011. Even with a rebuilding plan supposedly in motion, Williams will be tasked with trying to compliment a host of overpaid, under-performing veterans with young prospects and cheap fill-ins over the coming seasons.
  Age Contract Status 2012 ▾

Jake Peavy 30 3 yrs/$52M (10-12) & 13 team option $17M

Adam Dunn 31 4 yrs/$56M (11-14) $14M

Alex Rios 30 7 yrs/$69.84M (08-14) & 15 team option $12M

Paul Konerko 35 3 yrs/$37.5M (11-13) $12M

Gavin Floyd 28 4 yrs/$15.5M (09-12) & 13 team option $7M

A.J. Pierzynski 34 2 yrs/$8M (11-12) $6M

Matt Thornton 34 5 yrs/$8M (07-11),2 yrs/$12M (12-13) & 14 team option $5.5M

Alexei Ramirez 29 4 yrs/$6.4M (08-11),4 yrs/$32.5M (12-15) & 16 team option $5M

Jesse Crain 29 3 yrs/$13M (11-13) $4.5M

Jason Frasor 33 2 yrs/$7.25M (11-12) $3.75M

Dayan Viciedo 22 4 yrs/$10M (09-12) $2.5M

Will Ohman 33 2 yrs/$4M (11-12) $2.5M

John Danks 26 1 yr/$6M (11) Arb-3

Carlos Quentin 28 1 yr/$5.05M (11) Arb-3

Tony Pena 29 1 yr/$1.6M (11) Arb-3

Philip Humber 28 1 yr/$500k (11) Pre-Arb-3

Gordon Beckham 24 1 yr/$485k (11) Pre-Arb-3

Brent Lillibridge 27 1 yr/$430k (11) Pre-Arb-3

Chris Sale 22 1 yr/$425k (11) Pre-Arb-2

Brent Morel 24 1 yr/$414k (11) Pre-Arb-2

Juan Pierre 33 5 yrs/$44M (07-11) FA

Ramon Castro 35 2 yrs/$2M (10-11) FA

Omar Vizquel 44 1 yr/$1.75M (11) FA

Juan Pierre Juan Pierre traded to/from Los Angeles Dodgers  

Scott Linebrink Scott Linebrink traded to/from Atlanta Braves  

Provided by Baseball-Reference.com: View Original Table
Generated 12/11/2011.

The White Sox's three highest paid players in 2011 will return in 2012 because there is absolutely no possibility of any team taking them off of the Sox's hands unless Williams and owner Jerry Reinsdorf agree to eat most of their contracts.

In 2011, Jake Peavy, Adam Dunn, and Alex Rios combined for an astonishingly poor WAR of -3, essentially meaning that the trio cost the White Sox three more wins than an average replacement-level player would have. While the three veterans struggled mightily last season, they collectively earned $40 million.

When Williams helped build a winner in 2005, he hit all the right notes when the team's pocketbook was open to him. New players acquired by Williams such as Scott Podsednik, Jermaine Dye, Bobby Jenks, and A.J. Pierzynski all contributed to the Sox's World Series victory.

Williams is now on the hook for his expensive signings over the last two seasons, most of which have not paid any dividends for the team. He's forced to rebuild mostly due to his poor decisions over the last few years.

It won't happen overnight, and the fans might continue to stay home the next few seasons, but if Williams can acquire some young talent while shedding some expensive dead weight, the Sox could once again be a force in the AL Central on Williams' watch.

-James Kries




Back to Featured Articles on

About the author

Cbr66 74 shares View profile
View Blog