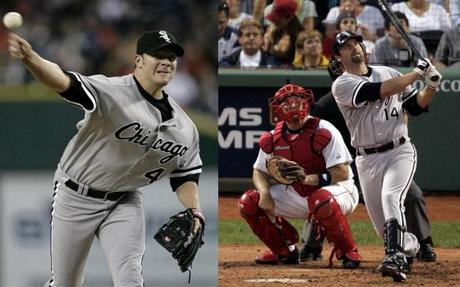 Coming off of a disappointing 79-83 2011 season, the Chicago White Sox are looking to once again be a force in the AL Central division, despite losing some key players this offseason.
GM Kenny Williams, who said in December that the team is in rebuilding mode, hasn't made the wholesale changes that usually come during a period of rebuilding. The White Sox aren't actually in a position to completely overhaul the roster as they're tied down with some large contracts, agreed to with players like Alex Rios, Adam Dunn, and Jake Peavy. Those three players earned a collective $40 million in 2011, and combined for -3.0 wins-above-replacement (WAR). There are likely no teams in baseball who have under-performing players with similar contracts, that would be willing to trade for some of those White Sox veterans.
For Williams to use the term "rebuilding", he would have to not be burdened by so many immovable contracts and players. The White Sox have already parted ways this offseason with Mark Buehrle, Sergio Santos, and Carlos Quentin, acquiring some young prospects in return, such as pitchers Nestor Molina, Simon Castro, and Pedro Hernandez. Molina, who was acquired in the Santos trade, could have an impact in 2012.
While the White Sox's aforementioned veterans struggled in 2011, they could still bounce back in 2012. Jake Peavy was still hampered with an ankle injury, and was also still recovering after major shoulder surgery. A return to form for Peavy, who won the National League Cy Young award in 2007 for the San Diego Padres, would be a welcome sight for pitching coach Don Cooper and the White Sox.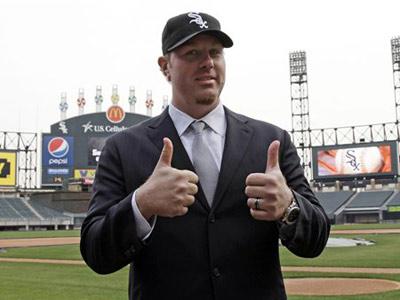 Adam Dunn had averaged 35 home runs per season during his 10 seasons in the National League, along with an on-base percentage of .381. Pundits and fans were expecting something along the lines of 45 bombs from Dunn in the homer-friendly U.S. Cellular Field last season, but instead saw Dunn hit only 11 home runs all season, with a lowly .277 slugging percentage from their would-be cleanup hitter. An area of hope for an improved performance from Dunn in 2012 is his near career-low
BAbip
of .240. While Dunn didn't put the ball in play with any regularity, striking out 177 times in 496 plate appearances, when he did, the ball was fielded with more frequency than at any other point in his career, except for 2003 when his BAbip was .237. At this point, if the White Sox can get 20 home runs out of Dunn, it will be a cause for a mini-celebration on the South Side.
With the departure of Carlos Quentin to San Diego, Dayan Viciedo will likely become the Sox's starting right fielder this season. The slugging 22-year old struggled when called up to the team last season, but his career .453 slugging percentage in the minors holds promise that he'll fill in nicely for Quentin for years to come.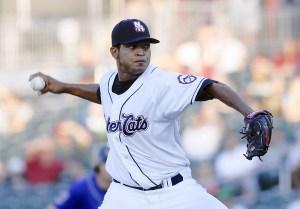 Nestor Molina
The starting rotation should still be the team's strength with John Danks assuming the ace role after inking a $65 million deal last month. Gavin Floyd is still on the team, despite numerous trade rumors this offseason. He'll join Peavy, Chris Sale, Phil Humber and possibly Nestor Molina at some point this year, to round out their rotation.
With Sergio Santos now closing games for the Toronto Blue Jays, first-year manager Robin Ventura may have the same problem that plagued former manager Ozzie Guillen in 2011. The White Sox blew six saves in April, 2011, while Matt Thornton and Chris Sale failed to nail down the closer role. The door may be open for rookie Addison Reed to assume the closer role this season. Reed impressed in his six appearances late last season, putting up a monster 14.7 SO/9.
While team captain Paul Konerko and the rest of the White Sox are trying to iron out their identity for 2012, they will have to compete with some talented teams in the competitive AL Central division. Here's a look at what stands in the White Sox's way to their first division crown since 2008.

Detroit Tigers (2011 record: 95-67)
The class of the AL Central is still the Detroit Tigers, despite the devastating loss of slugger Victor Martinez last week to a potentially season-ending ACL tear. With All-Star first baseman Miguel Cabrera, Jhonny Peralta, and Delmon Young still in the lineup for the Tigers, they may score enough to repeat as division champs, strengthened by their solid, if not spectacular pitching. In 2011, the Tigers were led by Cy Young award winner Justin Verlander (2.40 ERA, .92 WHIP, 8.6 WAR). The rest of the staff weren't as effective, but were good enough to help the team to 95 wins, statistically sitting in the middle of the league for pitching numbers, at season's end.

Cleveland Indians (2011 record: 80-82)
After the White Sox put up 15 runs on the Indians at Progressive Field on opening day last season, the small one-game sample size led many fans to believe that the Sox would have their way in the division in 2011. Unfortunately, White Sox pitching yielded 10 runs in that shaky opening day victory, and the Sox would wind up with a 32-40 division record, trailing the Indians for second place for most of the season.
The Indians enjoyed 25 and 27-home-run seasons, in 2011, from a pair of 25-year-olds, shortstop Asdrubal Cabrera, and catcher Carlos Santana. While outfielder Shin-Soo Choo struggled with injuries all season, a return to health for Choo in 2012 may spark an Indians offense that ranked ninth in runs last season.
The Tribe returns starter Justin Masterson, who had a stellar 2011 with a 3.21 ERA, and 1.27 WHIP. They also recently acquired Kevin Slowey from the Colorado Rockies, and return former Rockie ace Ubaldo Jimenez. With Fausto Carmona arrested this past week, and gaining three years in age because of his false identity, the now Mr. Heredia's work status remains up in the air.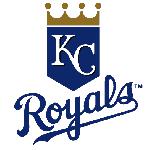 Kansas City Royals (2011 record: 71-91)
The perpetually rebuilding Kansas City Royals have finally amassed some talented prospects that may have an impact on the AL Central division in 2012. Led by the talented, young trio of Alex Gordon, Eric Hosmer, and Mike Moustakas, the Royals will have a solid lineup for some years to come.
The pitching staff had the fourth highest ERA in 2011, but was helped this offseason with the addition of San Francisco Giants starter Jonathan Sanchez, via a trade for outfielder Melky Cabrera. A return to Sanchez's 2010 season, when he posted a 3.07 ERA, may help improve the Royals' staff in 2012.
While they aren't ready for prime-time, the Royals' stable of talented, young hitters may make 2012 miserable at times for the White Sox and the rest of the AL Central.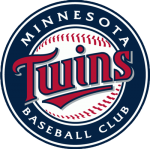 Minnesota Twins (2011 record: 63-99)
A regular thorn in the White Sox's side, the Minnesota Twins fell off the map in 2011, suffering a slew of injuries, and dropping nearly 100 games in the process. While observers kept expecting the pesky Twins to have an impact on the division, it never came to be, and they finished the season starting the likes of Trevor Plouffe, Luke Hughes, and Drew Butera.The team lacked serious punch in their lineup all season, finishing 2011 last in the league for team home runs, with 103.
The Twins will take a flier on Joel Zumaya, a former 100+ mph fastball-throwing reliever who has had injury problems throughout his career. They also let Michael Cuddyer leave as a free agent, but signed outfielder Josh Willingham, who has a career OPS of .836.
If Joe Mauer and Francisco Liriano can stay healthy and productive, they'll spark a team that has enough talent to compete for a division title. Former MVP first baseman Justin Morneau has been struggling with post-concussion issues for the last couple of seasons. If he can return to health and have a bounce-back season, the Twins might once again make some noise in the AL Central.
_________________________________________________________________________
The White Sox are coming off a season of frustration and disappointment, as well as an offseason of tremendous change, losing several key players to trades and free agency, as well as hiring a new, unproven manager in Robin Ventura.
With the AL Central's defending champs, the Tigers, losing one of their key players to injury for the 2012 season, the rest of the division's chances have already improved before opening day. The White Sox have enough talent and experience to make a run at a postseason berth, but if they get the same output from their high-priced veterans as they did in 2011, the seagulls of Wrigley Field may migrate south to a half-empty stadium at 35th and Shields.
-James Kries