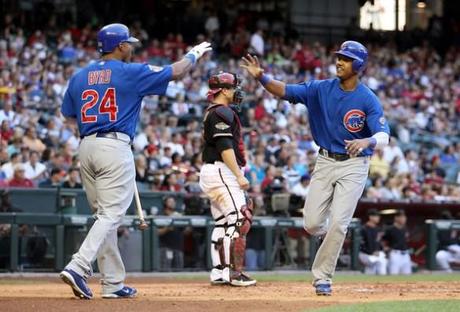 After this offseason's front office overhaul at Wrigley Field, with ownership bringing in Boston's Theo Epstein as president of baseball operations for the Chicago Cubs, the new Cubs brain trust has already embarked on the task of rebuilding and improving the Cubs entire farm system, while reworking the entire organization's baseball philosophy.
Seeing Aramis Ramirez, Carlos Zambrano, Sean Marshall, and other Cubs leaving town for good this winter, Cubs fans have seemingly bought into Epstein and new general manager Jed Hoyer's vision of the future for a team that is seeking its first championship in 104 years.
With ever-increasing expectations of a World Series win continually being met with losing seasons, which are surrounded by the occasional winning season, Cubs fans are used to being patient. With new ownership and new front office executives in place, the team has bought a few more seasons' worth of waiting while Epstein & Co. put their plan in motion.
One group that has lacked patience in recent years are Cubs hitters. The Cubs have fielded teams over the last three seasons that are 27 games under .500, and along with experiencing issues with pitching inconsistency, injuries, immovable contracts, and questionable on-field management, the team has also once again struggled to get on base.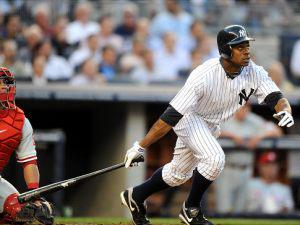 Curtis Granderson
Other large market teams, such as the New York Yankees and Epstein's former team, the Boston Red Sox, seem to annually field lineups with patient hitters from top to bottom. While both teams have seemingly unlimited resources which allow them to field top-caliber lineups, they regularly employ  hitters who work counts, run pitchers out of ballgames early, and wait for mistakes which lead to hits, walks, and runs. In 2011, the Yankees and Red Sox had five players among the top ten American League leaders in pitches-per-plate-appearances (P/PA). Curtis Granderson led the league last season with 4.44 P/PA, and finished fourth in MVP voting while posting a .916 OPS, with 41 home runs. It's not a coincidence that Yankee-Red Sox games seem to last about an hour longer than other games, and that both teams regularly make the postseason. When a hitter sees more pitches, chances are greater that he's either going to draw a walk, or get a favorable pitch to hit.
The Cubs are only four years removed from their 97-win season in 2008. While they have only three hitters returning in 2012 who played on that team, it's important to look at how they had success in '08 from a hitting standpoint. The 2008 Cubs led the National League in team on-base percentage (.354), as well as base-on-balls (636). Not surprisingly, they also led the league in runs with 855, 56 more than the second best run-scoring team, the New York Mets.
The Cubs had five of the top 30 National League hitters, based on P/PA in 2008. The Cubs, who also led the league in slugging percentage, showed in 2008 that plate discipline can lead to more base runners, longer innings, and pitcher mistakes which lead to those runners being driven in.
2008 Chicago Cubs Starters:
G PA BB OBP
Provided by
Baseball-Reference.com
:
View Original Table
Generated 2/12/2012.
2009 saw the beginning of the recent erosion of plate discipline for the Cubs, as the team finished ninth in OBP in the National League, and sixth in base-on-balls. In 2010, Cubs hitters managed a team OBP of only .320, good for 11th in the National League, along with the third least team base-on-balls. Last season, the Cubs had the second lowest base-on-balls total in the NL with 425, better only than the dreadful Houston Astros. The team OBP of .314 was even worse than in 2010, and was the seventh lowest in the league.
While the Cubs will likely struggle on the field over the next couple of seasons as Epstein attempts to get the organization in order while waiting for some hefty contracts to expire, the team's new direction will undoubtedly include an emphasis on the now-prevalent league-wide recognition that on-base percentage is a better method of judging a hitter's worth than batting average. While this is no longer a secret in MLB front offices, it was a revelation only ten years ago when Oakland A's GM Billy Beane and Michael Lewis' 2003 book, Moneyball, showed that players who got on base via the walk were being undervalued in baseball.
Of the Cubs' new acquisitions this offseason, David DeJesus appears to be the most ready to increase the team's OBP in 2012. DeJesus has a career OBP of .356, and has averaged 58 walks-per-season during his nine-year career. Although he appears past his prime at 32, his plate discipline will hopefully return to his career norm after struggling in 2011 with a career-low .323. OBP.
The Cubs' potential future slugging star, the recently acquired first baseman, Anthony Rizzo, will likely begin 2012 in the minor leagues to continue his development. Rizzo, along with a powerful bat, has shown that he can get on base with regularity, posting a career minor league OBP of .366 across all minor league levels. In 413 plate appearances in 2011, while playing with Triple-A Tucson in the Pacific Coast League, Rizzo enjoyed a .404 OBP, while knocking out 26 home runs.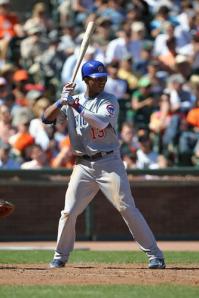 In 2012, the Cubs will be missing their top three 2011 leaders in OBP. Kosuke Fukudome, Aramis Ramirez, and Carlos Pena will all be playing for different teams this season, which leaves shortstop Starlin Castro as the player with the next highest 2011 OBP. Castro had an OBP of .341 last season, mostly on the strength of his 207 hits. The 21-year-old Castro managed only 35 walks in 715 plate appearances. Castro was 51st in the National League with a 3.67 P/PA. Pitchers may adjust to his aggressiveness this season and limit the amount of hittable pitches that he will see. The new regime and management will look to further the development of their young All-Star shortstop this season.
With old-school manager Dale Sveum taking his seat in the Cubs dugout this season as manager, along with Theo Epstein's belief in a unified organizational philosophy, which includes the practice of selective hitting, it will be interesting to see how soon the Cubs can improve their ability to get on base.