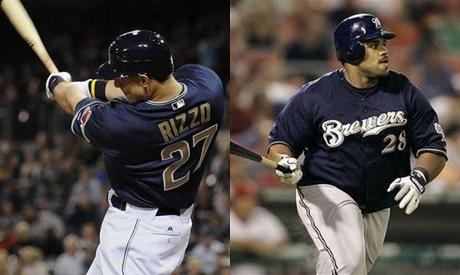 While Prince Fielder remains unsigned this offseason, the Chicago Cubs are still considered front runners for signing the slugging first baseman. There are also rumors  floating around MLB that the Cubs are looking at general manager Jed Hoyer's former team, the San Diego Padres, for help at first base.
The Padres and Cincinnati Reds completed a rather important trade last week, with the Padres sending starting pitcher Mat Latos to the Reds in exchange for four players, including pitcher Edinson Volquez and a hitting prospect, first baseman Yonder Alonso.
That trade was significant to the Cubs because Alonso is apparently now ahead of the Padres future first baseman, Anthony Rizzo, on the team depth chart. Rizzo was drafted by the Red Sox in 2007, and the 6'3″, 220 pound left handed hitter has been tearing up the minor leagues the last two years.
Current Cubs general manager Jed Hoyer is obviously familiar with Rizzo, as Hoyer demanded that Rizzo be included in the trade that sent All-Star first baseman Anthony Gonzalez to the Boston Red Sox before the 2011 season.
Rizzo has hit 51 home runs the last two seasons between the AA and AAA levels. He also drove in more than 100 runs each year. In 93 games last season in AAA, Rizzo posted an OPS of 1.056.
Year Lev Aff G AB H HR RBI SB BB SO OBP SLG OPS

2010 AA-A+ BOS 136 531 138 25 100 10 61 132 .334 .480 .814

2011 AAA SDP 93 356 118 26 101 7 43 89 .404 .652 1.056
Provided by
Baseball-Reference.com
:
View Original Table
Generated 12/18/2011.
Rizzo did struggle when called up to the majors at the end of 2011, with an on-base percentage of only .281, and an OPS of .523. At just 22, Rizzo still has the potential to be a force at first base for years to come, and with the Padres now possessing another young prospect at first base in Yonder Alonso, the Cubs and Hoyer might be willing to take a chance on Rizzo in a possible trade.
For immediate results at first base, the Cubs could always sign Prince Fielder at an undoubtedly hefty price. Fielder will command top dollar, and is probably seeking a long-term deal. Seeing as he's only 27, he might be willing to sign for a shorter contract with options, which would be ideal for the Cubs who were unwilling to offer Albert Pujols a long-term deal.
While Fiedler is somewhat of a defensive liability, his hitting prowess from the left side of the plate makes him very attractive to the Cubs.
Last season, Carlos Pena got off to a poor start for the Cubs, and as his and the team's slide continued, the Cubs had played themselves out of contention in the NL Central. Fielder will bring a consistent, powerful bat that will give protection to whomever hits in front of him.
As winter continues, it will be interesting to see what the Cubs' new front office has in store for the team at first base. Whether they pull the trigger on Prince Fielder, or trade some talent for a potential future star, the Cubs will have a new look at first base in 2012.
-James Kries