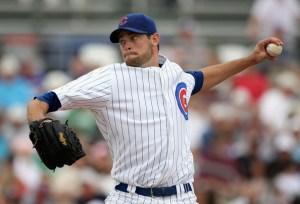 The latest MLB trade rumor involving the Chicago Cubs has the Cincinnati Reds interested in trading for reliever Sean Marshall. Cubs president Theo Epstein is reportedly interested in Reds starting pitcher Travis Wood in return for a possible trade.
The move would wouldn't appear to favor the Cubs as Marshall is a top left-handed reliever, while Wood has struggled to stay at the major league level. It may just be a cost-cutting measure as Marshall will command a bigger contract after 2012 if he continues to pitch at a high level.
While it remains to be seen what kind of impact Wood would have for the Cubs, it would most likely not be a popular move with Cub fans, testing their patience during what could he considered a rebuilding phase.
Epstein and new general manager Jed Hoyer have been tasked with tightening up expenditures while the Cubs ride out some costly contracts owed to underperforming veterans, such as Alfonso Soriano and Carlos Zambrano.This potential move may be another step in that direction.
One of the root causes of most failed Cubs teams seems to be the bullpen. By letting Marshall slip away for a potentially mediocre pitcher may be a disastrous move. Then again, if Epstein, Hoyer, and the rest of the Cubs' new heralded front office are as good as they're hyped up to be, it could turn out to be a brilliant move in the long run if it ever transpires.
In the last two seasons for the Cubs, Marshall has an earned run average of  2.45, 1.10 WHIP, and a SO/9 ratio of 10.1. In a league where left-handed relief pitching is coveted, Marshall is more than an able-bodied lefty, he's one of the game's best late inning relievers right now.
In two seasons with the Reds, Travis Wood has an ERA of 4.18, and a WHIP of 1.28. His SO/9 is a respectable 7.0, however, Wood struggled in 2011. He posted a WHIP of 1.49 last year, while flirting with an ERA north of 5.00 most of the year, which included a stint with Louisville, the Reds' minor league affiliate.
While Wood is still young at 24, he definitely has upside. Wood has a few pitches in his repertoire with his cutter possibly being his best pitch. He won't overwhelm hitters with his speed, but as his curve and cutter develops more, he could have some staying power in the big leagues.
Epstein and the Cubs will be looking for a balance where the team gets leaner, rebuilds the farm system, and somehow remains competitive with some replacement-level talent.
For Cub fans who are holding out hope that the Cubs can get prized free agent Prince Fielder to sign with the team, failure to do so along with losing a player of Marshall's ability, may make it difficult for the Cubs to fill Wrigley Field in 2012.
-James Kries
UPDATE 4:00 PM CST 12/21/2011:
ESPN sources have reported that the Cubs did indeed trade Sean Marshall to the Reds in exchange for Travis Wood and two minor leaguers. There has been no official annoucement yet from the Cubs as of Wednesday night.
UPDATE 7:30 AM CST 12/21/2011:
According to an ESPN source, the Cubs and Reds are now close to a deal involving Sean Marshall and Travis Wood. No other particulars have been reported.
-James Kries