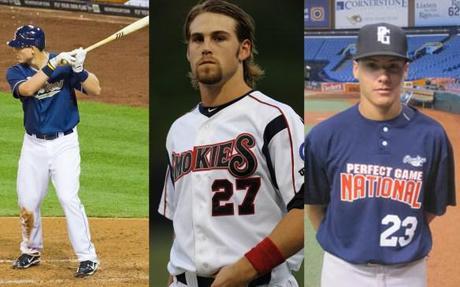 MLB.com released their annual top 100 prospects list this past week, and the Chicago Cubs find three players making the list: Brett Jackson, Anthony Rizzo, and Javier Baez.
This year's list features some familiar names at the top of the list, with left-handed pitcher Matt Moore of the Tampa Bay Rays topping the list, followed by the Washington Nationals'  much-hyped outfielder, Bryce Harper.
The Cubs' Brett Jackson is ranked 33rd among the top 100 prospects. Jackson, a left-handed outfielder appears to be the team's most MLB-ready prospect who has a combination of power and speed. After moving up to Triple-A last season, Jackson had a slugging percentage of .551 in 48 games, with 10 home runs and six stolen bases. Jackson had swiped 15 bases, previously, in 67 games in Double-A.
According to MLB.com's draft expert, Jonathan Mayo, Jackson is a hard-working outfielder who has good range, and a strong throwing arm. He has patience at the plate, as evidenced by his .379 OBP in 2011, and has 20-20 potential at the MLB-level.
While the Cubs have had numerous outfield prospects fail to have an impact in the big leagues in recent years, Jackson looks to be a strong candidate to have some staying power in Chicago. If his speed and power can translate to success at the major league level, the Cubs will have at least a third of their outfield situation settled for years to come.
The Cubs' second prospect on the top 100 list is first baseman Anthony Rizzo, recently acquired in a trade with the San Diego Padres. It's been well-documented that Rizzo is highly regarded by the Cubs' current front office. He was originally drafted by Cubs president Theo Epstein while he was GM in Boston. Rizzo was then traded to San Diego after current Cubs GM and then-GM of San Diego, Jed Hoyer, demanded Rizzo be included in a trade which sent slugging star Adrian Gonzalez to the Red Sox.
Rizzo, who was 37th on the top prospect list, is a power bat from the left side, and while he struggled at the major league level during a brief stint in 2011, Rizzo has raked minor league pitching, posting a 1.056 OPS in 2011. While Rizzo is potentially MLB-ready this season, he will get some seasoning in the Cubs' minor league system while Bryan LaHair keeps first base warm for Rizzo at Wrigley Field. The Cubs are counting on Rizzo to be the team's big bat for the next ten years, and based on Epstein and Hoyer's continued interest in him, Rizzo may just become the next big thing in Chicago.
Coming in at 62nd out of 100, shortstop Javier Baez is the Cubs' third top prospect, according to mlb.com. The 19-year-old carries a big bat, based on his high school numbers. While he hasn't put in any significant time yet in the minor leagues, his high school numbers are frightening. In 2011, Baez his 20 home runs to go along with a .711 batting average. Although those are high school numbers, they are still impressive. Cubs fans should keep an ear out for Baez's progress over the next couple of years.
While the Cubs front office has made it clear that the team is rebuilding, these three prospects may be the foundation of a competitive team for years to come.
-James Kries