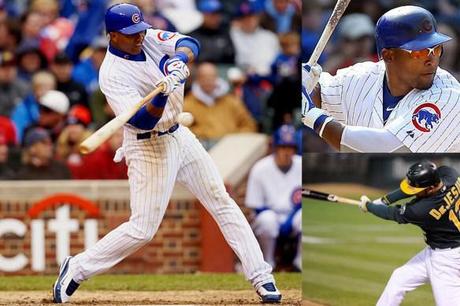 With several offseason moves by the Chicago Cubs, fans will definitely need a scorecard come opening day to figure out the Cubs' lineup for 2012. While team president Theo Epstein and GM Jed Hoyer might not be finished making changes this winter, it's likely that there is already an opening day lineup solidified at this time.
The Cubs, who are in the midst of a major organizational overhaul, have sprinkled in a few inexpensive veterans to go along with some young talent, joining a couple of immovable assets, thanks to former Cubs GM Jim Hendry's no-trade clauses that he passed out like M&M's.
The following lineup is speculative, especially the order, but as with most major league lineups, it could change almost daily. Here is the core group that is most likely starting the season in the Cubs lineup against the Washington Nationals come opening day.
1  David DeJesus  RF
2  Marlon Byrd  CF
3  Starlin Castro  SS
4  Bryan LaHair  1B
5  Alfonso Soriano  LF
6  Geovany Soto  C
7  Ian Stewart  3B
8  Darwin Barney  2B
Depending on DeJesus' performance, we may once again see some early season shuffling at the leadoff spot. Manager Dale Sveum and the Cubs may revisit the 1-2 punch of Barney/Castro at the top of the order.
I would be surprised if the new regime didn't embrace certain principles concerning the lineup. While Epstein & co. may subscribe to the belief that a traditional batting order doesn't matter concerning the final outcomes of games, it would make sense for them to bat Castro third or fourth. A team's best hitter is usually slotted third as he will have, in theory, the most chances to drive in runs.
Another option for Sveum would be to put Soriano in a straight platoon with Reed Johnson or Brett Jackson, if Jackson breaks camp this spring. In 2011, Soriano had an on-base percentage of .312 versus left-handed pitching, and posted an OBP of .282 versus right-handed pitchers. Both numbers are pretty weak for someone currently enjoying an $18 million per year salary, but the contract is what it is, and Soriano was worth the hefty price tag his first three years with the club. Sending him out every day against right-handed pitchers may not give the team the best chance to succeed.
At the top, new Cubs outfielder David DeJesus is coming off of his worst season as a professional. His first year with the Oakland A's, 2011 saw DeJesus post a career worst .323 OBP. That was a 60-point dip from his 2010 output. If he can regain his hitting stroke in 2012, along with Marlon Byrd's career .339 OBP, Starlin Castro may have some opportunities to drive in runs this year.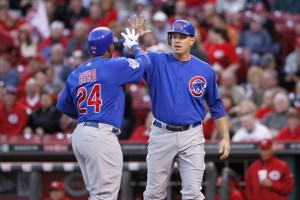 Marlon Byrd and Bryan LaHair
With Bryan LaHair presumably keeping first base warm for new Cubs prospect Anthony Rizzo, the Cubs have a decent power bat in the middle of the lineup. LaHair had a lifetime .503 slugging percentage during his minor league career.
In its current form, the Cubs lineup has some power at the back end, with Soriano, Soto, and Stewart all capable of hitting at least 20 home runs.
The Cubs pitching rotation looks to be set, assuming the trade rumors swirling around Matt Garza go unfulfilled. Garza would once again be the Cubs' number one, followed by Ryan Dempster, Paul Maholm, Randy Wells, and Chris Volstad. Newly signed pitcher Travis Wood would be a good candidate for either the fourth or fifth spot in the rotation should Wells or Volstad falter.
While the Cubs are going into 2012 without some familiar faces, such as Carlos Zambrano and Aramis Ramirez, this patchwork roster will have to do for a couple of years as the team restocks their farm system, and trades for more major-league-ready talent.
-James Kries