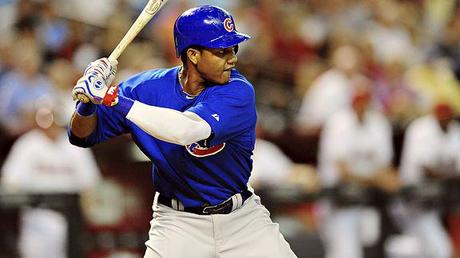 As with most seasons at Wrigley Field, 2011 started out with promise for the Chicago Cubs. A new year, some new players, and a clean slate in the standings always fills Cubs fans with hope that the elusive World Series title is right around the corner.
The Cubs were being helmed by new manager, Mike Quade, who won the job based on his performance as interim manager at the end of the 2010 season. Quade, a baseball lifer who paid his dues in the Cubs' farm system, appeared to be a no-nonsense, old-school manager. He was known to bench players for dogging it on the field, and his winning record at the end of 2010 helped him leapfrog fan favorite, Ryne Sandberg.
Quade and the Cubs' performance in 2011 led to his and GM Jim Hendry's eventual firings. With the Ricketts family finally giving Hendry his pink slip, the Cubs organization underwent a massive front office overhaul this offseason, leading to the Cubs luring Theo Epstein from the Boston Red Sox.
With the team already on a rebuilding path, let's look at what led to the Cubs' cavalcade of offseason changes, as we look back at the Chicago Cubs in 2011.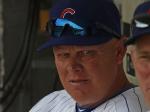 Mike Quade- Manager, Bad Nickname Generator
It became more evident with every game in 2011 that Quade was in over his head at the major league level. His apparent clubhouse control slipped through his fingers by May as players subtly and not so subtly disrespected him. It was one thing to bench young shortstop Starlin Castro for making a bone-headed play, but it seemed difficult for Quade to do the same to the likes of Aramis Ramirez and Alfonso Soriano, high-priced veterans who play the game seemingly at their own pace.
Quade also appeared to be out-managed on several occasions. While he didn't necessarily have all the tools available to make a run at the playoffs, he didn't get the most out of what talent he had.
Despite his promising run as interim manager in 2010, Quade became the standard Cubs manager of years past, a "player's manager". He was a good guy to have in the clubhouse, but lacked the respect of his players, and didn't have a good command of in-game strategy.
Another tell-tale sign of his chummy camaraderie with his players was his annoying overuse of nicknames for the players. "Cassie", "Sote", "Sori", "Rammie". Is it really that hard to say Soto, instead of "Sote"? It only became more nauseating as the beleaguered manager struggled through interviews as the Cubs' losing season dragged on.
Quade, who interviewed with new team president Theo Epstein this offseason, was fired as manager and replaced with Dale Sveum. While it could be said that Quade seems like a good person, he was frequently overmatched as a major league manager.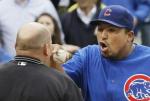 "We stinks." -Carlos Zambrano
It wouldn't be a Cubs season in the 21st century without some kind of Carlos Zambrano-related incident. 2011 was the mother lode of Zambrano controversies, ending in his suspension and loss of nearly $4 million in salary because of his actions in Atlanta, this past August.
Zambrano was shelled by Atlanta, giving up five home runs on August 12 to the Braves, then being ejected after throwing two pitches at Chipper Jones. Zambrano then abruptly left the stadium, claiming he was going to retire. The Cubs then suspended Zambrano, who after numerous on-field incidents over the years and anger management training, seemingly had crossed the line for the final time in Chicago.
"His actions were intolerable," said Jim Hendry after Zambrano bailed on the Cubs.
Zambrano was then suspended by the team for 30 days, without pay. As usual, Zambrano was apologetic, saying he wanted to remain a "Cubbie" forever. The team and fans had heard this song and dance before, and Zambrano has yet to pitch since that August day in Atlanta. His status with the club remains up in the air, despite his guaranteed $19 million that is owed to him next year.
In only 145 innings pitched in 2011, Zambrano gave up 19 home runs, and had a WHIP of 1.44. His giant contract and poor performance were further proof of Jim Hendry's free-spending ways, and his eventual downfall.

The Cubs' Pitching Woes
When a team is forced to turn to Doug Davis and Ramon Ortiz for pitching help, you know your season is about done.
The Cubs were immediately behind the eight ball in 2011 after the first week of the season, losing starters Randy Wells and Andrew Cashner to injuries, and suffering through Ryan Dempster's poor performance on opening day.
Wells and Cashner had moved up the ranks of the Cubs' system, and were ready to stake their permanent spots in the rotation. Wells had established himself in 2009, winning 12 games in his rookie season while giving up only three runs per game. Cashner had given up only two hits in five innings during his first start of the season, but left the game with arm trouble. Wells pitched masterfully in his first game. Both would find themselves on the disabled list in April, forcing the Cubs to look to the likes of Doug Davis, a 36-year old left picked from baseball's scrap heap to help the Cubs.
Davis would pitch in nine games, posting an ERA of 6.50 and a WHIP of 1.86.
When Rodrigo Lopez has your team's second best ERA among starters, it's going to be a long season. The Cubs 2010 offseason acquisition, Matt Garza, did not disappoint, posting an ERA of 3.32 in 2011.
With the possibility of Garza being traded for prospects in 2012, the Cubs will look to the future for success on the pitching mound. They already traded their lone, 2011 bright spot in the bullpen, left-handed specialist Sean Marshall. Marshall's trade brings Reds starter Travis Wood to the Cubs as the team looks to get younger in 2012 and beyond.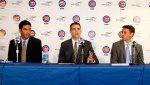 Ricketts family "selectively aggressive" in pursuit of Theo Epstein
While most of the 2011 season was brutal for Cubs fans, the end of the season brought great promise with rumors that the Ricketts family were trying to lure GM Theo Epstein from the Boston Red Sox. Epstein took the baseball world by storm as the league's youngest GM when hired by Boston in 2002. He then led the team to two championships, breaking their long stretch without winning a World Series. What better fit for Epstein than the Cubs, an organization suffering through a 103-year World Series drought.
Epstein will have broader control of the Cubs, being named president of baseball operations. He promptly hired Padres GM Jed Howry, who served under Epstein in Boston. Epstein also brought Jason McLeod, another Epstein protege, onboard as head of scouting and player developement.
After Epstein and Hoyer's methodical search for a manager, they settled on Dale Sveum, a hard-nosed coach and former player, known for his old-school ways.
The new regime has already pulled off some trades, unloading some high-priced talent in return for young prospects. They've also plugged in some veterans on the cheap, such as David DeJesus, Ian Stewart, Manny Corpas, and Andy Sonnanstine. The plan is in place and the rebuilding has begun as the Cubs try to develop young talent while hopefully fielding a serviceable and possibly competitive team.
Epstein's mantra of a selectively aggressive hitting philosophy has already been heard on Chicago's airwaves, as Epstein and the Cubs' new brain trust look to unify the entire farm system, along with the big league club, into one cohesive unit with the same principles of the game.
While Epstein will be challenged with the Hendry-era contracts still weighing down the Cubs' payroll, his history of creativity and innovation in the front office should bring the Cubs a winner by the end of the decade. At least that's the hope of all Cubs fans and the Ricketts family.
While 2011 started out with yet another losing Cubs season, it finished with a surprising upheaval in the team's front office, leaving Cubs fans with the promise and hope of one day seeing a World Series Champion banner raised in Wrigley Field.
-James Kries