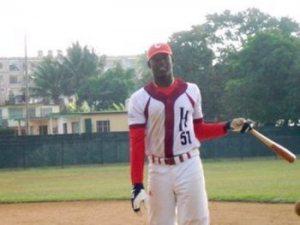 With reports circulating that the Miami Marlins have made an offer to Yoenis Cespedes, the Cubs have been rumored to be close to signing Jorge Soler, another recently defected Cuban outfielder. Soler is only 19, and would be a long-term investment for the Cubs. His strengths are his power and strong throwing arm.
The Cubs had reportedly been scouting Cespedes this offseason as well. Signing Soler over Cespedes seems like a more logical move from the Cubs' standpoint as Soler is seven years younger than Cespedes, and would fit into the Cubs' rebuilding project. The Marlins, who have stocked their team with high-priced free agents this offseason, such as Jose Reyes, Mark Buehrle, and Heath Bell, are looking to win now. Cespedes, who recently broke the Cuban National Series League home run record, would also be a big draw for the Marlins, as Miami has a large Cuban-American population.
Kevin Goldstein, of Baseball Prospectus, reported on Twitter that the Cubs are pursuing Soler, based on rumors coming out of the Dominican Republic where Soler is currently playing and awaiting offers from MLB teams.
Goldstein recently gave his take on Soler's potential and ability to have an impact at the major league level. He told MLB Network Radio,
"He's a big, athletic kid. He ran well for scouts. He ran a 6.7 60 for them the other week, which is above average. At his age and his size, that's not going to last. He just doesn't look like a guy that's going to stay fast. What he's going to be is a right fielder who's gonna hit for power. He's gonna throw well, hit home runs. That's going to be his job. Big, big kid. Broad shoulders, tons of raw power. He's a very exciting player."
The Cubs have been involved in several free agent rumors this season. Cubs president Theo Epstein has thrown his hat into the ring in pursuit of big names such as Albert Pujols, Prince Fielder, and Cespedes. It's likely that the Cubs haven't been pushing as hard as they could on those free agents, and were possibly either testing the waters to see what their asking price was, or were helping drive up the price so other teams would have to shell out top dollar contracts. Pujols and Fielder were signed by the Los Angeles Angels and Detroit Tigers respectively this offseason, with both teams paying in excess of $200 million each.
With spring training just days away, several teams are still interested in Soler and Cespedes with a looming cap on foreign free agents coming this summer, following the new collective bargaining agreement. The talented Cuban pair will likely enjoy multi-million-dollar bidding wars for their services before they ever see major league pitching.
-James Kries