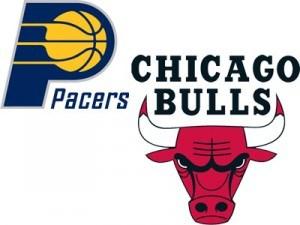 The Chicago Bulls host the Indiana Pacers at the United Center.
Tuesday's Pick of the Day comes from the NBA.  The Chicago Bulls (8-7) and the Indiana Pacers (8-9) meet once again at the United Center in Chicago to renew their rival.
The Madhouse on Madison will be nuts as the Bulls look to keep the number one spot in the Central.  The Pacers are just one game back as they try to get into first place.  Milwaukee has a night off as they sit at 8-8.  This game could have the Bulls atop the Central or in a three way tie.
Derrick Rose is no where close to coming back from his injury and Richard Hamilton will join him on the bench with a foot injury.  Danny Granger is likely to miss another two months with a left knee problem is also out for tonight's game.  This game will be a show of how well the bench can play without their stars.  This year has been up and down for both the Bulls and Pacers.
The Chicago Bulls are lead by Luol Deng who averages 18.1 per game and Joakim Noah who averages 9.9 rebounds per game.
The Indiana Pacers are lead by David West who averages 17.8 points and 8.3 rebounds per game.
Who do you think will win?
<a href="http://polldaddy.com/poll/6742347">Take Our Poll</a>