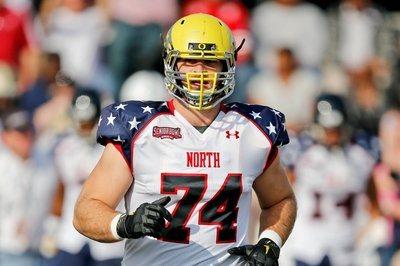 The Chicago Bears selected Kyle Long, Guard out of Oregon with the 20th overall pick in the first round of the 2013 NFL Draft.
Long started his College career at Florida State University as a Defensive Linemen.  He left for academic reasons.  Took a year off before attending Saddleback College (California).  Switched from a Defensive Linemen to an Offensive Linemen for the 2011 season.  In December 2011 enrolled into Oregon.  Playing Tackle and Guard his first season with the Ducks.  In 2012 he played at the Guard position.
Kyle Long is the son of Hall of Fame Defensive End Howie Long and brother of St. Louis Rams Defensive End Chris Long.
What are your thoughts?
<a href="http://polldaddy.com/poll/7062940">Take Our Poll</a>