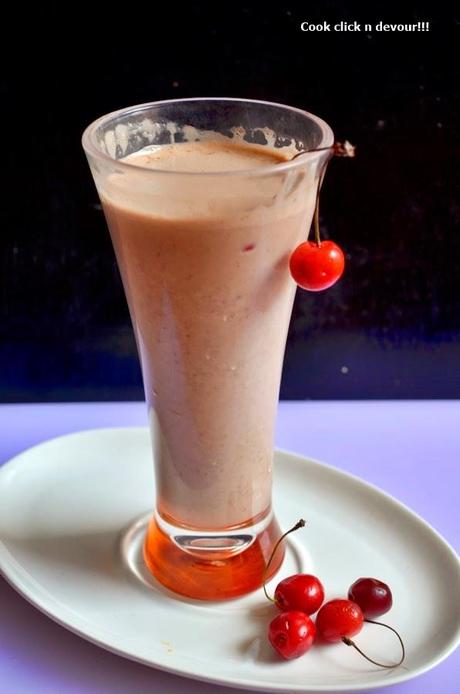 I found fresh cherries in the store during my last trip to buy veggies. They were too cute to resist buying,I was really tempted,so picked two boxes even though they were pretty expensive.Once I came home I washed and popped few in my mouth,to my surprise they were really sweet and mildly tart.Unlike the strawberries we get here,these cherries were fresh,sweet and there was not even one rotten fruit.It is my guess that they are grown somewhere nearby. Once I cleaned and stored them I started to dream all possible recipes with cherries,and I was hoping to save them for recipes.But I kept on munching every time I opened the fridge and finally I was left with only 15-20 of them and I whipped this quick smoothie,as I wanted to post at least one recipe with cherries :). This is a super quick,delicious and healthy smoothie,that you could serve for breakfast/dessert after light lunch.Here I have used nutella for chocolate flavor,you can use melted chocolate,chocolate sauce/syrup or even drinking chocolate powder.Though the color looks like normal chocolate milkshake,the combination of cherries with nutella was oh so delicious. This is a adaptable recipe,you can add any flavoring you like,increase/decrease the amount of all the ingredients,try this once and you will find yourself making it often :)
 
Cherry chocolate smoothie recipe
Star ingredients:Fresh cherries and nutella
Time:5 minutes
Serves:3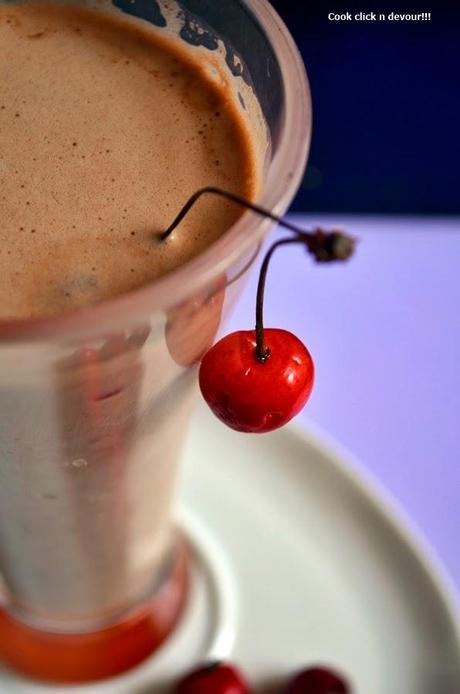 Ingredients:
20 fresh cherries,washed and pitted
2 tablespoons nutella
2 tablespoons sugar
2 cup boiled,cooled milk
Method:
1.Blend,washed pitted cherries with very little water.Pass through a sieve to remove the peel.
2.Now blend again with all the other ingredients until smooth and creamy.
3.Serve cold.
Notes:
1.You can add a scoop of vanilla/chocolate ice cream.In that case reduce the amount of milk by 1/2 cup.
2.You can add chocolate syurp/sauce instead of nutella.