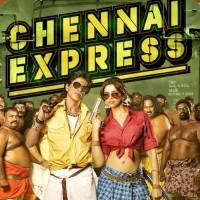 Movie: Chennai Express
Director: Rohit Shetty
Cast: Shah Rukh Khan, Deepika Padukone, Nikitin Dheer and Sathyaraj
Rating: **1/2
"Chennai Express" is that kind of film where almost all characters, excluding the lead pair, play extended cameos. In their extended cameos, some of the reasonably good Tamil actors go unnoticed because their roles have no purpose, thanks to the screen presence of SRK. And finally, it's that Hindi film where even the Tamil speaking characters struggle to speak neither Tamil nor Hindi. Nevertheless, "Chennai Express" doesn't fail to momentarily entertain in archetypal Rohit Shetty 'Shtyle' from the word go. If you have paid money to watch a Rohit Shetty film, then you have already lost the right to be piqued intellectually.
It isn't a bad film even when you try to look at it as one, but I tell you what, it could've been a mad caper, if only there was minimum damage caused by Shetty's loud action and a plot even thinner than water. However, Akin to the title, I enjoyed the train journey more than the rest of the film in a small village in Tamil Nadu.
En route to Goa with his pals, Rahul (SRK) boards the Chennai Express to fulfill his dadaji's last wish. In that train, he meets Meenamma (Deepika), on the run from her father, who wants to marry her off to someone against her wish. She is being chased by her father's henchmen, and it becomes the duty of any Bollywood hero to become the scapegoat in the process to save the girl. However, the twist here is that Rahul is made the scapegoat instead, after Meena tells her father that they love each other. And what follows forms the rest of the story
It's a khichdi of several south Indian films laced with signature SRK moments. And despite all the stereotyping, which I didn't mind, CE has its highs and far too many lows. Even when you know you're being set up, and yet you can't help being amused.
Shetty packs too much of emo towards the end and that eventually makes us cringe in our seats. This is where you're bombarded with lines such as 'love has no language barrier' and all that, while listening to Sathyaraj, a not so bad Tamil actor, repeatedly mouth 'Ennama Kannu'. I swear he doesn't stop at that and you get hear more of it.
It's either that the story was so haphazardly written or the actors were miscast, some characters just didn't fit the bill. For instance, the role essayed by Nikitin Dheer, of that of Thangabali, who was suppose to marry Meenamma, is such a pain in the arse. He is extremely strong, tall, but was expressionless mostly, walking around always with a frown on his face.
For a Hindi film with more than expected Tamil dialogues without immediate translation, it would have been ideal to cast a Tamilian as heroine, or at least someone who could speak Tamil fluently. But, what we get is a character essayed by Deepika Padukone, born and raised in a village in Tamil Nadu, who can't speak one line of Tamil without her thick accent.
SRK was as effervescent as ever in his tailor-made role. Even though he gets far too dramatic with his 'dialogue-bazi' towards the end, you can't ignore the life he brings to his character and to the film as well. No matter how stupid he seems to appear in his role, I'm sure audiences have plenty of reasons to cheer for him.