By Ciaran Morris
With both teams having something to fight for, this will be an interesting match up. Chelsea are top of the league but face stiff competition with Arsenal, Manchester City and Liverpool; with only 4 points separating them all. Everton are giving it their best effort to grab 4th place, but I can't see them gaining 8 points over current 4th place Liverpool. For me, the battle for 4th spot is between Spurs, Liverpool and one of the top 3.
Chelsea have one of the few squads with an enormous amount of depth. Their attack and midfield are frightening. The likes of Samuel Eto'o, Eden Hazard, Willian and Oscar can cause problems for any defense in the world. They have a solid defense including arguably the most consistent goalkeeper over the past few years in Petr Cech. The Blues have a mix of pace, skill and vision. The only place they need to perfect is the striker. Eto'o is not the same player he was 5 years ago, Torres is not the £50 million player he was at Liverpool and Demba Ba hasn't had a look in this season, playing 11 games, all from off the bench.
One guy who has stepped up to the plate is Eden Hazard. The in-form winger has been sensational this season, netting 12 times and assisting on five occasions in the Premiership. He has won games single handily for Chelsea, including the recent 3-0 victory over Newcastle in which he got a hat-trick.
Everton have lost their spark over the past few matches, drawing with West Brom, losing 1-0 to Spurs and getting thrashed 4-0 in the Merseyside derby. Life will not get any easier playing away against Chelsea. Everton have sported one of the best defense's in the league this season with Seamus Coleman being a sensation at right-back this season. They only signed him for £800,000 but I'm sure if they sell him now, they would get a hefty profit.
With Romelu Lukaku injured, Everton have tried different people to replace him such as Kevin Mirallas and Steven Naismith, neither of whom have been effective in the role. New signing Lacina Traore made his first appearance for the Toffees last weekend and marked it with a clever debut goal. You could say it was a good performance from Traore with him being thrown straight into the mix on the back of an injury, and he could prove to be a good signing. The only problem I have with Roberto Martinez is that he has signed almost all of his new players on loan. This means that they are not building for the future but only for the current season.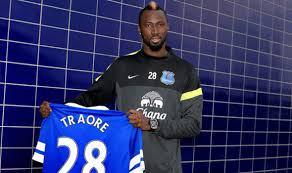 Lacina Traore will be thrown right in the thick of things in Saturday's match
This fixture has seen a lot of draws in its past and with Jose Mourinho's side slipping up in the odd game, there's a possibility that Everton could grab the 3 points. That being said, I have a feeling the teams will be equal and it will end in a draw.
Prediction: Chelsea 2-2 Everton