This meatless dish with basic store bought pesto, makes a great flavorful dressing for this spring time favorite.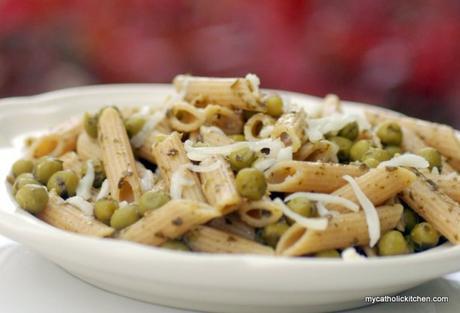 I always loved making this dish when basil was plentiful in my garden. The only thing is right now I have no basil in my garden yet. It is early spring and my basil has not been planted yet. You can use the ready made pesto in the jar, there is no shame in that, and it turns out fantastic. This way you can enjoy this dish all year round. You can however do what I like to do and substitute the basil with spinach. To me spinach is more readily available.
I do however love to make my own  pesto by adding peanuts instead of pine nuts.  Sometimes I cant find pine nuts. I sometimes have to search for pine nuts then when I get them, I have to store them in my freezer until I need them, but here, in Virginia peanuts are plentiful practically all year round.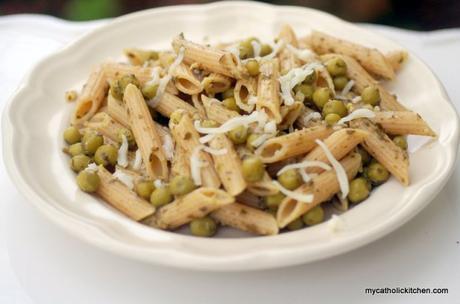 Print Recipe
Cheesy Pesto Pasta and Peas
Ingredients:
1 pound penne pasta
1/4 cup olive oil
1 1/2 cup bottled pesto
1 10 oz package of frozen spinach thawed
3 tablespoons lemon juice
1 1/4 cups mayo
1/2 cup Parmesan
1/2 cup frozen peas
3/4 teaspoon salt
3/4 teaspoon pepper
Directions:
Cook the pasta according to the package directions. Drain and toss in a large bowl. Add the olive oil to coat the pasta.
In your food processor puree the pesto, spinach and lemon juice. Add the mayo and puree again.
Add the pesto mixture to the cooled pasta. Add the Parmesan cheese, peas, salt and pepper. Mix well, season to taste and serve at room temperature.
Peace be with you,
Veronica