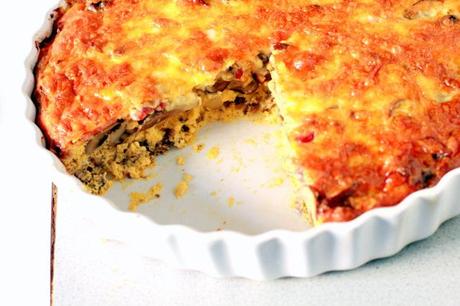 I've seen frittatas in cookbooks and all over many food bloggers blog posts. I've been intrigued, but at the same time a bit sick. Why? Because I hate eggs. Yes, people I am not big on eggs.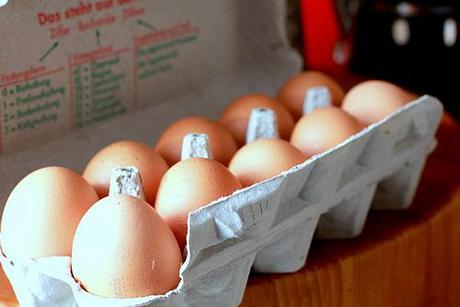 Ever since I was a little girl I've hated eggs. In my baby book, under least liked foods, my mother put eggs.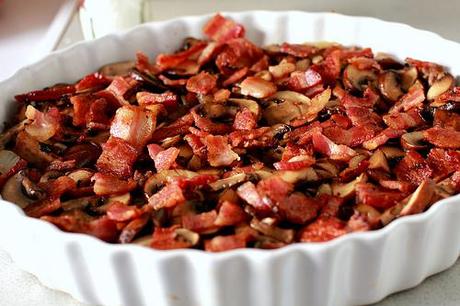 Don't get me wrong, I love eggs in most food. Like salads, in most to all Asian dishes featuring them. When they play the starring roll I can't do it. WHich why I don't make omelettes, spanish omelettes, basically anything where egg is the main ingredient. Some desserts I can't eat. I have to omit the egg whites because I read it's where the 'eggy' taste comes from. Where the yolk is rich, buttery, a lil salty, just damn perfect.
 Yes, I am eggist.
I can appreciate fresh farmed eggs. This summer, I ate a soft boiled egg and did not rush to the bathroom. That was because the egg was laid that morning. I thought that I found a solution my egg-hate. So I only bought eggs fresh farm the local turkish/farmer's markets and the yolks so beautifully gold made me smile. Cookies, muffins, and any thing I cooked with eggs became 100% more fantastic.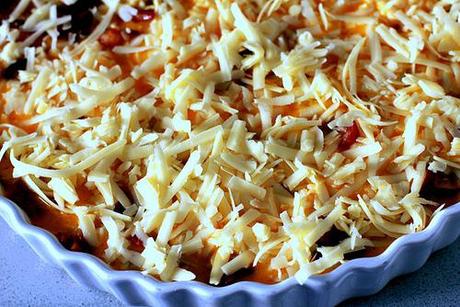 Then I got cocky and thought I'd finally make a frittata when I saw the recipe for Cheeseburger Frittata on the beautiful site She Wears Many Hats. I quickly added it to my Cozi weekly meal plan to try immediately. I am happy I did because it was delicious! Cheesy, mushoomy, bacony, and eggy goodness. My mind was getting the better of me and I realized, the next time (yes, there will be a next time), I will use half whole eggs and the rest just egg yolks!
This recipe is so easy, and you don't have to use mushrooms if you don't want to! Just load on the cheese and bacon for this easy one 'pot' dinner! It's low cab, and has an amazing amount of protein to get those muscle growing and very filling!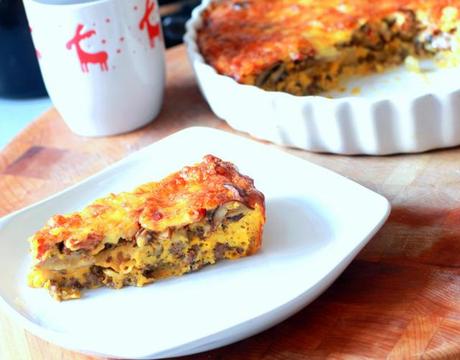 Cheeseburger  Bacon and Mushroom Frittata


Adapted from She Wears Many Hats
Makes one 10" pie pan.
She says aa 9" will work, adjust cooking times if using different size. I used my quiche pan....no I've never made a quiche :)


Ingredients


8-12 ounces ground beef
1/2 teaspoon salt plus more, divided
1/2 teaspoon chili powder, plus more, divided
1/4 teaspoon pepper, plus more, divided
1/4 teaspoon garlic powder, plus more, divided
1 tablespoon olive oil
1 medium-large onion, chopped
10 large eggs

OR

5 whole eggs, 5 egg yolks if that's how you want to roll
3 tablespoons milk (1/4 cup if you split eggs)
4 ounces (about 2 cups) cheddar cheese, shredded, divided
8 slices of bacon
6 cremini mushrooms, sliced


Directions


Preheat oven to 400°F.
Butter or coat with cooking spray pie pan. (I used a 10" pie pan for this recipe, but a 9" deep dish should work as well.)
Brown hamburger with a few pinches/dashes of chili powder, salt, pepper and garlic powder.
Heat olive oil over medium heat and sauté onion with a pinch of salt and pepper until translucent. Do this in a non stick skillet if you can.
Beat together eggs, milk, 1/2 of shredded cheddar cheese, and 1/4 teaspoon of each: chili powder, salt, pepper, and garlic powder.
Evenly distribute the browned hamburger on the bottom of the pie/quiche pan, then top with sautéed onions.
Pour the egg mixture over the top of hamburger and onion. Top with remaining cheese.
Bake in 400°F oven for 18-20 minutes until set.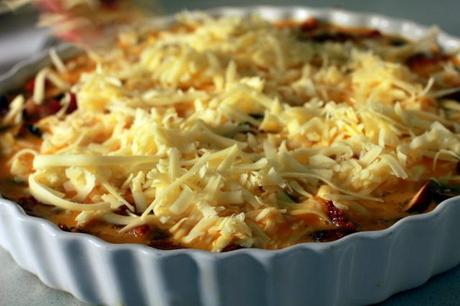 Enjoy!!!!!!