This French inspired Vegetarian Quiche is perfect for any meal of the day. It has a creamy delicate texture with lots of flavorful mushroom goodness. This is a very versatile dish you will want to make over and over again.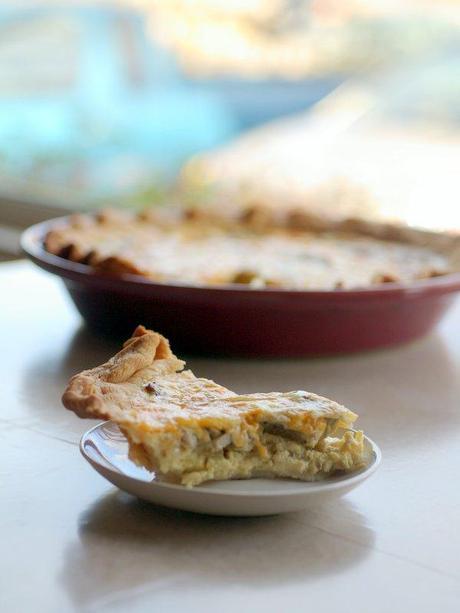 I doubt if there is any thing more versatile than a quiche. You can add just about anything to it and make it unique.  It is the little black dress of the culinary world. All you need is a few accessories to bring it over the top. It is one of the few dishes I can literally take out my leftovers and make them into another great meal.
Got leftovers from when you grilled some vegetables yesterday?
Throw them in.
Got some leftover bagged spinach from that salad you had the other day?
Throw it in.
You can also make it as easy as you want. I used a deep dish ready made pie crust. Sorry guys, I usually don't do pie crusts. If you have a favorite homemade pie crust you like to make, then by all means use that.
Make sure thought that it is meatless, it is Friday after all.
Remember,
Prayer
Fasting
Almsgiving
Do these things quietly. If you do them to impress another, you loose the reward that really matters.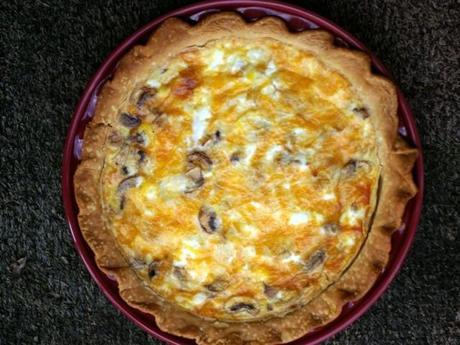 Print Recipe
Cheese and Mushroom Quiche
Yield: 6-8 servings
Prep Time: 15 minutes
Cook Time: 35 minutes
Total Time: 1 hour
Ingredients:
1 cup sliced mushrooms
1 cup chopped onion
5 eggs
2/3 cups milk
1 cup shredded three cheese blend
1 frozen deep dish pie crust unbaked
Directions:
Preheat oven to 375 degrees.
Spray a 8 inch skillet with cooking spray and cook mushrooms and onions on medium until onions are translucent. About 5 minutes. Set aside to cool. Beat eggs and milk in a medium bowl with a whisk until well blended. Stir in vegetable mixture and half the cheese. Pour into the pie crust. Place on a baking sheet .
Bake for 35 minutes. Remove the quiche and top with the remainder of the cheese. Bake another 5-10 minutes. Quiche is done when a knife inserted in the center come out clean.
Let stand 10 minutes before serving.
Peace be with you,
Vonnie