Life suddenly got very busy last week, which was when I made this recipe, so busy that I had to wait until today to post this. Anyway, I had been craving a chicken pot pie for weeks! Who doesn't love chicken pot pie? It's creamy and savory, full of comfort. The best part of a chicken pot pie? The crust! To give my pot pie a little twist I added a hearty portion of shredded cheddar cheese to the crust. Cheese + Crust = LOVE
The filling is full of veggies and rich gravy plus big chunks of chicken breast. The cheddar flavor really comes out nicely and compliments all the flavors of the pot pie filling. When it was baking the whole kitchen smelled like warm, crispy cheese. It was awesome! I love a meal that's a complete journey of the senses.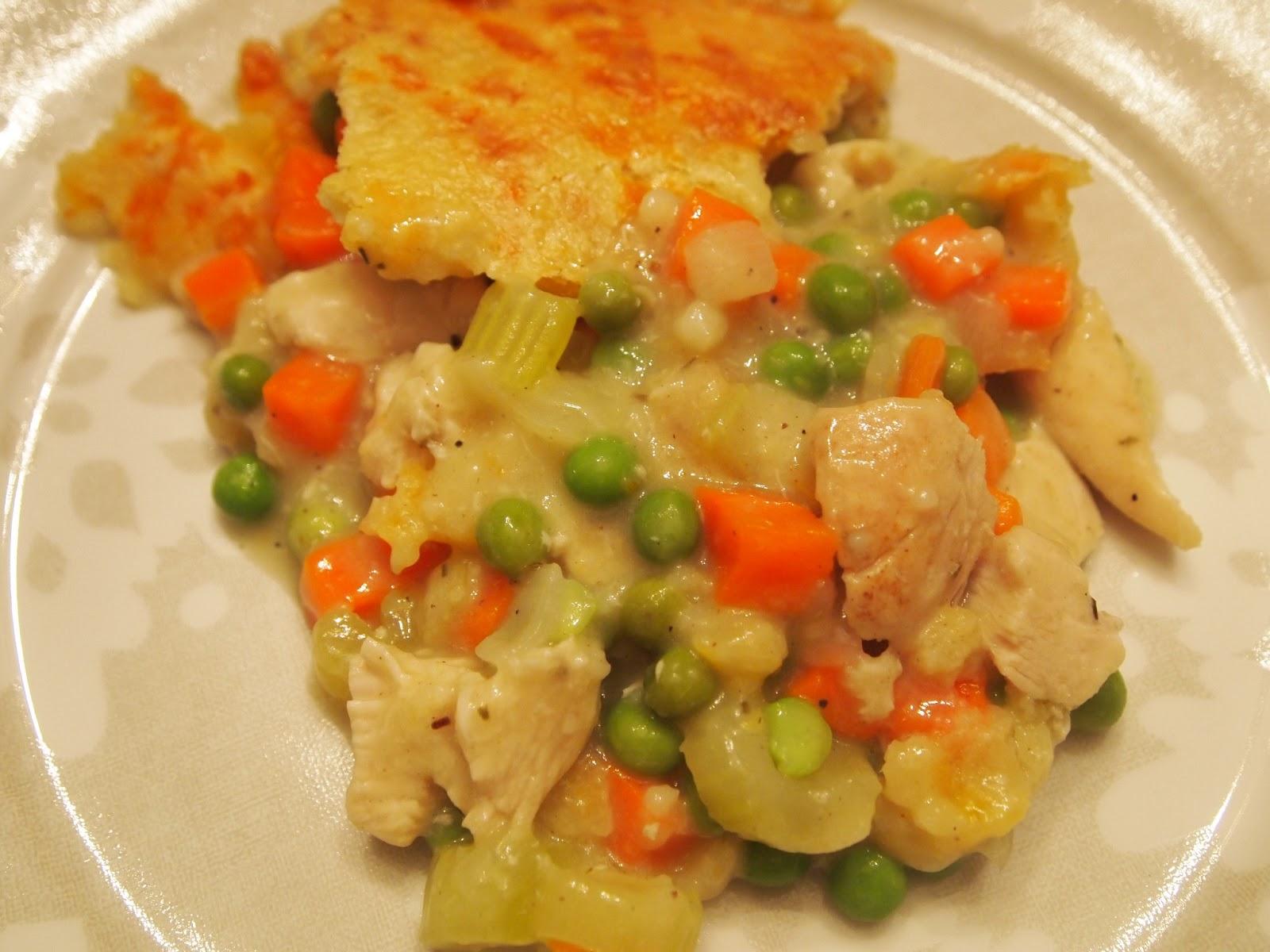 Cheddar Crusted Chicken Pot Pie
For the crust:
2 1/2 cups Flour, plus a little extra for rolling
2 sticks Salted Butter, diced into cubes and really-cold
1 tsp Sugar
6-8 Tbsp Ice Cold Water
4 oz Cheddar Cheese, shredded, divided evenly
1) In a food processor place the flour and cubed butter. Pulse the mixture until the butter is well integrated and it resembles the size of peas. Add your water a tablespoon at a time and pulse in between each tablespoon. You want the mixture to just start to come together. It will resemble saw dust almost and when you squeeze some of it together it will stay together and not crumble easily.
2) Once the dough sticks together without crumbling easily remove from processor and divide into two piles. Add the cheddar cheese to each pile and kneed in gently using the palm of your hand. Work the dough into two disks, wrap in plastic wrap and refrigerate for at least two hours. 
For the pot pie filling:
1 tsp Olive Oil
2 Celery Stalks, chopped
1/2 Medium Onion, chopped
4 Tbsp Butter
4 Tbsp Flour
3 cups Low Sodium Chicken Stock
1 tsp Dried Chopped Rosemary
1 tsp Bell's Seasoning
2 tsp Salt
1 tsp Black Pepper
1 1/2 cups Frozen Mixed Peas & Carrots 
3 Boneless-Skinless Chicken Breasts, cooked, cubed
1) In a large saute pan or pot, heat the olive oil over medium heat. Add the celery and onion and saute until soft, about 6-7 minutes. You're not looking for brown here so if they start to brown, turn down the heat or you can add a little chicken stock to help them soften.
2) When the onion and celery are soft add the butter and let melt completely. Sprinkle in the flour and whisk it together with the butter. This will be what thickens the stock to make the gravy. Once the flour and butter are combined, slowly add in the stock while whisking constantly. Bring back up to a boil for the full thickening power. If this is not as thick as you would like, take a tsp of flour and mix with a little water then add to the stock mixture. Don't forget though that it will thicken more while cooking in the oven.
3) Once the stock mixture has boiled, reduce heat to medium-low and add the seasonings and frozen peas and carrots. Let cook over medium-low for about 5 minutes. Turn off heat and stir in chicken. Place in a container and let cool in fridge while you roll out the dough.
Assembling the pot pie:
1) Remove your disks of dough from the fridge and let warm up for about 10 minutes. Then roll them out into disks that will fit your pan that are about 1/8-1/4 thick, depending on what you like. 
2) Place the bottom crust into the pan, then add the filling, then the top crust. Crimp the edges of the dough together with a fork and remove the excess dough. Don't worry if you have any holes in your dough, just use the extra dough from the edges to patch them up. It will all bake together and look pretty in the end. 
3) Brush the top of the pie with an egg wash (1 egg mixed with a little water) and poke a couple small holes for ventilation in the center. Bake at 350 degrees for about 40 - 45 minutes or until the crust is a golden brown and gravy bubbles up a little.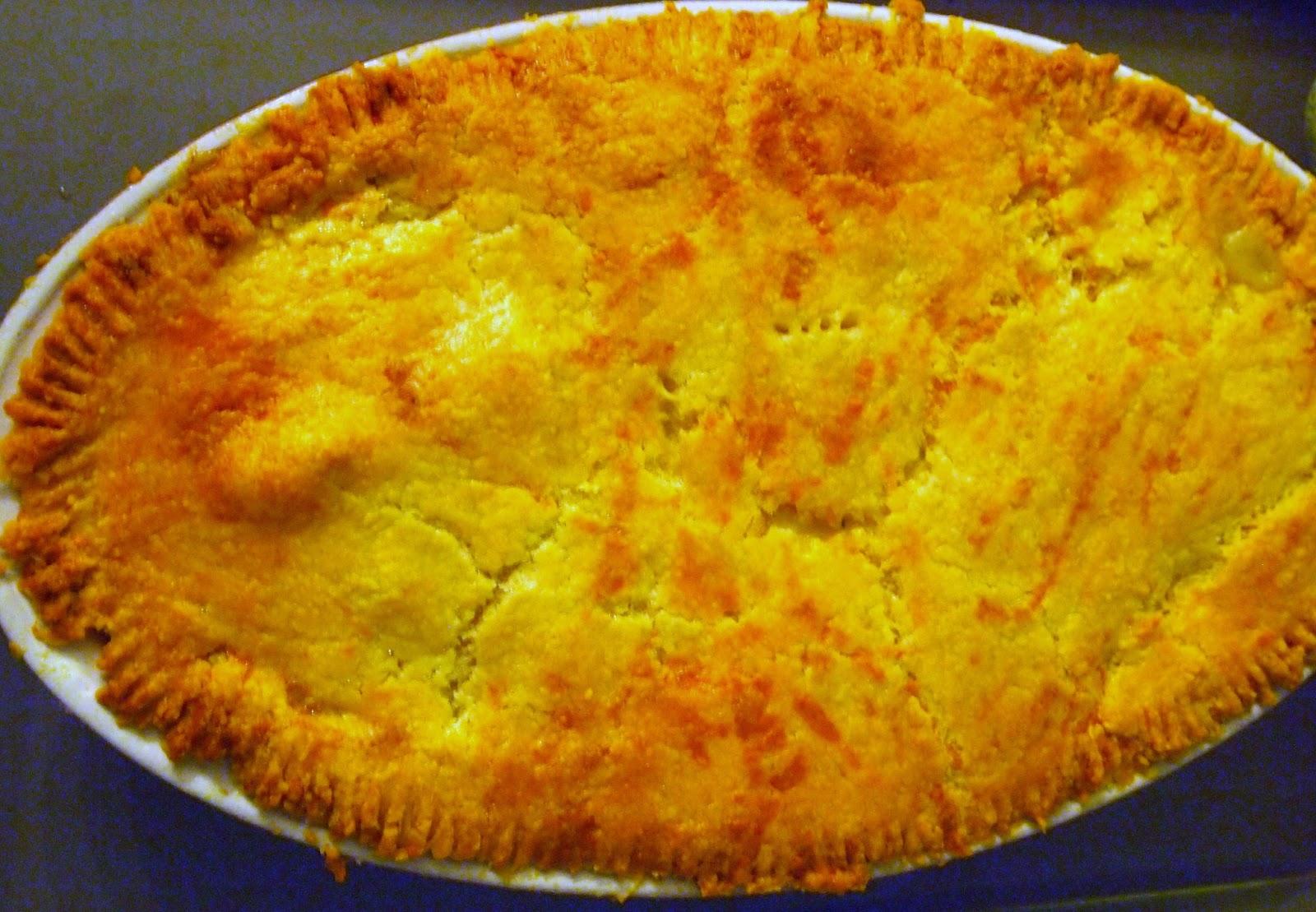 This pot pie serves up more casserole style than a slice and serve pie, but it is downright delicious! I know it seems like a lot of steps, but you can actually make the crust a day or so ahead of time, you could also do the same with the filling. Cook everything and then leave in the fridge until you are ready to make the pie (no more than two days ahead of time), then warm up a little on low in sauce pot then put the pie together. I haven't tried freezing it, but I'm willing to bet you could. I will have to try that next time and will keep you posted on the results!